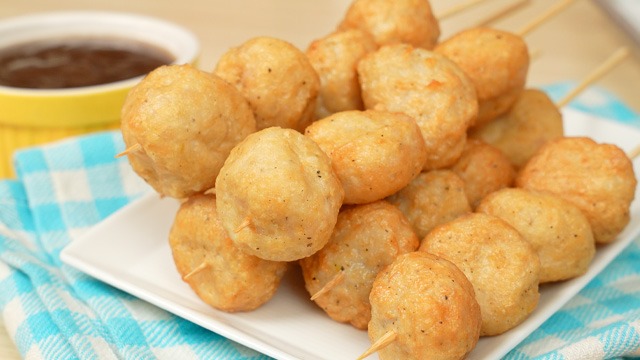 Street food is one of those food that you grow up eating. You know it's cheap but addicting and delicious. You also know that your parents might scold you for eating food from off the streets but there's something about street food that makes it taste better than anything that you can buy elsewhere.
If your guilty pleasure includes indulging in eating street food, you'll be glad to know that you can make fish balls, squid balls, kikiam, and now even chicken balls at home so you don't need to hide the fact that you love the stuff from your strict parents.
What Are Chicken Balls?
Chicken balls are just like fish balls you see from street vendors, but instead of fish, it's made with ground chicken. Unlike other chicken balls recipes that you might see, this recipe is made from only chicken meat so you don't get any fishy flavors that might make you rethink what you're eating.
Just like fish though, chicken can have a malansa taste to it so to combat this, a little ginger is added to temper that off-putting taste and make you gorge on these balls.
How To Serve Chicken Balls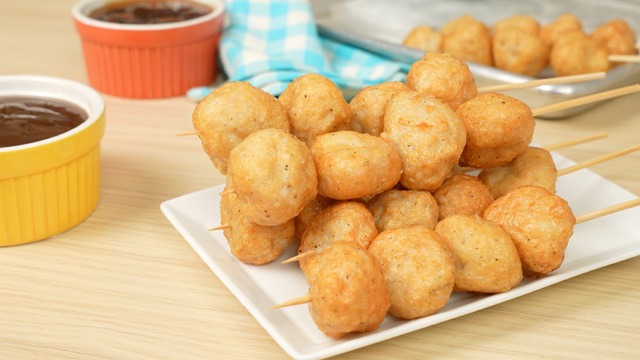 Street food like this is honestly served best freshly made! This means having the fish ball sauce ready to be dunked into when you've speared all the balls that can fit onto your bamboo stick. The simple sweet sauce has a burst of umami but it can also be made a little spicy for that extra kick of heat. You can even serve this with spiced vinegar so you can some tangy notes with your sweet and spicy, too.
Serve these on sticks so you can recreate that feeling as if you're outside with the other kids.
How To Make Chicken Balls
The chicken balls are actually easy to make if you have a food processor or an electric food chopper. We highly recommend it since the electric food chopper made chopping and mixing the ingredients into chicken balls super easy.
Just add all the ingredients into the bowl of the chopper and process! You should get a paste-like consistency. (Alternatively, you can pound the ginger and garlic in a mortar with a pestle and then whisk all the ingredients together until a paste is formed.)
Once formed, chill it to make it easier to form into balls. The paste will be soft so a little hard to handle. Use two teaspoons to portion and shape the paste into teaspoon-sized balls. You can also use damp hands to form the balls as well. Place these on a tray and chill again until ready to boil.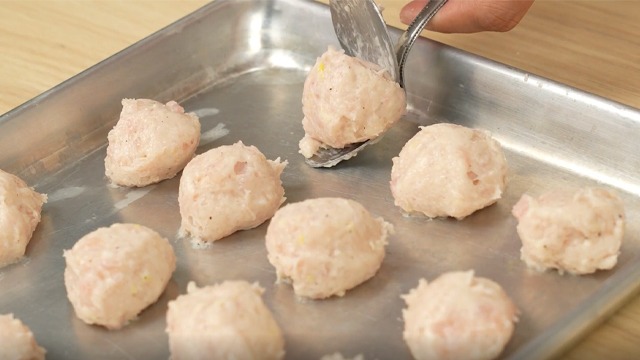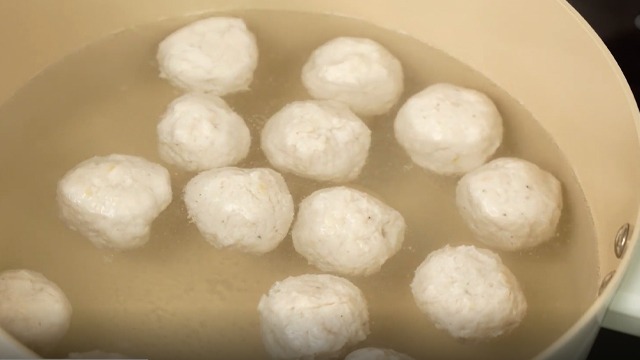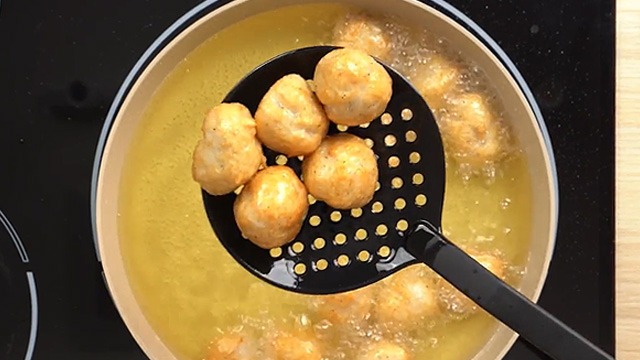 To cook, boil a pot of water and gently drop the formed chicken balls in the water. These will first sink then float to the surface when cooked through. Scoop these out and set aside to cool. You might notice the balls will puff and grow in size when in the water and this is the magic of the baking powder in the mixture. The balls will again shrink when out of the water.
ADVERTISEMENT - CONTINUE READING BELOW
Recommended Videos
To ready to eat, fry until golden brown, and serve with the fish balls sauce.
Tips To Make Chicken Balls
1 Test seasoning by cooking a small ball.
If you're unsure if the chicken ball mixture is seasoned as you like, cook a tiny portion! You really can't know if it tastes good until you eat it, and you can't do that when the mixture is still raw. So save yourself the heartache of serving chicken balls that aren't tasty and test it for seasoning first before portioning.
2 Make a big batch and freeze.
There's a great reason that fish balls, squid balls, and chicken balls are boiled first instead of fried immediately. It makes it super easy to store! The balls should be cooked in boiling water first to cook them and then to store! Just boil, let cook completely, then place in bags for when you get the craving for some delicious street food.
How To Store Chicken Balls
The chicken balls are easy to store! If you've got the balls boiled aka cooked, these are easily placed in plastic bags or containers and frozen until you're ready to fry them. If already cooked, it's the same thing. These keep wonderfully well for weeks in the freezer!
Chicken Balls Recipe And Fish Ball Sauce Recipe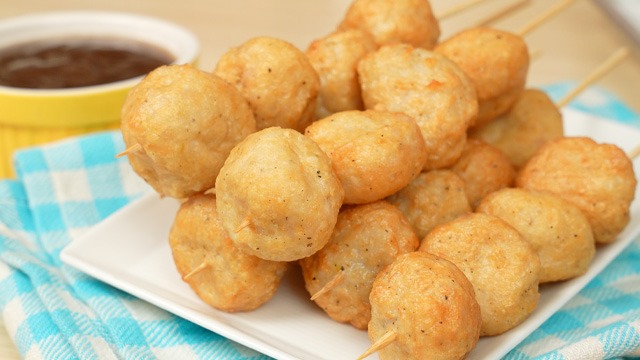 Chicken Balls Recipe And Fish Ball Sauce Recipe
There's nothing fishy about these chicken balls!
Ingredients
Chicken Balls Ingredients And Fish Ball Sauce Ingredients
2

cloves

Garlic

peeled

1/4

inch

fresh ginger

peeled, sliced

1/4

Cup

all-purpose flour

2

tablespoons

cornstarch

250

Grams

ground chicken

1

teaspoon

ground black pepper

1

teaspoon

Salt

or to taste

1/2

teaspoon

chicken powder

1

teaspoon

baking powder

1/4

Cup

ice water

water

for boiling

Oil

for deep frying

1/4

Cup

oyster sauce

1 1/2

cups

water

1/2

Cup

brown sugar

1 1/2

tablespoons

cornstarch

1to2

pieces

bird's eye chili (siling labuyo)

chopped, optional
Instructions
Place garlic, ginger, flour, and cornstarch into the bowl of an electric food chopper or food processor. Process until finely chopped. 

Add ground chicken, ground blak pepper, salt, chicken powder, and baking powder into the bowl of a food chopper. Process. Add ice water and mix the ingredients until it reaches a paste consistency. 

Chill in the refrigerator for 30 minutes. 

Once cold, form about 1 heaping teaspoon of the chicken mixture into balls using two teaspoons or with slightly wet hands and transfer to a parchment-lined tray. (Balls will puff and become bigger when cooked.) Chill again until ready to cook. 

When ready to cook, bring a pot of water to a rolling boil then lower the heat to a gentle boil. Roll balls with wet hands again to reform their shapes before dropping each ball into the boiling water. Cook until the balls float to the surface of the water and are firm. 

Drain and set aside on paper towels until cooled completely and dried out. Store in containers or plastic bags in the freezer or until ready to fry. 

 

When ready to fry, heat enough oil for deep frying. Add and fry chicken balls until golden brown and slightly puffed. Remove from the oil and drain on paper towels or a rack.

Alternatively, spear with bamboo sticks to serve immediately with the homemade fish ball sauce. 

To make the fish ball sauce, in a saucepot, combine oyster sauce, water, sugar, and cornstarch. 

Place over medium heat and bring to a simmer, stirring. Cook, stirring until the mixture thickens and the sugar is completely dissolved. (Add and stir in siling labuyo if desired.) 

Remove from heat. Cool completely. Serve with homemade or store-bought fish, squid, and chicken balls.