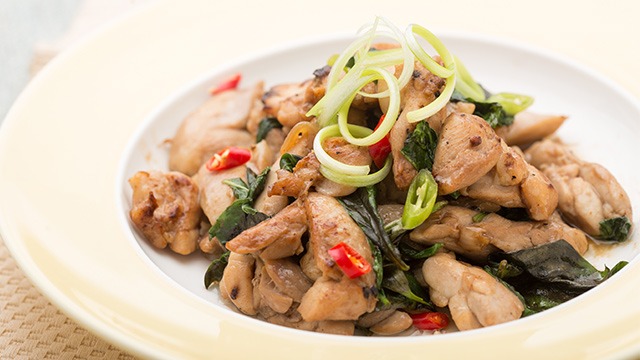 Here's an easy chicken recipe to try on busy weeknights: this Asian-style chicken basil stir-fry only needs 15 minutes of combined prep time and cooking tim before it goes onto your table.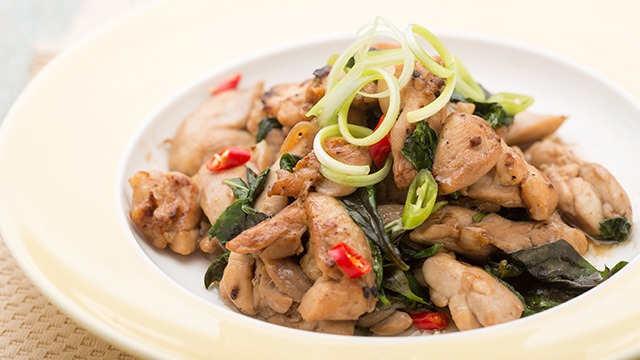 Chicken Basil Stir-Fry Recipe
This chicken stir-fry recipe is easy, fuss-free, and great for weeknight dinners.
Ingredients
Chicken Basil Stir-Fry Ingredients
300

Grams

Chicken

sliced

2

tablespoons

white onion

sliced

1

teaspoon

Garlic

chopped

1

teaspoon

ginger

julienned

1

teaspoon

oyster sauce

1/2

teaspoon

Soy Sauce

1/2

teaspoon

fish sauce (patis)

1/3

Cup

fresh basil leaves

Pepper

to season

spring onions

for garnish
Instructions
Heat oil in a wok over medium high heat. Sauté onions, garlic, and ginger. Add the chicken and the seasonings and mix well.

Once chicken is cooked, add the basil leaves and turn off the heat and continue to mix. Season to taste. Garnish with sliced chilies and spring onions. If you want to add spice to the dish, add some chilies to together with the chicken.