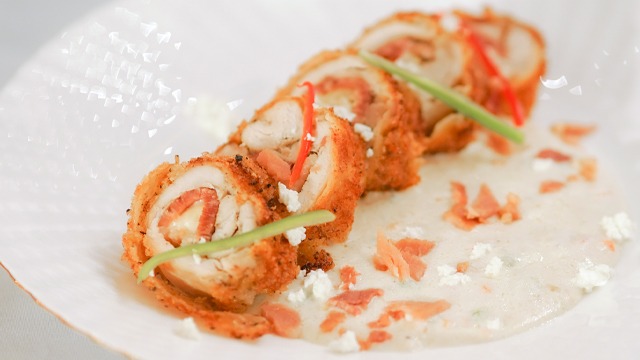 What Is Chicken Cordon Bleu?
A chicken cordon bleu is a breaded chicken roll. It's commonly rolled with ham and cheese but it can be rolled with other ingredients as well. This chicken roll is made more appetizing when served with a sauce or gravy since these rolls are sliced to expose and showcase the filling. 
This may sound like a normal chicken cordon bleu but what makes this dish unique are the ingredients and how it's made. 
This chicken cordon bleu is  crunchy on the outside and tender on the inside but the stock-based sauce is a tasty blend of bell peppers, garlic, onion, and carabao milk. Carabao milk is a local fresh milk that is thicker and more creamy than the usual cow's milk you may be more familiar with. 
Plus, the chicken roll slices are sprinkled with crumbles of homemade kesong puti, also made from carabao milk. 
This seemingly simple chicken roll dish was super flavorful and married tastes and textures so well, it won Chef Charina Ayroso of Casa Temperatura the title of Yummy Top Chef at the Novo Ecijano Cookoff in Gapan, Nueva Ecija last December 11, 2022. 
How to Serve Chicken Cordon Bleu
Chef Cha during the competition served the chicken cordon bleu in a pool of the carabao milk sauce and kesong puti crumbles. It was not only taste but also tastefully presented. 
You can mimic the way she presented her dish to the judges but here are other ways to enjoy and serve this dish:
Serve with another sauce or gravy: A milk-based sauce may not be what you want served with your chicken roll. You can serve this with simple gravy, a creamy mushroom sauce, or even a cheese sauce. 
Serve with rice, pasta, or mashed potatoes:  The chicken roll is delicious as is so it makes a great ulam. It's only fitting that it should be served with a carb like steamed or fried rice, buttery mashed potatoes with truffle oil, or even garlic oil pasta. 
How To Cook Chicken Cordon Bleu
This dish is actually quite complicated but it just ensures that every bite is super tasty. 
The recipe starts with prepping and then marinating the chicken breasts. This is rolled in breadcrumbs with ham and cheese inside. This is fried until the chicken is cooked through and the crumbs crunchy. 
The sauce is an incredibly creamy sauce made super flavorful with sautéed garlic, onions, bell peppers, and carrots. The creaminess is bolstered by gata or coconut cream, cheese, and cream along with the carabao milk. 
The homemade kesong puti meanwhile is a deceptively complicated recipe. It's actually quite fast and easy. Chef Cha made this fresh white cheese during the cooking competition, so it's totally doable! It's made by cooking the carabao milk with vinegar. 
Once you have all three components, pour the sauce onto a plate, slice the chicken roll and arrange with the sauce, and crumble the kesong puti before serving. 
Tips To Make Easy Chicken Cordon Bleu
1 Make each recipe ahead of time. 
The best tip to help you make this delicious but labor-intensive recipe is to make the components ahead of time. You can prep and marinate the chicken and then freeze it rolled up in breadcrumbs until needed. The milk sauce can also be made and stored until ready to serve as well. The kesong puti, while easy to make, can even be store-bought if you don't have the time to make it fresh. 
ADVERTISEMENT - CONTINUE READING BELOW
Recommended Videos
2 Keep your kitchen well stocked. 
The only way you can make this recipe is to keep your kitchen well stocked. This recipe requires quite a lot of ingredients but all the ingredients are easily available, even the carabao milk. Even if carabao milk is not available, this can be substituted with cow's milk.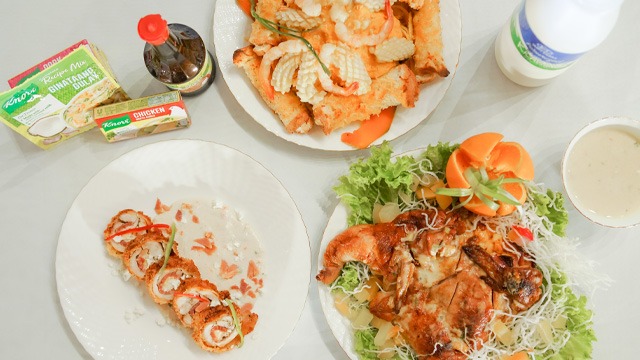 Chicken Cordon Bleu Storage Tips
1 Cordon bleu can be refrigerated. 
The chicken, both raw and cooked, can be refrigerated until ready to cook and serve. Keep the chicken in containers with a lid if cooked or wrapped well in plastic wrap if raw. 
If raw, the chicken can be kept in the refrigerator for as long as 3 days before it needs to be frozen. If cooked, it can keep for up to a week in the refrigerator. 
2 The chicken can also be frozen. 
The chicken, breaded and rolled with the ham and cheese inside, can also be frozen before being fried. These can be frozen individually, wrapped in plastic, and thawed just before cooking.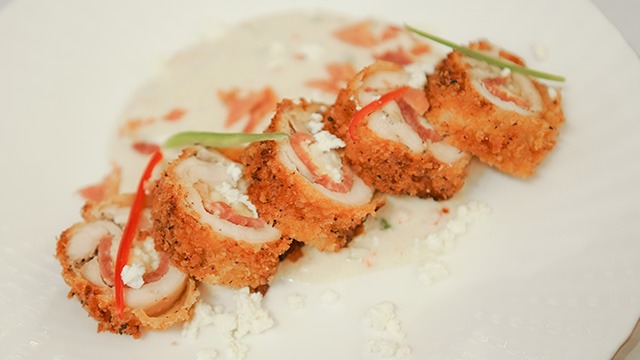 Chicken Cordon Bleu Recipe with Quesong Puti in Creamy Carabao's Milk Sauce
This chicken roll is bursting with flavor and textures.
Ingredients
For the Chicken Breast:

6

boneless chicken breasts

1

piece

chicken stock cube

20

grams

liquid seasoning

150

ml

carabao's milk

2

grams

ground black pepper

For Homemade Quesong Puti:

1

liter

fresh carabao's milk

30

ml

white vinegar

2

grams

iodized salt

For Carabao Milk Sauce:

15

grams

mayonnaise

20

grams

salted butter

20

grams

all-purpose flour

800

ml

fresh carabao's milk

100

ml

all-purpose cream

20

grams

or ½ packet ginataang gulay mix

20

grams

liquid seasoning

1

piece

beef stock cube

30

grams

grated cheddar cheese

10

grams

red onion

minced

10

grams

garlic

minced

20

grams

carrots

minced

10

grams

celery stalks

minced

5

grams

red bell pepper

minced

5

grams

green bell pepper

minced

1

gram

ground black pepper

minced

For Chicken Cordon Bleu:

6

marinated chicken breasts

6

thin slices Christmas ham

50

grams

mayonnaise

100

grams

cheddar cheese

cut into sticks

100

grams

quesong puti

For the breading:

6

pieces

eggs

30

ml

carabao's milk

Salt

to taste

Ground black pepper

to taste

500

grams

panko bread crumbs

100

grams

all-purpose flour

Salt

to taste

Ground black pepper

to taste
Instructions
Make the Quesong Puti: Pour carabao's milk into a pot and heat over low heat. Once hot, (Do not boil.), add vinegar and do not mix it yet. Let the milk curdle. Once you see the curdle, turn off the heat and strain, reserving some of the water to shape the kesong puti while still hot. Form cheese into a log for easier rolling.

Marinate the chicken breast: On a chopping board, butterfly each chicken breast. Place plastic on top of each breast. Then, with the back of your knife, pound the chicken breast until thin. Repeat with the other chicken breasts. Set these aside.

Dissolve the chicken stock cube in the carabao's milk and pour over the chicken. Add liquid seasoning and ground pepper to taste. Marinate the chicken for at least 30 minutes. Once the meat is ready, you are now ready to roll.

Make the cordon bleu: Place plastic wrap over a chopping board then place a butterflied chicken fillet on the plastic. Spread mayonnaise and layer ham, sticks of cheddar cheese and homemade keesong puti on top. Roll the chicken and let it rest for at least 15 minutes. Repeat with remaining butterflied chicken fillets.

Roll each chicken roll in flour, then the egg wash and panko breadcrumbs. Deep fry in 350 degrees F or 175to 180 degrees C.

Make the Carabao Milk Sauce: Sauté onions, garlic, celery, carrots and bell pepper with butter into a pan then set it aside.

In the same pan, add mayonnaise and butter with all-purpose flour making a roux. Return the aromatics or garlic mixture.

Add the carabao milk gradually and mix continuously to avoid lumps. Add in the all-purpose cream, ginataang gulay mix, liquid seasoning, and grated cheddar cheese. Simmer for about 10 minutes or until thick and creamy.

To Serve: Slice the cooked chicken rolls to the thickness of your liking. Serve it with creamy carabao's milk sauce and top it with more kesong puti.
Notes
Add more vinegar if you want your kesong puti firmer.
To butterfly chicken breast, slice the thickest part of the chicken breast horizontally without slicing it off and open the chicken along the cut. Slice the chicken breast horizontally again at other thick parts and open the cut parts again to create a flatter, more even thickness piece of chicken.
How do you know the chicken is cooked through? Use a thermometer! The chicken is cooked once its internal temperature reads 165 degrees F or about 73 degrees C.
Try These Other Yummy Recipes: