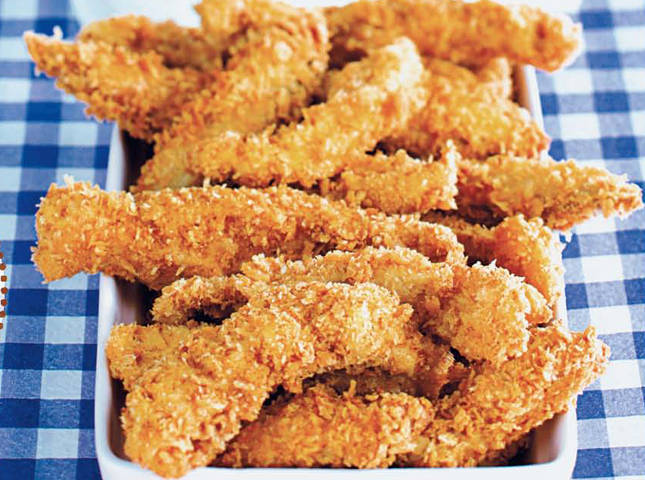 A favorite of both kids and grownups, this appetizer can also be a viand when served with rice and ketchup or sweet chili sauce on the side; a sandwich with mayo, lettuce, and tomato; or a salad topping when cut into bits.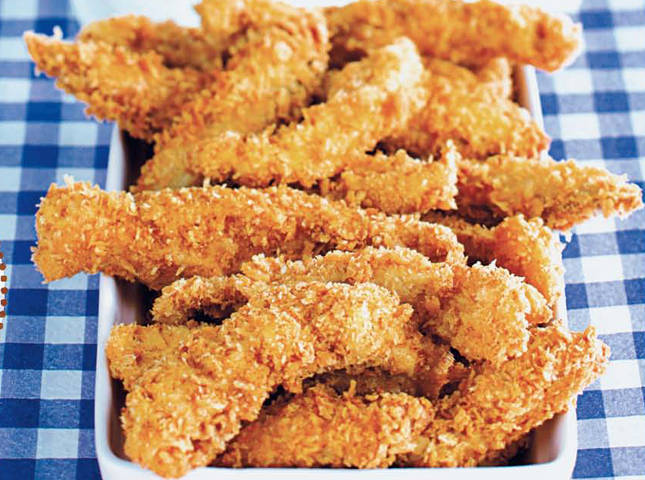 Chicken Fingers with Tartar Dip
This chicken winner can be served as a viand, sandwich, salad, or alone.
Ingredients
Chicken Fingers with Tartar Dip
2

cups

deboned chicken leftovers

2

whole

Egg

1/2

Cup

all-purpose flour

1

Cup

Japanese breadcrumbs (Panko)

3

cups

cooking oil

Salt

to taste

1

Egg

(hardboiled), minced finely

1

teaspoon

capers

minced finely

1

teaspoon

pickled relish

minced finely

1

tablespoon

white onion

minced finely

3/4

Cup

mayonnaise

1

teaspoon

mustard

Pepper

to taste (optional)
Instructions
Cut chicken leftovers into fingerlike strips. Put each of the following ingredients in 3 separate bowls: whole beaten eggs, all-purpose flour, and Japanese breadcrumbs.

Lightly coat each of the chicken strips, one at a time-—first with the flour, then with the beaten eggs, and lastly with the breadcrumbs.

Deep-fry in hot oil in a small wok or round-bottom frying pan until golden brown. Put in a strainer with paper towels to remove excess oil. (If your wok or pan for deep-frying is big, you'll need more oil.)

Arrange in a flat serving platter and serve with tartar dip.

Make the tartar dip: Combine egg, capers, relish, and white onion in a bowl with mayonnaise and mustard. Mix well. Season with salt and pepper, if desired. Serve with chicken fingers.