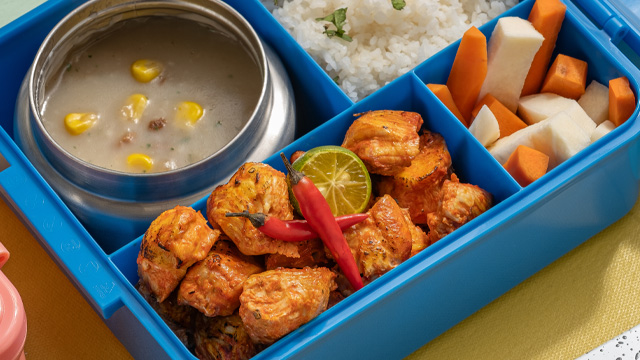 What Is Chicken Inasal Skewers?
Traditionally, bone-in chicken parts are marinated in a blend of vinegar, lemongrass, ginger, and garlic, then grilled to perfection. This leaner rendition of the chicken inasal uses skinless chicken breast and is as flavorful without margarine. 
How to Serve Chicken Inasal Skewers
Steamed rice is the way to go with any chicken inasal meal but you can make these this with a new eye to cooking healthy and eating better with rice swaps. 
Pair it with rice alternatives: Those who are avoiding rice so not have to do without their favorite ulam meals. Quinoa, adlai, and even couscous are all rice alternatives that can be a delicious pairing to these grilled chicken skewers. 
How To Cook Chicken Inasal Skewers
The recipe is in three steps: marination, skewering, and grilling. The marination is what makes these chicken bites sooo delicious! The garlic and vinegar combo gives it wonderful flavor as well as tenderizing power. However, be careful not to over-marinate since the vinegar can change the texture of the chicken to something that's not desirable. 
Once marinated, you'll have to prepare the wooden skewers. These need to be soaked in water to prevent them from burning and turning into kindling as you grill. Thread the chicken chunks and you're ready to grill as soon the grill is ready, too. 
While the grill is heating up, prepare your coconut oil to ensure these skewers are irresistible! The coconut oil ensures the chicken is super tasty and cooks properly over the hot charcoals. You can even make this coconut oil into annatto oil just by steeping some annatto seeds or atsuete seeds in it while hot. 
Keep an eye on the chicken because chicken cooks faster than other meats. Once charred and cooked to satisfaction, brush one more time with the oil and remove form the grill. Serve immediately! 
Tips To Make Easy Chicken Inasal Skewers
1 Remove the skewers if packing for baon. 
We know how easy it is to just stuff into your lunch box. For this recipe, we suggest doing the extra step of removing the skewers. It not only makes eating it easier if you have a spoon and fork but there is less danger of poking anything. 
2 Always reheat brushed with more oil. 
Chefs love to layer flavors and for this recipe, it's a sure sign that you'll be eating something supremely delicious! Whenever you reheat these, do as you did when cooking them: brush on more of that flavorful oil for the best-tasting chicken inasal you'll ever eat. 
3 In a hurry? Marinate for a few hours only! 
What makes this chicken recipe so versatile is the fact that you do not need to marinate overnight. In fact, if you marinate the chicken for days, it will end up chalky in texture! Instead, marinate for a few hours and see how delicious they are even with a shorter period of time than even overnight.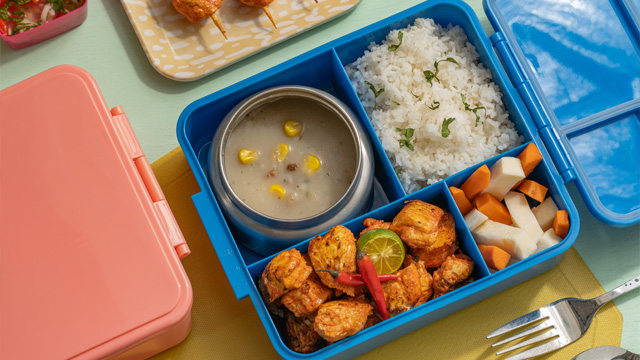 Chicken Inasal Skewers Storage Tips
1 Refrigerate uncooked chicken but not too long. 
Chicken has a tendency to become chalky and pebbly if marinated in an acidic solution for too long, so aim for marinating for one day and cooking the chicken within the next 3 up to 5 days for best results. 
ADVERTISEMENT - CONTINUE READING BELOW
Recommended Videos
2 Once marinated, you can freeze it. 
The marinated chicken can also be frozen if you're planning ahead. Freezing stops time essentially so the vinegar will not be doing its thing when frozen. However, once thawed, it will continue "cooking" the chicken so plan your future day of cooking well. 
3 You can refrigerate and freeze as skewers. 
You can marinate the chicken on the skewers if you have time now and might not later. You can thread the chicken cubes now and toss the sticks in the marinade and store.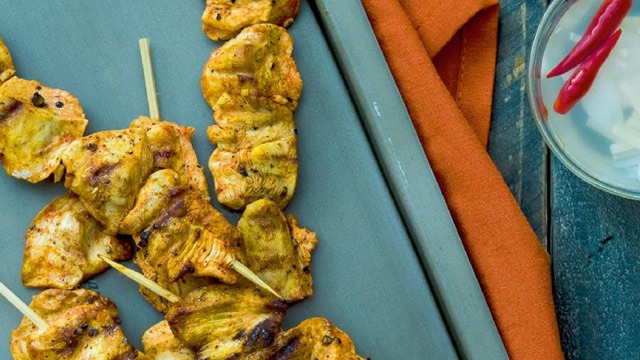 Chicken Inasal Skewers Recipe
This leaner rendition of the chicken inasal uses skinless chicken breast and is as flavorful!
Ingredients
Chicken Inasal Skewers Ingredients
3/4

kilo

Chicken

(use skinless chicken breast), sliced into 1-inch cubes

1/2

tablespoons

ginger

grated

1/4

teaspoon

black peppercorns

cracked

Calamansi Juice

2

tablespoons

white vinegar

3/4

teaspoon

Salt

1/2

tablespoon

Achuete Powder (annatto powder)

12

pieces

wooden skewers

refined coconut oil

for brushing

2

cloves

Garlic

1 1/2

cups

Vinegar

1/4

Cup

red chili pepper (siling labuyo)
Instructions
In a large bowl, combine chicken, ginger, cracked black peppercorn, calamansi juice, vinegar, salt, and annatto powder. Mix well, cover, and marinate overnight and in the refrigerator.

Soak the wooden skewers in water for 20 minutes and set aside.

Thread the chicken through the wooden skewers.

Make the sukang sinamak: Combine all the ingredients in a jar or bottle with a cap. Shake until well-combined. Set aside.

Preheat the grill to high and brush with oil.

Grill the chicken on both sides until fully cooked. Serve with sukang sinamak.
Try These Other Yummy Recipes:
More Lessons About Chicken Inasal: