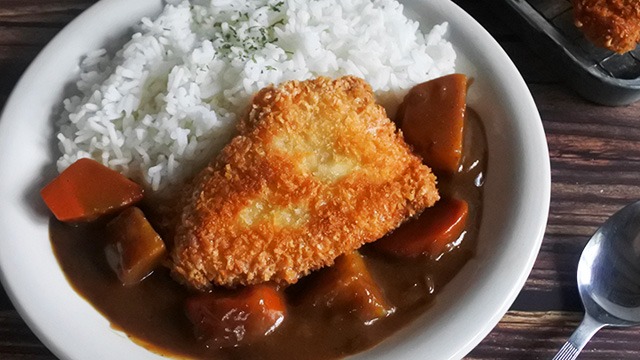 Japanese curry and a chicken katsu is a common meal combination. The Japanese style of curry is a sweet and spicy blend, courtesy of honey, a pear, and lots of onions. It's the perfect mix of textures to complement a crunchy chicken fillet.  
Want to make this curry recipe even easier? Grab one of these grocery finds from the supermarket or your local Japanese grocery to ditch making the curry from scratch.  
You can even make a pork version of the chicken fillet or a tonkatsu just by swapping out the chicken fillet with a pork cutlet that's been trimmed and pounded until tender. Serve it with the curry, and it's as if you were dining out at a Japanese resto!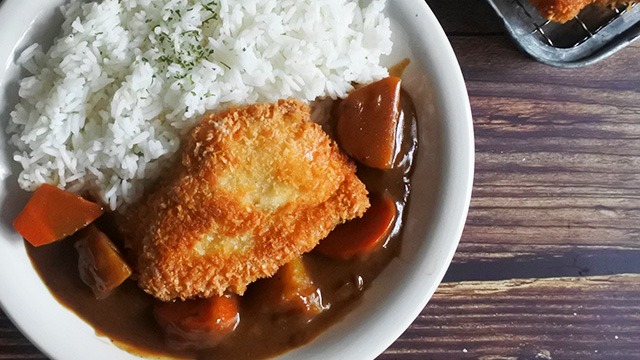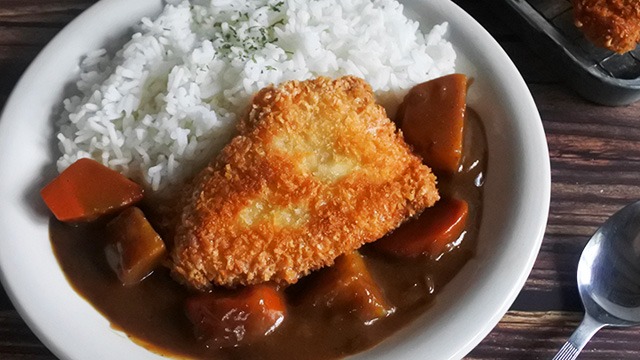 Chicken Katsu Curry Recipe
Sweet, spicy, and crunchy, you can make this at home!
Ingredients
Chicken Katsu Curry Ingredients
1/4

Cup

cooking oil

more for pan frying

3

medium

white onions

peeled, sliced thinly

1/4

Cup

all-purpose flour

2

tablespoons

garam masala

or to taste

2

medium

Potatoes

peeled, cubed

1

large

carrot

peeled, cubed

1/2

Small

Fuji apple

peeled, grated

1/4

Cup

honey

1

tablespoon

brown sugar

Salt

to taste

6

pieces

chicken breast fillets

1

Cup

all-purpose flour

2

large

eggs

beaten

2

cups

Japanese breadcrumbs or panko

ground black pepper

to taste
Instructions
Make the Japanese curry: In a large wok over low heat, heat oil. Add onions and let cook over low heat, stirring, until onions begin to turn golden brown, about 20 minutes. Add flour, and stir to mix. Continue cooking until the flour begins to color and the onions are browned. Add and stir in garam masala. Cook, stirring, until aromatic.

Add potatoes, carrots, grated apple, honey, sugar, and water. Bring to a boil then simmer until the vegetables are tender, about 10 minutes. Cook until curry is thickened. Season with salt to taste. Set aside. (Alternatively, pour 3 cups water in a wok and add a 1 prepared Japanese curry block. Bring to a boil then simmer until the block is dissolved then add the potatoes and carrots. Simmer until vegetables are tender, adding more water as needed, and curry has thickened.)

Make the chicken katsu: Remove the tenderloins from the breast fillets if still attached. (Reserve tenderloins for another use if desired.) Lightly season the chicken breast fillets then sprinkle with flour on both sides.

Make a breading station: In one shallow plate, add the egg. In another plate, add Panko breadcrumbs. Lightly season the beaten egg with salt. Lightly dip the floured chicken in the egg, then in the breadcrumbs. Repeat until all chicken are coated with breadcrumbs. Set aside.

Heat a frying pan with enough oil for pan frying. Slide chicken fillets, careful not to crowd the pan, into the hot oil and cook until browned on both sides. Transfer to a wire rack. Repeat with remaining chicken fillets.

To serve, plate steamed rice, chicken, then curry sauce with chunks of potatoes and carrots. Serve immediately. [ArticleReco:{"articles":["23240","21832"]}]