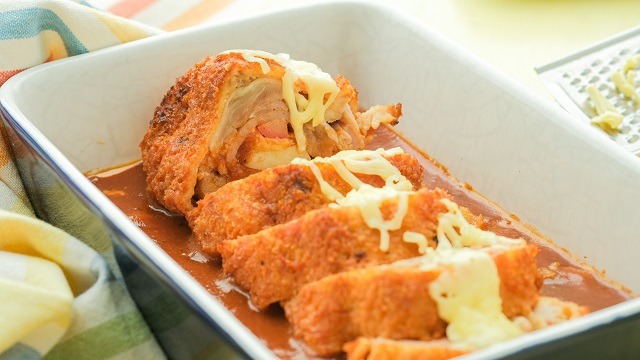 A morcon is basically a beef roll. It's usually a chunk of beef, butterflied and sometimes pounded until evenly thin all over, and then rolled with hotdogs, cheese, bell peppers, and hard-boiled eggs on the inside. It is then braised until the beef is tender in a super flavorful sauce made dark and delicious from the soy sauce. 
It's a classic Christmas recipe that's commonly made and served during Noche Buena. However, it needs time to tenderize the beef. If you want to cut cooking time, why not try it with this easy ingredient swap? This chicken morcon recipe is made like a beef morcon so you still make a delicious morcon dish but without the long cooking time.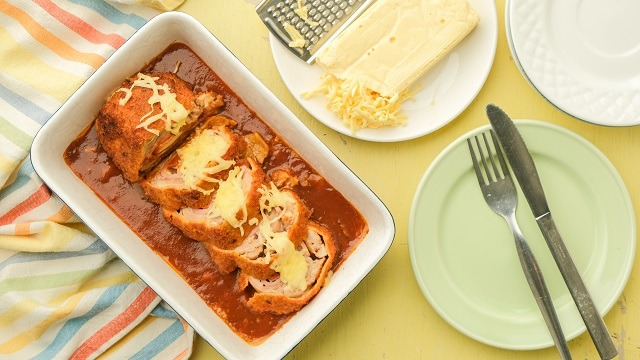 Love this idea? You can also try this Chicken Morcon with Cheese Recipe to make it creamier!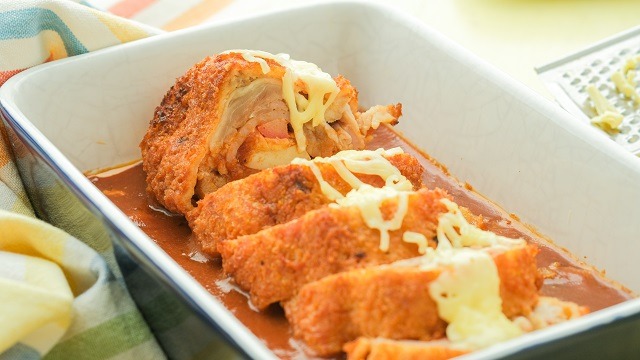 Chicken Morcon Recipe
Skip the long cooking time with this smart ingredient swap.
Ingredients
Chicken Morcon Ingredients
6

pieces

chicken thigh fillets

1

Cup

pineapple juice

2

pieces

lemons

juiced

1/3

Cup

Soy Sauce

2-3

pieces

red onions

finely chopped

5-6

cloves

Garlic

finely chopped

3

slices

ham

2

medium

hard-boiled eggs

quartered

4

pieces

hotdogs

thinly sliced

1

Cup

cornstarch

2

medium

eggs

beaten

1

Cup

Japanese breadcrumbs

quick-melting cheese

grated, for topping

Oil

for frying

2

Cup

chicken broth

2

tablespoons

tomato paste

1/2

Cup

Tomato sauce

2

tablespoons

Worcestershire sauce

1

teaspoon

brown sugar
Instructions
Pound and flatten chicken thighs to approximately 3 millimeters. Set aside.

Mix together pineapple juice, lemon juice, soy sauce, onions, garlic, salt, and pepper in a large bowl. Add chicken fillet. Marinate for an hour.

Place two marinated chicken pieces on a flat surface, overlapping each other on one side. Place in the center ham slices, hot dogs, and egg slices. Roll the chicken tightly around the fillings, and secure the roll by tying it with kitchen string.

Prepare three shallow bowls with cornstarch in one, lightly beaten eggs in another, and breadcrumbs in the last. Dredge the chicken rolls, first in the cornstarch, then dip in the egg, and finally, roll in the breadcrumbs. Repeat with the remaining chicken.

Fry chicken rolls in hot oil in a frying pan until golden. Set aside.

Drain the oil. In the same pan, add the marinade and tomato paste. Simmer for 2 minutes. Add chicken broth and tomato sauce.

Return the chicken rolls to the pan, and simmer in the sauce for 10 to 15 minutes or until cooked through.

Sprinkle cheese on top and let melt. Serve, sliced and strings removed, with the sauce.
ADVERTISEMENT - CONTINUE READING BELOW
Recommended Videos