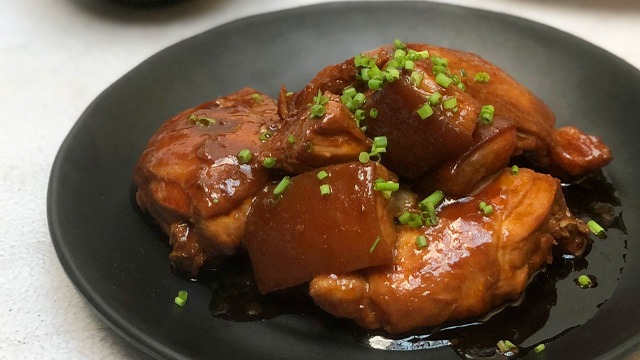 A classic chicken and pork adobo need no introduction. It's a savory dish that is super flavorful, thanks to the soy sauce, vinegar, and garlic marinade that infuses each piece of succulent meat. However, while many of us enjoy a good adobo meal, this fusion recipe that marries your favorite chicken and pork adobo with the Korean condiment gochujang will be a delight to your surprised taste buds.
What is gochujang?
Gochujang is a fermented red chili paste made from gochukaru or gochugaru (the dried red chili powder from Korea), soybeans, rice or wheat, and salt. It's the same stuff that makes your saucy and spicy tteok-bokki dish so red. It's still the same red paste that tops your bibimbap bowl and gives your favorite Korean fried chicken a bit of heat. For those spicy food lovers, this chicken and pork adobo recipe is going to be a wonderful surprise because it's got some unexpected heat. For those who adore spicy Korean food, the spicy gochujang in this otherwise normal but flavorful dish will have them eagerly digging into an adobo-topped rice bowl while listening to the beat of their favorite Korean bands.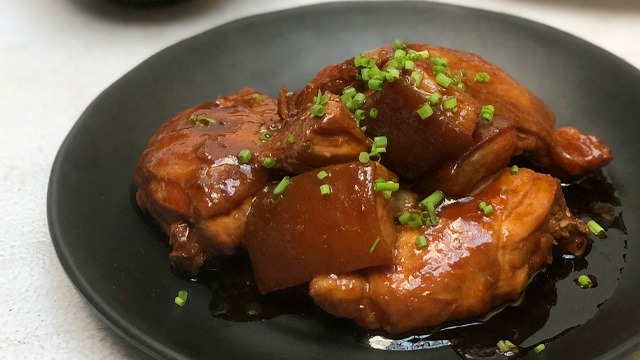 Chicken Pork Adobo Recipe With Gochujang
This fusion recipe is a spicy version of a Pinoy classic dish!
Ingredients
Chicken Pork Adobo Ingredients With Gochujang
2

tablespoons

Cooking Oil

6

cloves

Garlic

1

medium

Red Onion

1/4

Cup

Soy Sauce

1/2

Cup

Apple Cider Vinegar

1

tablespoon

Korean Hot Pepper Paste (Gochujang)

1 1/2

cups

Water

1

tablespoon

Brown Sugar

250

Grams

Pork

250

Grams

Chicken

1

teaspon

Sesame Oil

Green Onion
Instructions
Heat cooking oil in a pan, and add garlic and onions. Saute until garlic is fragrant and onions are translucent.

Add the light soy sauce, vinegar, gochujang, water, and brown sugar. Stir and bring to a boil. Add the pork, lower down the heat and simmer until tender, about 30 minutes)

When the pork is already tender, add the chicken thighs and cook until the chicken is cooked through and the sauce has reduced to almost half. 

Stir in sesame oil. Place meat pieces on a serving plate, garnish with chopped green onions, and serve with piping hot rice.