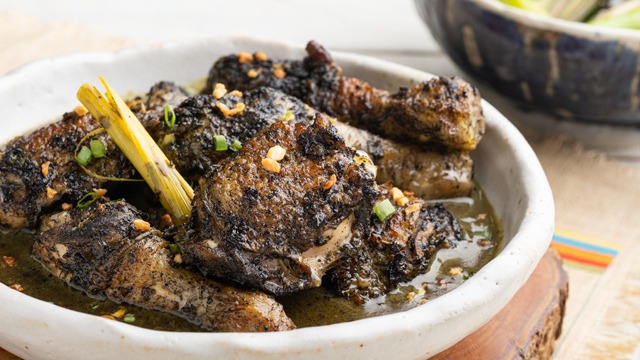 What Is Chicken Pyanggang?
The chicken pyanggang may not be the most appetizing dish to find on your table but give it a chance. Chicken pyanggang is a chicken dish from Mindanao characterized by a super flavorful sauce made of burnt coconut. The blackened coconut in the sauce and the marinade is the magical ingredient that elevates this curry from your usual yellow, red, or green curry to one that you just need to taste to truly enjoy and appreciate.
Feel free to adjust the spice level of this Filipino dish by adding or lessening the amount of chili. Give this unique and delicious chicken recipe a try—it is worth it! 
This regional recipe is just one of the six featured recipes for the month of October. You can find out what the other five recipes are in the Yummy Digital Issue for October 2023. 
How to Serve Chicken Pyanggang
As with any curry, this chicken curry with burnt coconut is fantastic with steamed rice. Alternative grains such as adlai, quinoa, barley, or cauliflower rice would also be delicious if your diet allows it.
Flatbread that are thick enough to soak up the curry sauce like those Indians use for curry dishes would also be a delicious accompaniment, too. 
How To Cook Chicken Pyanggang
The typical yellow chicken curry is normally easy to make and cook within an hour but for this particular recipe, its more complex in its creation.  That's why it's got such great flavor!
The first step is to burn the grated coconut until blackened or basically burnt. You can do this over the grill as instructed in the recipe or, if you have an oven, broil the grated coconut on the top rack until burnt.
Grind the blackened coconut in a large mortar and pestle or pandikdik until powdered and begins to release its oil. Add the remaining curry herbs and spices and pound these ingredients together well. This curry paste creates the first layer of flavor that you'll also rub onto the chicken as a marinade.
Then it's just a matter of cooking the chicken and the curry sauce that goes with it. To do this, sear the marinated chicken and set this aside while you cook the curry sauce.
The curry sauce is a mixture of the curry paste you made plus even more aromatics simmered in coconut cream and coconut milk. Season with patis or salt and pepper to give it more flavor before adding the cooked chicken back in the pot.
Tips To Make The Best Chicken Pyanggang
1 Use desiccated coconut.
Not everyone has access to a palengke or even a supermarket that offers freshly grated coconut. If you don't, simply grab some desiccated coconut from the baking supplies aisle and use that instead. While it's not as flavorful as fresh coconut, it still burns well and can become a delicious addition to your curry sauce. The sauce is infinitely better with than without the blackened coconut. 
2 Use a food processor.
If you're short on time, don't have the energy, or do not have a large enough pandikdik, you can use a food processor to create the curry paste. Just process the ingredients very well to get as fine a paste as you can create.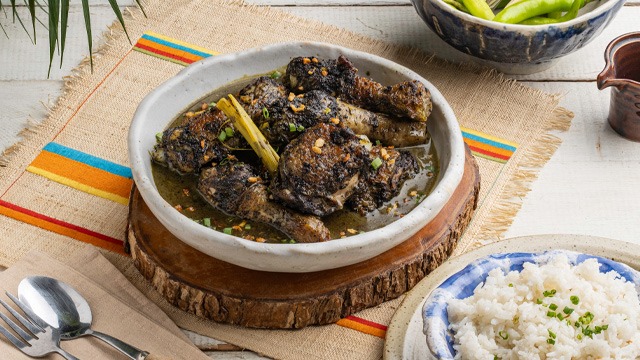 Chicken Pyanggang Storage Tips
Refrigerate or freeze this chicken curry.
Chicken curry is easy to store and since this curry doesn't have vegetables, it's even easier to store since there is no need to separate the vegetables that won't freeze well. Simply transfer the leftovers in a container with a lid and store it for up to three days.
This dish still contains coconut and despite it having been simmered, it can spoil faster than other ulam dishes.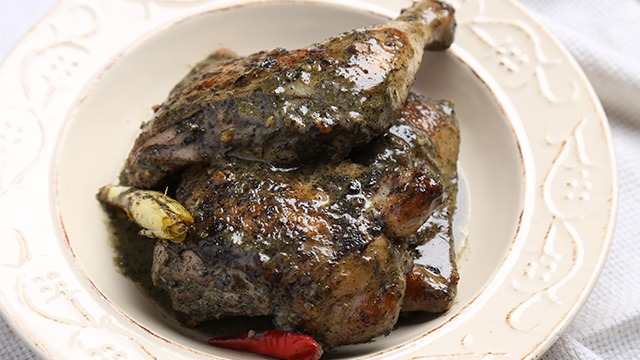 Chicken Pyanggang (Chicken in Blackened Coconut Curry) Recipe
This chicken is is marinated in a curry paste made from blackened coconut.
Ingredients
Chicken Pyanggang (Chicken in Blackened Coconut Curry) Ingredients
2

Chicken

use leg quarters

2

Chicken

use chicken thighs

1/4

Cup

coconut (buko)

burnt and ground

1 1/2

tablespoons

red onion

chopped

1

piece

Lemongrass Bulb (Tanglad)

(use stalk part), white part only

1

tablespoon

Luyang Dilaw

chopped

2

tablespoons

Garlic

chopped

1

tablespoon

ginger

chopped

1

teaspoon

cilantro stems

chopped

3

tablespoons

spring onions

chopped

1 1/2

teaspoons

canola oil

Salt

to taste

finger chilies (siling pangsigang)

Optional

2

tablespoons

canola oil

1

tablespoon

Garlic

chopped

2

tablespoons

white onion

chopped

1

piece

lemongrass (tanglad)

white part only, bruise with the back of a knife

1

tablespoon

ginger

sliced

1

teaspoon

fish sauce (patis)

Coconut Curry Paste

1

Cup

coconut milk (gata)

1/2

Cup

coconut cream (kakang gata)

Salt

to taste

finger chilies (siling pangsigang)

optional, add for a spicy sauce
Instructions
Method for burnt coconut flesh:If you can get your coconut market vendor to separate the flesh from the husk, discard the husks and burn the flesh directly over your charcoal grill until black on both sides—burnt. If you can t get them separated, break niyog in half or quarters then burn all sides directly over charcoal until you can separate the husk and then continue to burn the flesh until burnt black on both sides.

Grind the burnt coconut flesh in a food processor or use a mortar and pestle. Use as needed.

To make the paste: combine burnt coconut, red onion, lemongrass stalk, fresh turmeric, garlic, ginger, cilantro stems, spring onions, canola oil, and green chili (optional) and pound on a mortar and pestle. Mix well until you have a paste. Season to taste. Take half of the paste and combine with the chicken, mix well and marinate for about 4 hours.

Heat oil in a pan over medium high heat and sear the chicken on all sides until lightly brown then remove the chicken from the pan. On the same pan, sauté garlic, onions, lemongrass, ginger, patis, and the rest of the paste.

Add coconut milk and coconut cream and bring to a slow simmer. Return the chicken to the pan and bring to a slow boil then maintain at a simmer for 12 minutes or so or until the chicken is cooked through. Season to taste. Add green chilies to the paste or sauté for heat, if desired.
Try These Other Yummy Recipes:
ADVERTISEMENT - CONTINUE READING BELOW
Recommended Videos