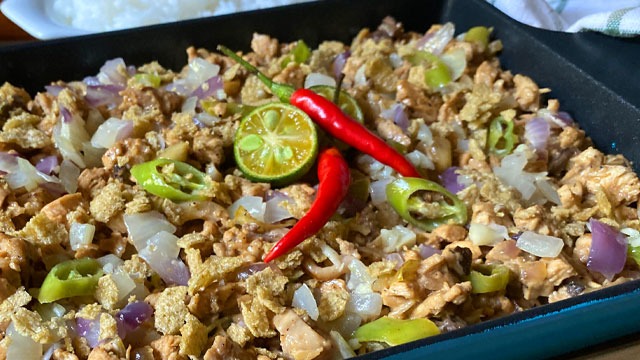 There are few local restaurants which don't include the sisig as part of its menu. "People will be crazy for sisig everywhere" is what the late Anthony Bourdain described sisig and its introduction to people's palates, and he's not wrong. 
The sizzling sisig almost always get rave reviews but a chicken version that's faster to prepare and cook can do it as much justice as the original pork. 
What is sisig? 
Sisig is a Kapampangan specialty made of diced pork seasoned with soy sauce, liquid seasoning, calamansi juice, chili, and served on a sizzling hot plate topped with an egg. But did you know that it did not start off that way?
The modern grilled sisig dish that we know and love started when Lucia Cunanan, more fondly called Aling Lucing, chopped up grilled pork, specifically the pork ears and cheeks, then seasoned it with vinegar. She served it as her new version of the Kapampangan sisig babi, a dish similar to the Tagalog kilawin na baboy. It would be later on when the sisig would also include the meat from the rest of the pig's head and the liver and the addition of soy sauce with the vinegar to give it that savory-tang flavor that we look for. 
The dramatic flair of serving it on a sizzling plate is credited to a fellow Kapampangan Benedict Pamintuan which led to it becoming an even more popular menu item. 
The chicken version of this modern sisig is just as delicious and mouth-watering as the original. Complete with the requisite garlic, onions, and chilies, it's seasoned just as similarly as the pork. The biggest difference is really that the pork has been swapped out for chicken. Even the crispy bits that you expect from the fatty pork bits and cartilage are replaced with chicken skin to solidify the fact that you're still eating a sisig dish.
The debate of whether this is a good sisig, whether made of chicken or pork, lies in the addition of the mayonnaise instead of a raw egg on top of the sizzling meat.
Are you hungry yet? Try this recipe for chicken sisig and discover if you like it as is, with or without the mayonnaise.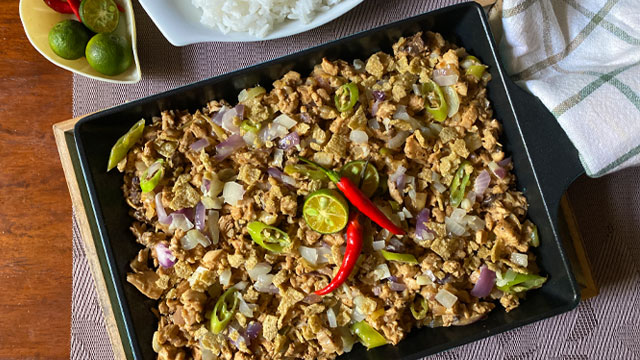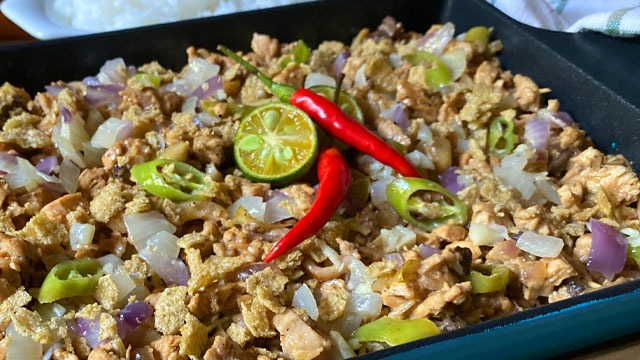 Chicken Sisig Recipe
Chop up chicken to make a manok version of this Pampanga original.
Ingredients
Chicken Sisig Ingredients
500

Grams

boneless chicken breast

100

Grams

chicken livers

2

tablespoons

vegetable oil

1

medium

white onion

chopped

1

medium

red onion

chopped

6

cloves

Garlic

chopped

2

pieces

green chili fingers (siling pang-sigang)

sliced diagonally

2

tablespoons

Soy Sauce

1

teaspoon

liquid seasoning

4

pieces

calamansi

juiced

1/2

teaspoon

ground black pepper

more to taste

1/4

Cup

mayonnaise

1/2

Cup

chicharon

chicken skin, crushed

calamansi

to serve

bird's eye chili (siling labuyo)

to serve

Salt

to taste
Instructions
Season chicken breast and chicken liver with salt and pepper. Grill just until browned, about 1 1/2 minutes per side. Chop and set aside.

Heat oil in a pan over medium-high heat. Saute onion, red onion, garlic, and green chilies until fragrant.

Add chopped chicken breast and chicken liver. Mix for 1 minute.

Add soy sauce, liquid seasoning, calamansi juice, and black pepper. Mix well and cook for 3 minutes or until liquid has been fully absorbed. Turn off the heat and add mayonnaise. Mix well.

Transfer to a serving dish or a sizzling plate. Sprinkle chicken skin chicharon on top. Serve with extra calamansi and red bird's eye chilies. Serve hot or on a sizzling plate.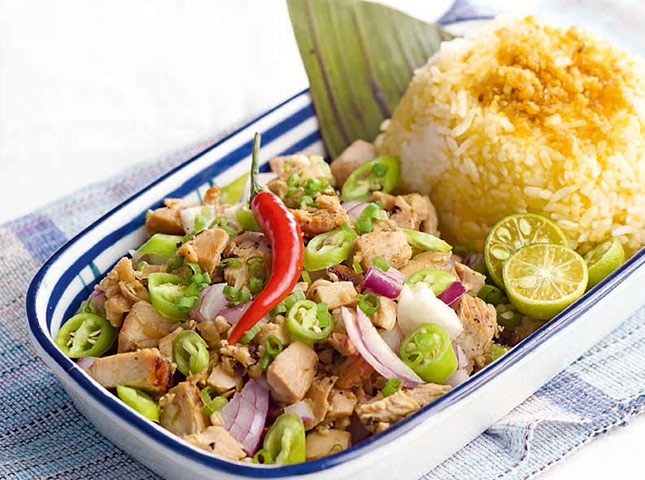 Chicken Inasal Sisig Recipe
Posted in:
Recipe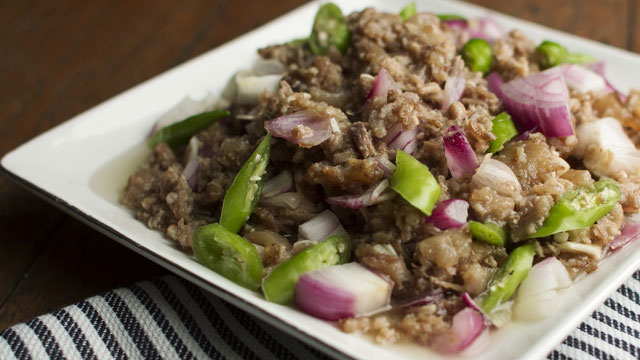 Pork Sisig Recipe
Posted in:
Recipe
ADVERTISEMENT - CONTINUE READING BELOW
Recommended Videos