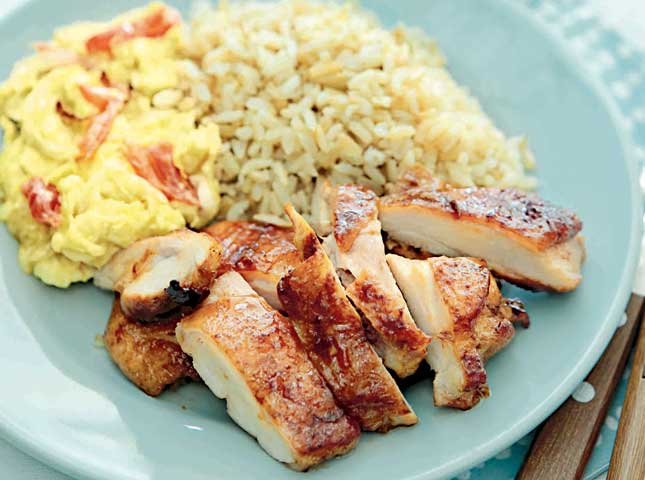 Tocino is a great Pinoy breakfast that makes for a yummy baon for both kids and grownups! What's even better is that you can make this breakfast staple using chicken at home.
How do you make homemade chicken tocino?
Tocino is a combination of brown sugar, vinegar, garlic, and your choice of meat. In this case, use boneless chicken fillets to make it easy for the sweetened marinade to penetrate and coat eaach succulent piece well. Using boneless meats also ensure that there's no need to worry about the bones when it's time to eat.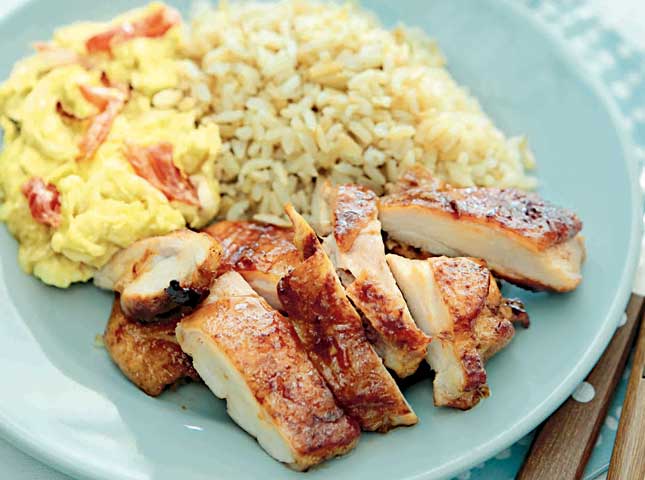 Chicken Tocino
Here's a great Pinoy breakfast, plus a yummy baon for both kids and grownups!
Ingredients
Chicken Tocino
1

kilo

Chicken

use boneless chicken thighs

3

tablespoons

Garlic

finely minced

1/2

tablespoon

Salt

1/2

teaspoon

black pepper

3

tablespoons

brown sugar

2/3

Cup

pineapple juice

2

teaspoons

Soy Sauce

2

tablespoons

Oil

Fried Brown Rice

to serve
Instructions
Using paper towels, pat chicken thighs dry; set aside.

Mix together garlic, salt, ground pepper, brown sugar, pineapple juice, and soy sauce. Stir until well combined. Add in chicken thighs, one piece at a time. Let stand at room temperature for 1 hour.

In a nonstick pan, fry chicken in oil. Drain on paper towels and slice into bite-size pieces. Serve with fried brown rice, sautéed onions, tomatoes, and scrambled eggs. Tips to make sure you get the best tocino possible: • Make sure to dry the chicken thighs before marinating. This allows the ingredients to be absorbed faster and with less contamination. • Mix the marinade very well until it is uniform in color—it will translate to uniformly flavored meat. • Let the mixture rest at room temperature for an hour. This allows the chicken to take in all the flavor from the marinade. • Fry the tocino in a nonstick pan. This means that you can use less oil, making the dish a little less sinful.