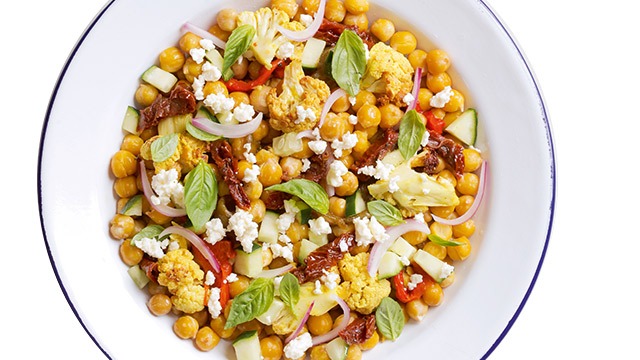 Churning out healthy dishes only takes a bit of effort. This healthy salad is easy to throw together and makes for a protein-packed side dish.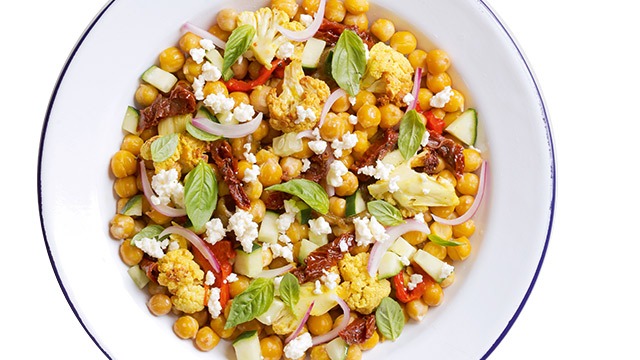 Chickpea Veggie Salad Recipe
Whip up this healthy salad in a flash!
Ingredients
Chickpea Veggie Salad Ingredients
1

pack (125-gram)

plain yogurt

1

teaspoon

ground cumin

1/2

teaspoon

ground turmeric

Salt

1 1/2

cups

cauliflower

florets

lemon juice

6

tablespoons

olive oil

1/2

Cup

fresh tomatoes

1/2

Cup

red bell peppers

(roasted), sliced into strips

1

large

shallots (sibuyas Tagalog)

sliced into strips

2

cans (450-gram)

chickpeas (garbanzos)

outer skin removed

basil leaves

1/4

Cup

feta cheese

crumbled
Instructions
Mix 1 pack plain yogurt, ground cumin, ground turmeric, salt, and pepper. Add cauliflower florets. Chill for 15 minutes; drain.

Place cauliflower on a heatproof dish. Roast in a turbo broiler or oven preheated to 350°F for 15 minutes or until tops are brown; set aside.

Whisk together lemon juice and olive oil in a bowl. Season with salt and pepper. Add sliced sun-dried or fresh tomatoes, roasted red bell peppers and sliced shallot; set aside.

Drain chickpeas. Heat chickpeas in a nonstick pan for 2 to 3 minutes. Add chickpeas to bowl, leaving ¼ cup in pan. Mash chickpeas in pan then add to bowl. Add cauliflower and a handful of basil leaves; toss. Top with feta cheese.