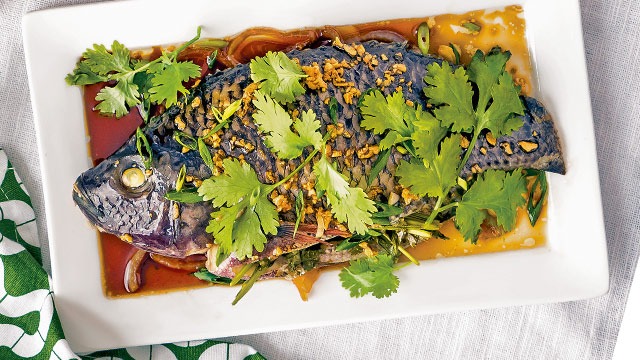 This steamed fish is healthy, and also very forgiving to the novice cook because steaming fish keeps the flesh moist—even if you mistakenly cook it for longer than you should. This dish is also flavorful: it has the classic soy-Shaoxing-sesame oil blend, to the bright fragrance of the cilantro, and the aromatic crunch of the garlic.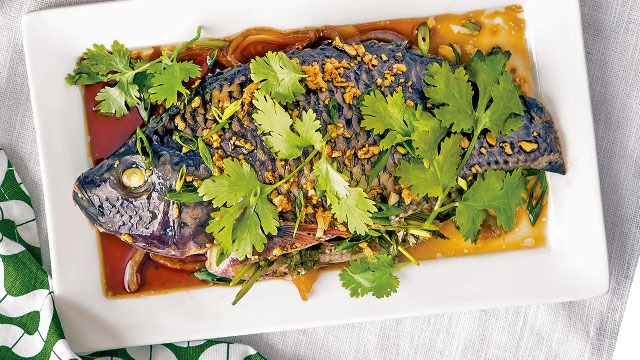 Chinese-Style Steamed Tilapia Recipe
This fish recipe has clean, delicious flavors!
Ingredients
Chinese-Style Steamed Tilapia Ingredients
2

500-gram whole

tilapia

scaled and gutted

1

white onion

sliced

1

(1-inch)

fresh ginger

peeled and sliced

2

cloves

Garlic

sliced

2

tablespoons

Shaoxing wine (Chinese rice wine)

2

teaspoons

sesame oil

1

bunch

cilantro (wansoy)

divided

5

green onion

sliced thinly

3

tablespoons

Soy Sauce

1

tablespoon

Chinese rice wine

2

tablespoons

water

1/2

teaspoon

sesame oil

white pepper

2

tablespoons

brown sugar

4

tablespoons

canola oil

10

cloves

Garlic

finely chopped
Instructions
Clean the fish and pat dry with paper towels.

Line a steamer with a double thickness of parchment paper or aluminum foil. Lay the onion slices, and a few slices of the garlic and ginger on the parchment or foil; put the fish on top of the aromatics. Stuff the cavity of the fish with the remainder of the garlic and ginger. Grab a few sprigs of the cilantro, roughly tear it, and stuff it into the cavity as well. Top the fish with the soy sauce, Shaoxing wine, and sesame oil.

Steam the fish for about 30 minutes or until just cooked. You can test for doneness by inserting the tip of a small knife into the flesh. It should flake easily when cooked.

Make the sauce: Place all the ingredients in a small saucepan and bring to a simmer; let bubble for about a minute. Remove from heat and set aside, but keep warm.

When the fish is done, remove the fish from the steamer and transfer to a plate. Tent the fish with foil to keep it warm.

Make the garlic oil: Heat the oil in a pan over medium heat. Add the chopped garlic and fry until golden.

Uncover the fish and pour the prepared sauce over it. Top generously with the remaining cilantro sprigs and spring onions. Take the pan of garlic oil and, while still sizzling, pour over the fish. Serve immediately.