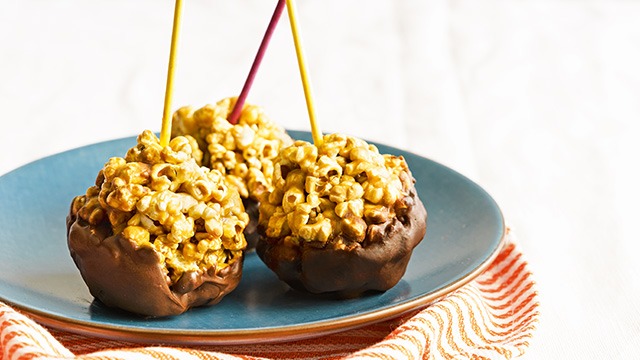 The popcorn balls are covered in chocolate to up the indulgence level! The freshly popped corn is tossed with a caramel mixture then dipped into a mixture of peanut butter and chocolate chips—making it a happy treat for the kids and kids-at-heart!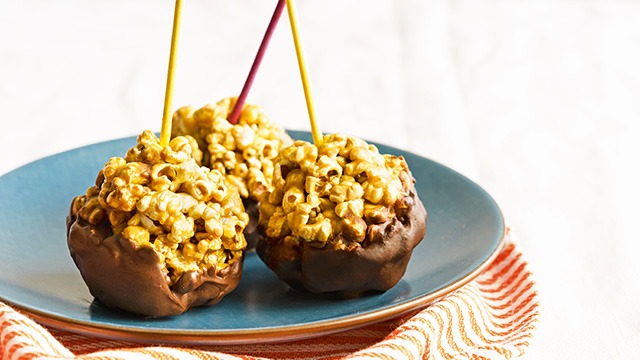 Choco-Peanut Popcorn Balls Recipe
Popcorn balls are pretty as they are delicious!
Ingredients
Choco-Peanut Popcorn Balls Ingredients
1/2

Cup

brown sugar

1/2

Cup

dark corn syrup

2

tablespoons

unsalted butter

1/3

Cup

condensed milk

1/4

teaspoon

vanilla extract

1/3

Cup

peanut butter

1

Cup

peanut butter chips

1

Cup

semi-sweet chocolate chips

1/4

Cup

Butter
Instructions
Prepare popping corn kernels according to package directions.

While corn kernels are popping, prepare the peanut butter mixture: Mix together brown sugar, corn syrup, unsalted butter and condensed milk in a small saucepan over medium heat until well combined and sugar has completely dissolved into a syrup. Remove from heat then add in vanilla and peanut butter.

Let cool until warm to touch then pour mixture over popped corn, tossing mixture well until thoroughly combined.

Form popcorn into large balls then set aside to chill in the refrigerator.

Meanwhile, prepare the dipping chocolate: Mix together all ingredients over a double boiler or in a small mixing bowl set over boiling water.

Dip a lollipop stick into the dipping chocolate then pierce it halfway through the chocolate balls. Use your hands to pack the popcorn into a solid ball and allow it to attach to the lollipop stick. Chill for at least 15 minutes to harden.

When balls are solid, dip them halfway into the dipping chocolate then set over a tray lined with greaseproof paper. Chill until chocolate sets before serving.