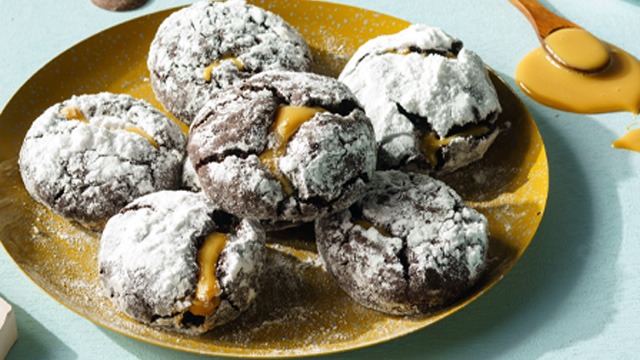 The only way a chocolate cookie can be made even better is if it's a crinkle. A crinkle is an intensely rich and soft chocolate cookie that can be considered a cross between a cookie and a fudgy brownie because of its texture. 
But what makes this particular crinkle extra appealing is the gooey caramelized sweetened milk that's inside each one.  
This is one of six new dessert recipes under the September digital cover recipes so we can satisfy all your sweet cravings here on Yummy.
What is a crinkle? 
A crinkle is a kind of cookie that is characterized by the cracks in the cookie that are made as it bakes. Since the cookie dough balls are rolled in powdered sugar, the cracks are emphasized and made extra noticeable, hence the "crinkles". 
Crinkles are commonly chocolate but that doesn't mean it can't be flavored in other ways! Ube crinkles and red velvet crinkles are just two ways to make this fudgy cookie festive and colorful for any occasion. 
How To Serve Dulce De Leche-Stuffed Chocolate Crinkles
As with most cookies, these are best served at room temperature, preferably with a beverage in hand, too. Coffee or even a tall glass of milk will make this chocolate cookie treat extra appealing. 
How To Make Dulce De Leche-Stuffed Chocolate Crinkles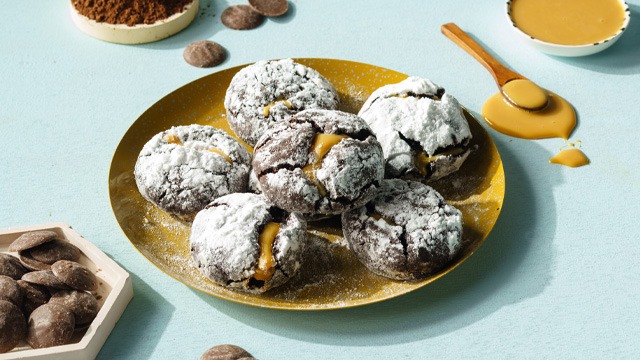 The cookie dough is easy to put together but the key to the crinkle is adding just enough baking powder into the dough and then chilling the dough. The baking powder ensures the cookies get their signature cracks as it bakes. Meanwhile, chilling not only ensures that the dough will hold its shape long enough to develop those crinkles but also makes it easy to form into the balls, too. 
You'll want to bake these just until cracked and the insides are still soft to create the perfect brownie-cum-cookie that you're expecting. 
Tips To Make Easy Dulce De Leche-Stuffed Chocolate Crinkles
The most important tip for making crinkles, or any chilled cookie recipe for that matter, is to use plastic wrap or even disposable gloves to form the balls. The plastic separating your bare hands and the cookie dough will make it easy to form properly without suffering the dough sticking to your fingers and palms. 
How To Store Dulce De Leche-Stuffed Chocolate Crinkles
The best way to store any cookie is in an air-tight container so the cookies can last longer. Not only will the cookies stay and taste more fresh, but the cookies won't lose their texture or become stale.
Dulce De Leche-Stuffed Chocolate Crinkle Recipe
Dulce De Leche-Stuffed Chocolate Crinkle Recipe
These intensely chocolate cookies have a milky surprise inside!
Ingredients
Dulce De Leche-Stuffed Chocolate Crinkle Ingredients
1

330-ml can

sweetened condensed milk

unopened, packaging removed

1

large

Egg

1/4

Cup

vegetable oil

1/2

teaspoon

vanilla flavoring

3/4

Cup

sugar

1/2

Cup

Dutch-processed cocoa powder

1

Cup

all-purpose flour

1 1/4

teaspoon

baking powder

1/2

teaspoon

Salt

1

Cup

Powdered SUgar

sifted
Instructions
Make the Dulce de Leche: remove any packaging from the can of sweetened condensed milk and rinse well. Place in a pot that is deep enough to fill with water that will cover and submerge the can. Add enough water to cover the can plus 2 inches. TIP: You can use your thumb or pinky finger against the top of the can to measure how much more water to add to cover it. Add enough water to reach the base of your finger or the edge of your palm.

Bring the water to a boil then lower the heat to a simmer. Cover with a lid but leave it slightly ajar to let steam out and not build pressure in the pot. (The can itself acts as a pressure cooker.) Simmer for 1 hour for a tan color up to 3 hours for a darker brown color, depending on how dark you want your dulce de leche to be.

Turn off the heat and remove the can from the water using tongs. Cool completely before opening.

Make the crinkles: In a large bowl, add egg, oil, vanilla flavoring, and sugar. Whisk until well mixed.

Place a sieve over the mixture. Add flour, cocoa powder, baking powder, and salt and sift. Remove the sieve and fold in the dry ingredients until well mixed. Transfer to plastic wrap and roll into a thick log. Chill the dough at least 30 minutes up to overnight.

Remove crinkle dough from the refrigerator. Use a piece of plastic wrap or wear disposable gloves to form the crinkle balls. Using a knife or a tablespoon, cut about 1/2 inch or 1 cm-thick slice from the log. Make an indent in the center of the cookie dough and place a chocolate button in the center. Spoon about 1/2 teaspoon dulce de leche onto the chocolate button. Cut another slice from the crinkle log and use it to cover the dulce, pinching the sides closed.

Roll and form the dough into ball using the plastic wrap or gloves. Repeat with remaining dough. Chill again until ready to bake.

When ready to bake, preheat the oven to 350 degrees F or 180 degrees C. Line a baking sheet with parchment paper for easy cleaning.

Roll crinkles in the powdered sugar then place on a baking sheet. Place crinkle cookie balls on a baking sheet, leaving about 2 inches of space between each ball.

Bake in the oven for 10 minutes or until the crinkles have risen and cracks appear on the surface of each cookie. (It s okay to underbake these cookies.) Let cool slightly before transferring to a wire rack. Serve when cooled. [ArticleReco:{"articles":["10478","18031","18868","21335"]}]
ADVERTISEMENT - CONTINUE READING BELOW
Recommended Videos