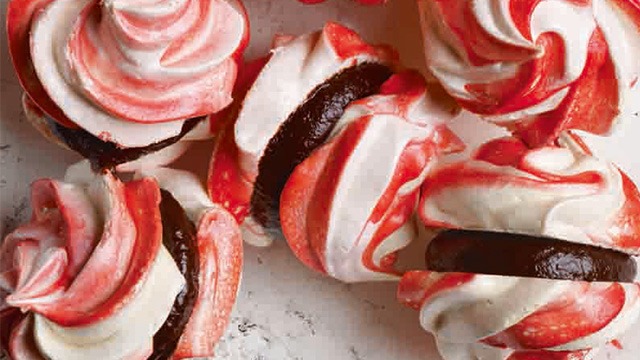 You can make these pretty treats in any color of the rainbow! Use red or green for Christmas, and dreamy pastels during the Easter season.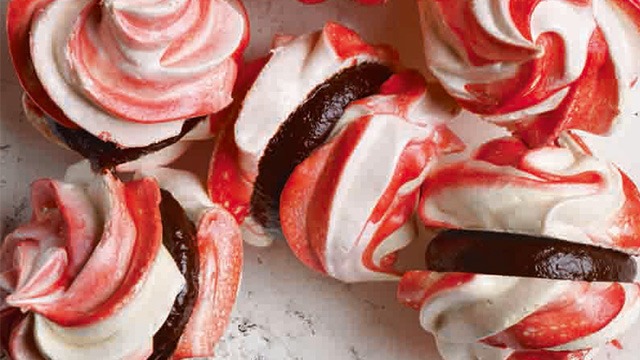 Chocolate-Filled Meringue Sandwiches Recipe
You can make these pretty treats in any color of the rainbow!
Ingredients
Chocolate-Filled Meringue Sandwiches Ingredients
3

large

eggs

(whites only)

3/4

Cup

sugar

1

tablespoon

cornstarch

1/2

teaspoon

vanilla extract

1/4

teaspoon

vanilla extract

1/4

teaspoon

cream of tartar

Salt

red food coloring

6

ounces

bittersweet chocolate chips

1/4

Cup

whipping cream
Instructions
Preheat oven to 175°F. Line baking sheets with parchment paper or silicone mats.

Place egg whites and sugar in a metal mixing bowl. Place bowl over a pan of simmering water, making sure the water doesn't touch the bottom of the bowl. Beat using a wire whisk for about 3 minutes or until mixture is warm to touch.

Add cornstarch, vanilla, cream of tartar, and salt to egg mixture. Transfer mixture to the bowl of an electric mixer fitted with the whisk attachment. Whip mixture until stiff peaks form and eggs are cool.

Place a 1.2-inch star tip in a piping bag. Using a paint brush and food coloring, paint 2 to 3 vertical lines from the bottom of the bag (where the tip is attached) to the top, making sure lines are evenly spaced from each other. Fill bag with meringue.

Pipe swirls, about 1 1/2 to 2 inches in diameter, spacing them 2 inches apart, onto the prepared pans.

Bake for about 1 to 1 1/2 hours or until dry and crisp. Turn off heat and allow meringue to cool completely inside the oven with the door left ajar.

Place chocolate chips in a microwave-safe bowl. Bring cream to a boil in a saucepan over medium heat. Pour cream over chocolate. Stir until chocolate is melted. Microwave choocolate mixture n the lowest setting for 30 seconds then stir again, if needed, until smooth and creamy.

Place chocolate in a piping bag with a round tip. Pipe chocolate on the bottom side of 1 meringue then top with another piece. Allow to set on a wire rack in a cool,l dry area.

Store meringue in an airtight container at room temperature for 3 days.