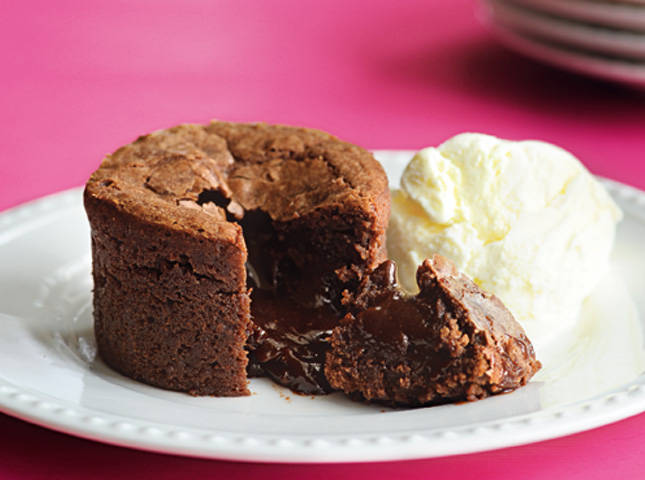 The secret to eating this lava cake? Make sure each bite contains cake, lava, and ice cream! Love cakes like this?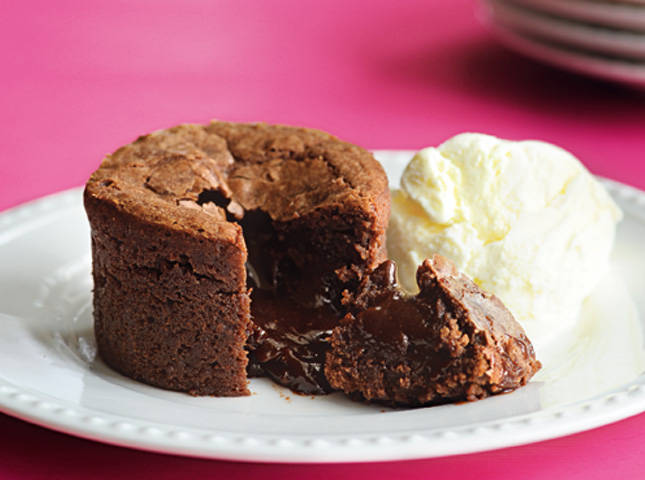 Chocolate Lava Cake
The secret to eating this? Make sure each bite contains cake, lava, and ice cream!
Ingredients
Chocolate Lava Cake
1

Cup

semi-sweet chocolate chips

1/2

Cup

Butter

1 and 1/4

cups

confectioners sugar

2

Egg

2

Egg

yolks only

1/3

Cup

all-purpose flour

vanilla ice cream

to serve
Instructions
Preheat oven to 425°F. Butter 6 molds or ramekins. Place on a baking sheet.

Microwave chocolate and butter in a large microwaveable bowl on high for 1 minute or until butter is melted. You can also melt this in a small saucepan over medium heat. Stir with a wire whisk until chocolate is completely melted.

Stir in sugar until well blended.

Blend in eggs and egg yolks with a wire whisk.

Stir in flour. Divide batter among prepared molds.

Bake for 7 to 9 minutes or until sides are firm but centers are soft. (Timing is critical to get a gooey center. Make sure to initially set a timer to 7 minutes. Increase by 1 minute at a time if cakes are not yet done. Remove cakes from oven when the sides are set and the center is still a bit wet but not runny.)

Let stand for 1 minute. Carefully run a small knife around cakes to loosen. Invert cakes onto dessert dishes. Serve immediately, topped with a whipped topping or ice cream. Chocoholic tip: Want something truly chocolatey? Instead of vanilla ice cream, top the lava cakes with your favorite brand of chocolate ice cream instead!