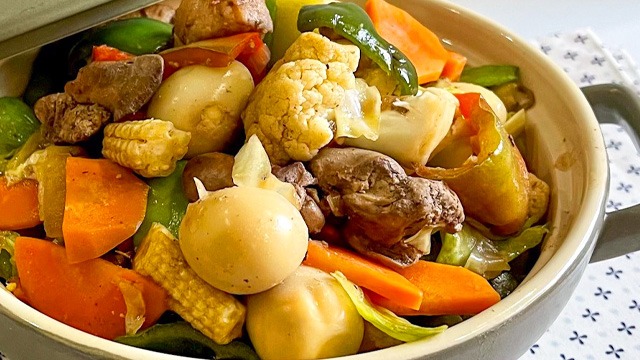 When it comes to chop suey, this dish is normally a hearty vegetable dish that is served on the side of the main meat dish. It's commonly a savory mix of cabbage, carrots, chicharo or snow peas, bell peppers, young corn, and sometimes cauliflower and/or broccoli. It can even have the occasional shredded chicken slivers, pork slices, and quail eggs. 
These meaty additions are what can catapult this side dish into main dish territory! Add enough meat and it's just as good as any veggie and meat dish you may serve. You don't need to go that far to give it a boost in flavor and just one ingredient can do the trick. 
For this recipe, the ingredient is the hearty chicken liver. Along with the quail eggs, these ingredients give this veggie dish a boost in protein that can make it more satisfying and filling to eat.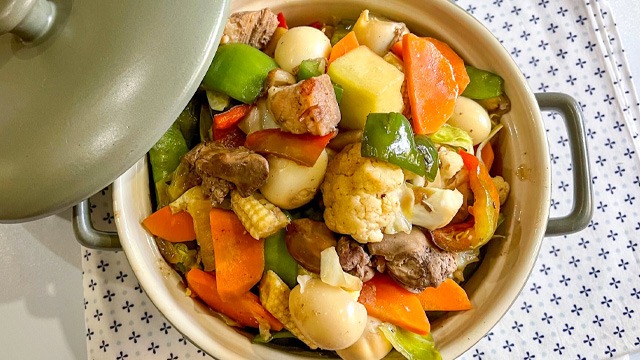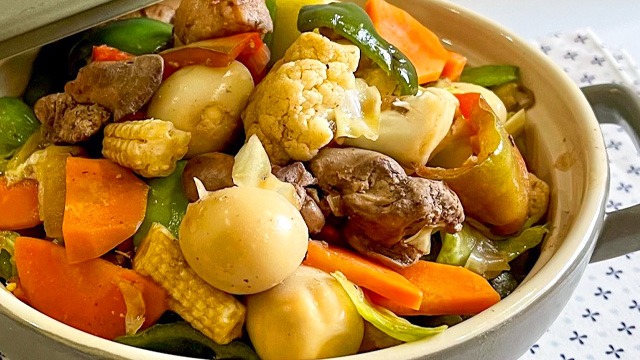 Chopsuey Recipe With Chicken Liver
This veggie side dish gets a boost in protein.
Ingredients
Chopsuey Ingredients With Chicken Liver
1/2

kilo

pork

boiled until tender

1

medium

white onion

chopped

3

cloves

Garlic

chopped

1/2

kilo

chicken livers

heart removed

2

tablespoons

cornstarch

2

cups

pork stock

or water

2

tablespoons

Soy Sauce

2

tablespoons

oyster sauce

1/4

teaspoon

ground black pepper

or to taste

1/2

Cup

snow peas (chicharo)

1

medium

carrot

sliced

2

pieces

red or green bell peppers

deseeded and sliced

1

medium

sayote (chayote)

sliced

1

head

cauliflower

cut into bite-sized pieces

1

head

cabbage

sliced

8

pieces

young corn

chopped

12

pieces

quail eggs

cooked

Salt

to taste
Instructions
Saute pork in a pot or wok to render the fat from the pork. Once fat is already rendered, saute onion and garlic. Add the chicken liver and allow to cook for 5 minutes.

In a small bowl dissolve the cornstarch in the pork stock. Pour into the pot or wok, add the seasoning ingredients: soy sauce, oyster sauce, and black pepper. Let it simmer for 5 minutes or until the sauce is thickened.

Add all the vegetables: snow peas, carrots, bell pepper, sayote, cauliflower, cabbage, and young corn. Mix all the ingredients and simmer for 10 minutes. Add the quail eggs. Season with salt to taste before serving.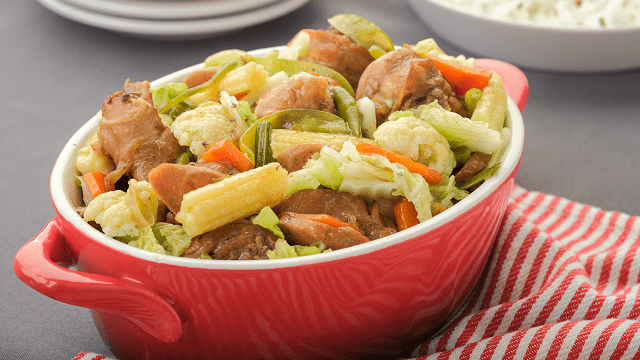 Chop Suey with Chicken Recipe
Posted in:
Recipe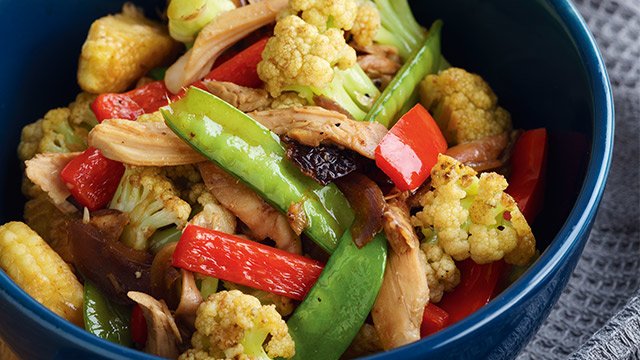 Easy Chicken Chopsuey Recipe
Posted in:
Recipe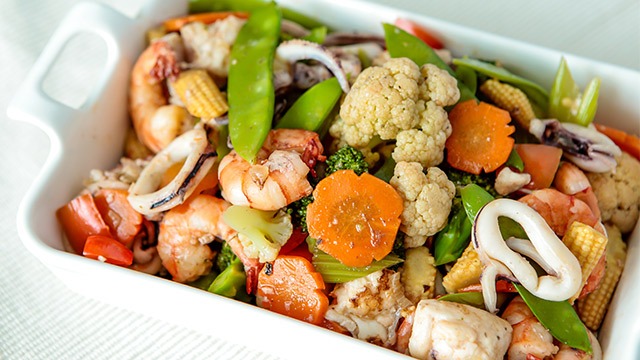 Seafood Chopsuey Recipe
Posted in:
Recipe