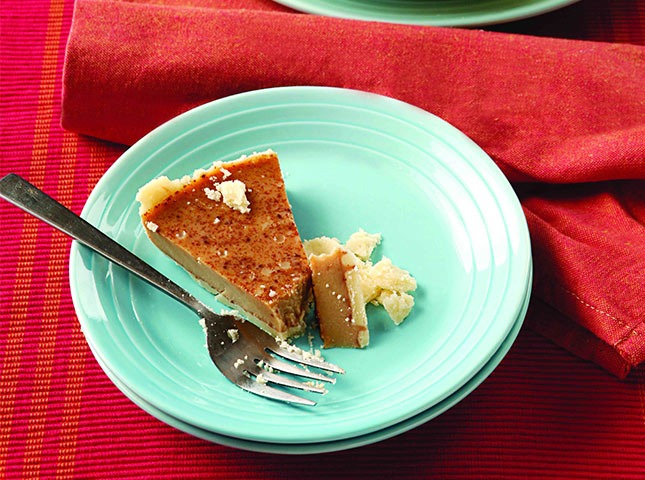 You can use a food processor to make the pie dough: it makes creating the perfect pie crusteasier.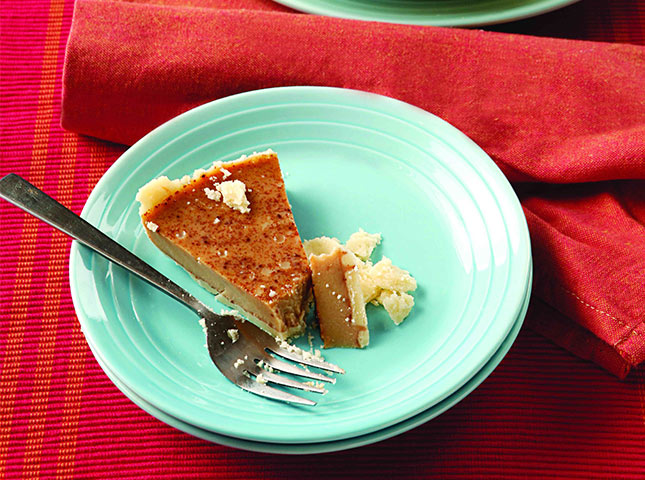 Cinnamon-Spiced Egg Pie Recipe
You can use a food processor to make the pie dough!
Ingredients
Cinnamon-Spiced Egg Pie Ingredients
1 1/2

cups

all-purpose flour

Salt

1

teaspoon

sugar

1/3

Cup

Butter

cut into cubes

3

pieces

Egg

1

piece

Egg

yolks only

5

tablespoons

sugar

1/4

teaspoon

ground cinnamon

ground cloves

1

Cup

evaporated milk

1 1/2

tablespoons

cornstarch
Instructions
Preheat oven to 350°F. Prepare water bath in a large baking pan.

Make Pie Dough: Dump 1 1/2 cups all-purpose flour, pinch of salt, and 1 teaspoon sugar together in a food processor. Pulse to mix and then add 1/3 cup cold butter, cut into cubes. Pulse until mixture resembles peas. Pulse again while slowly pouring in 2 tablespoons ice water. Keep pulsing dough until it comes together, adding another tablespoon of water, if dough seems dry. When dough begins to separate from the sides, remove and knead very briefly on a lightly floured surface to press dough together. Form into a flat round. Wrap in plastic wrap and chill at least 15 minutes.

Meanwhile, in a bowl, beat eggs, yolk, sugar, and spices together. Pour in milk and cornstarch and stir until well blended. Set aside.

Take out slightly chilled dough. Dough should be firm yet pliable without breaking. Place the dough between two pieces of plastic wrap. Working quickly, roll out dough using a rolling pin. Place chopsticks around dough as a guide to determine the dough's thickness. Remove top plastic wrap and gently flip over the rolling pin. Place over a pie plate and then press dough down gently to fill in the plate. Trim rims with scissors. Using a fork, poke holes into the pie crust bottom.

Pour egg mixture into the pie crust. Place in oven with the water bath. Bake in the center of the oven about 30 minutes or until the sides are set and the middle still slightly jiggles. Cool on a wire rack. Chill until ready to serve.