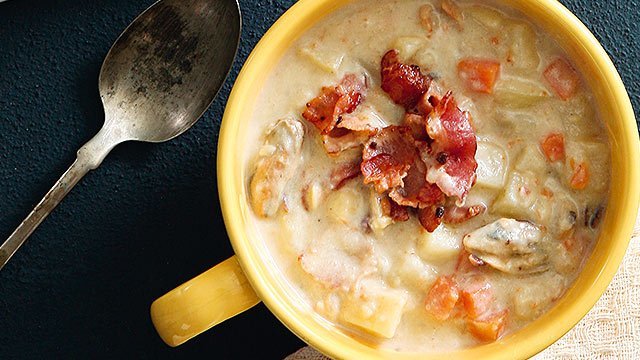 Make classic clam chowder even meatier by adding tahong into the mix. Get the freshest seafood you can find! This soup recipe can serve as the perfect appetizer or side dish for weekend dinners.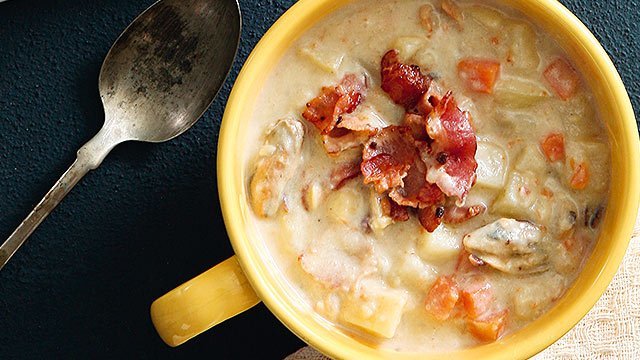 Clam and Tahong Chowder Recipe
This clam chowder is chunkier and more filling with cream and meaty tahong.
Ingredients
Clam and Tahong Chowder Ingredients
5

slices

bacon

chopped

1

large

onion

sliced thinly

1

tablespoon

ginger

peeled, sliced

1

kilo

green mussels (tahong)

cleaned, in cold water, beards removed shortly before cooking

1

large

carrot

peeled, cut into small cubes

1

kilo

Potatoes

peeled, cut into small cubes

4

cups

water

1/4

Cup

cream

Salt

to taste

ground black pepper

to taste
Instructions
In a medium-sized pot over medium heat, cook bacon, stirring occasionally to prevent sticking. Remove from pot, and set aside. Add onion and ginger. Sauté until aromatic.

Drain water from halaan and tahong, and add to pot. Stir, then cover. Let steam until shells have opened and juices from shellfish are released, about 5 minutes. Transfer shells to a large bowl. Once cool to the touch, remove meat from shells, discard­ing any that didn't open. Place meat in the refrigerator.

Meanwhile, bring juices to a boil, and let simmer. Skim off scum if any, and discard. Add drained potatoes and carrots. Pour in water, and bring to a boil. Lower to a simmer, and cook until potatoes and carrots are tender.

Transfer half the potatoes and carrots with 1 cup of the broth to a blender and puree until smooth. Return puree to the pot together with the shelled meat and half the bacon. Bring back to a simmer. Stir in cream, then season to taste with salt and pepper, if needed. To serve, ladle into bowls or large cups, top with remaining bacon, and serve hot. Recipe originally published in the September 2014 issue of Good Housekeeping Philippines.