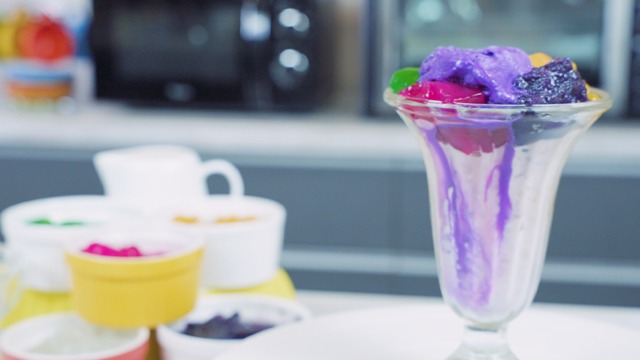 What Is Halo-halo?
Halo-halo loosely translates to "mix-mix," which is exactly what you are supposed to do with the dessert: mix the toppings into the ice and milk mixture before eating. Halo-halo is a dessert made of shaved ice topped with various sweetened ingredients and drizzled with evaporated milk. These ingredients are commonly minatamis or cooked in syrup to not only give them a sweetened taste, as is the case for the garbanzos, red beans, and the kaong or palm seeds, but also add sweetness to the overall dessert.
This icy dessert can also include other sweet toppings including nata de coco or coconut gel, flavored or colored gulaman cubes, ube halaya or purple yam jam, a scoop of ice cream, and a slice of leche flan or caramel egg custard.
The colors of all these mix-ins is another reason why the halo-halo is not only delicious but also oh-so-appetizing for both your eyes and your tastes!
How To Serve Halo-Halo
Since the halo-halo is an icy dessert, it's best served immediately after being assembled. In fact, the ice should only be shaved right before the ice is placed in glasses or bowls. This avoids the shaved ice from clumping together and recreating tiny ice cubes in your shaved ice.
Likewise, it's best that you only top the shaved ice with your toppings before serving as well since this will also melt the ice briefly. You can serve the halo-halo with the evaporated milk on the side or serve it poured over the ice already.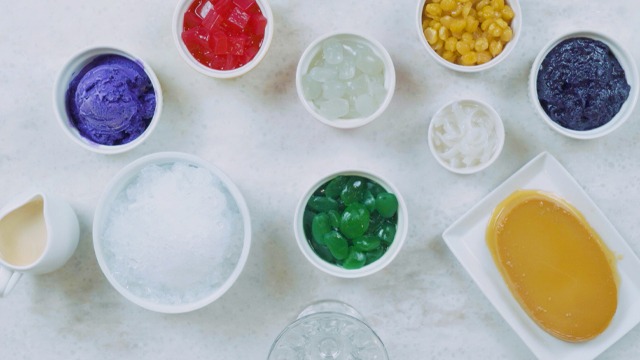 How To Make Halo-Halo
The hardest part of making the halo-halo is the shaved ice. You need an ice shaver, and this can only be be done using a gadget, tool, or kitchen appliance that makes it. This can be an actual ice shaver or you can place ice cubes in a food processor or blender and process the ice that way to create crushed ice. While this is not the same as shaved ice, it makes a great substitute if you do not have the necessary equipment to make it.
Once you have your shaved ice, it's ready to be assembled! Make sure you have all your topping ingredients ready so the ice will not melt before it's ready to serve. Begin by packing the shaved ice into a tall glass or a bowl. Top this your choice of toppings, including the ube halaya and ice cream, and leche flan. End with a generous pour of evaporated milk over the ice and its toppings. Serve it immediately.
ADVERTISEMENT - CONTINUE READING BELOW
Recommended Videos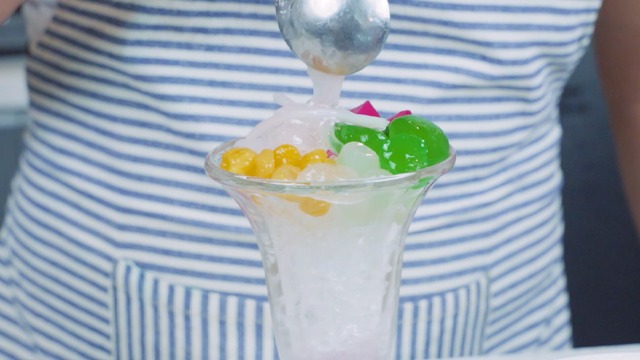 Tips To Make Delicious Halo-Halo
1 Choose your toppings.
Sure, you can use just kaong, nata de coco, and the ube halaya as your toppings if that's what you want in your halo-halo. That's the beauty of this dessert! Just like you can choose what syrup to add to snow cone, so too can you choose what toppings go in your halo-halo. In fact, if you want, you can add topping ingredients that you might not normally see in a halo-halo, too, such as mochi cubes, sweetened langka or jackfruit, fresh fruits chunks, chopped nuts, or even chia seeds to give your halo-halo a breath of freshness (and uniqueness!) that make it different from any other bowl.
2 Don't be too generous.
We all know that the toppings is what makes the halo-halo so good. However, when making it, remember that there will be other ingredients to add to the mix so you don't want to go overboard with the amount of each topping you add. Add teaspoonfuls and if at the end you find you have room to squeeze in some more, only then should you go ahead and do it. Otherwise, you'll have an overfilled halo-halo bowl or glass that will be difficult to mix-mix.
3 Add sugar…. Or not.
Some may feel that they want their halo-halo sweeter despite all of the syrups that go with the sweetened ingredients already in the halo-halo. Some may add sugar to the mix. You can also mix the evaporated milk with some condensed milk together and use this mixture to pour over the ice.
How To Store Halo-Halo
1 You can prepare halo-halo glasses in avance.
If you happen to want to make halo-halo glasses in advance, you can. Pack the shaved into your glass or bowl then top with ingredients. You need to be choosy about which ingredients you can add ahead of time. Add the beans, the gulaman, and even the ube halaya if adding. Once added, store it in the freezer covered so it won't absorb odors or aromas. Skip the ice cream and always add that last, right before serving.
2 Store leftover halo-halo in the refrigerator, but consume immediately.
If you have leftovers, these are best stored in the refrigerator, covered, and consumed within three days. Remember: this mixture still has milk so it's best to eat it as soon as possible to avoid it spoiling.
Watch: How to Make [Dish] Recipe Video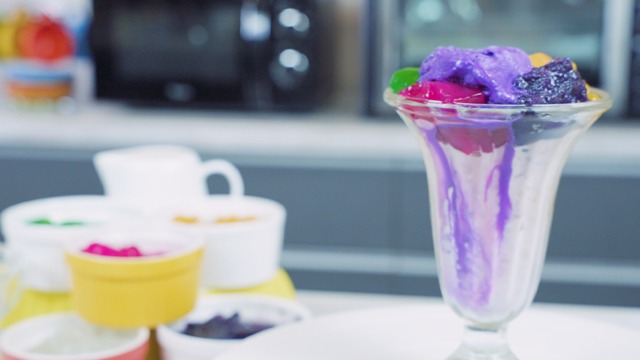 Classic Halo-Halo Recipe
Ingredients
5

cups

ice cubes

1/2

cup

sweetened garbanzo beans or red beans

divided

1/2

cup

white kaong or sweetened palm fruit

divided

1/2

cup

green kaong or sweetened palm fruit

divided

1/2

cup

red nata de coco or coconut gel

divided

1/2

cup

macapuno strands or coconut sport strands

divided

1/2

cup

ube halaya or ube jam

divided

1

cup

ube or keso ice cream

divided

1/2

cup

leche flan

divided

2

cups

evaporated milk

1/2

cup

sweetened condensed milk

optional
Instructions
Gather all ingredients.

When ready to serve, use an ice shaver to make shaved ice: place the ice cubes in the machine and shave the ice until fine. Freeze any shaved ice until ready to assemble.

In a halo-halo glass or a tall glass with a wide rim, transfer shaved ice into the glass, filling it about 3/4 full. Top with the remaining ingredients, one tablespoonful of each ingredient at a time: sweetened beans, white kaong, green kaong, nata de coco, macapuno, ube halaya, ice cream, and finally, a slice of leche flan.

Pour about 1/3 cup evaporated milk over the ice and serve immediately or serve with evaporated milk on the side. Repeat with remaining ingredients.
Notes
Feel free to use other sweetened ingredients in your halo-halo such as minatamis na saba, sweetened red monggo beans, and even flavored gulaman cubes. 
Try These Other Yummy Recipes:
More Lessons on Iced Desserts and Snacks: