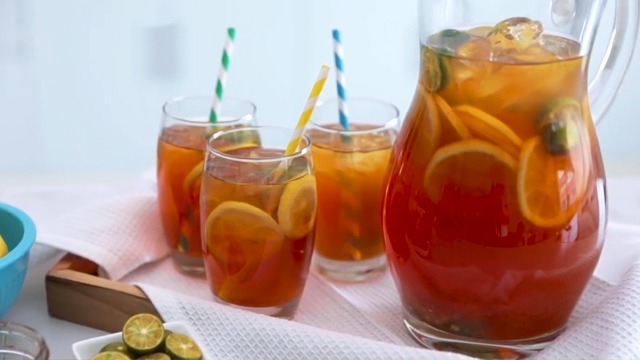 What Is Iced Tea?
An iced tea is dried leaves that have been steeped or soaked in water until their flavors infuse the liquid. This is commonly done in hot water to easily extract the flavors from the dried leaves into the water. This is then diluted with more water, this time cold water. This is then either sweetened or left as is to be served in glasses filled with ice for a refreshing beverage, especially during hot summer days and dry weather nights. 
How to Serve Iced Tea 
Load up a tall glass with ice cubes, pour in the iced tea you just prepared, then enjoy! Iced tea is a simple beverage that works hard to soothe parched throats and relive your thirst, and there are a couple of ways you could improve it:
Add lemon and calamansi slices: Give your drinker a teaser of what they'll taste by adding a slice or two of the citrus you added. This can be lemons, calamansi, or orange slices if that's what you added. 
Top with mint: Mint irritates your taste buds so that whatever you taste will taste cooler. If you're incredibly hot, this will make your drink even more refreshing to drink! 
Use crushed ice: Ice cubes do a great job of keeping your drink cold but if your drink has warmed, you may want to use crushed ice. These tinier ice cubes will actually cool your beverage faster. 
How To Make Iced Tea 
Sure, it's easy to reach for iced tea powders but making iced tea is really easy! We used real honey and fresh lemon and calamansi juices to make this freshly brewed iced tea recipe irresistibly refreshing and delicious.
Here's how easy it is to make: Steep tea bags in hot water in a pitcher. You'll want to do this for a few minutes, about three up to five minutes, then remove these bags from the water. You can add more water, cold, to cool down your beverage. You can also use ice to cool it down even faster. 
This is your tea base. You can  now sweeten this with honey and give it flavor with lemon juice. To make it even more refreshing as well as appetizing to drink, add lemon slices to the pitcher. 
Tips To Make The Best Iced Tea 
1 Use either lemons or calamansi. 
It's the lemons and calamansi that make this summer iced tea recipe a truly refreshing and citrus-infused drink but you don't have to use both! If you love the taste of lemons, use that. If you prefer the sweet-tang of calamansi more, use that. 
ADVERTISEMENT - CONTINUE READING BELOW
Recommended Videos
In either case, you'll have a refreshing drink to sip. 
2 Go ahead. Use sugar instead. 
We love the taste of honey but it isn't for everyone. You can use stevia, premade syrups, or even agave if that's what you like. If any of these aren't available, you can easily switch to sugar. Tweak the amount of whatever sweetener you choose so it's perfectly sweetened to your taste. Brown sugar would be delicious in this iced tea recipe, too! 
Iced Tea Storage Tips
1 Keep iced tea refrigerated. 
You can and should definitely refrigerate your iced tea. This keeps up to three days for the best-tasting results. 
2 You can freeze it! 
There's a great way to keep iced tea even longer: freeze them as ice cubes! Not only will you be able to add these to your next batch of iced tea, but you will create a drink that is not watered down, too. 
Watch: How to Make Classic Iced Tea Recipe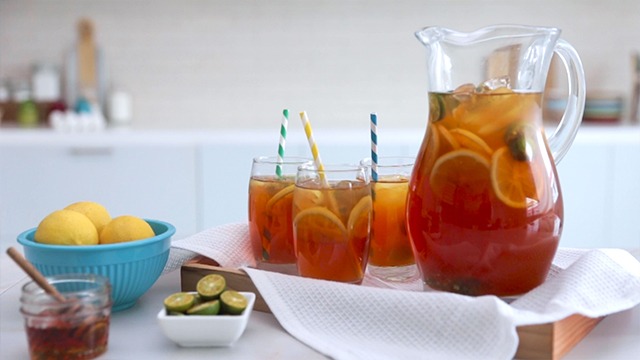 Classic Iced Tea Recipe with Lemon And Calamansi
This delicious classic iced tea recipe is made better with lemons and calamansi.
Ingredients
4

cups

hot water

8

black tea bags

1

cup

honey

2

tablespoons

lemon juice

from 1 lemon

1

cup

cold water

2

cups

ice

more as needed

1

lemon

sliced

5-10

calamansi

halved
Instructions
Pour hot water in a pitcher. Add tea bags and steep for 3 to 5 minutes. Remove bags and discard.

Add honey and stir until honey is dissolved. Add and stir in lemon juice. Add cold water and ice, and stir until mixture is cold.

Add lemon slices, calamansi halves, and more ice as needed. Serve with glasses with ice.
Notes
You can add more or less honey according to your sweetness level.
No lemons? Use calamansi juice all the way! 
Try These Other Yummy Recipes:
More Lessons About Iced Tea and other Iced Drinks: