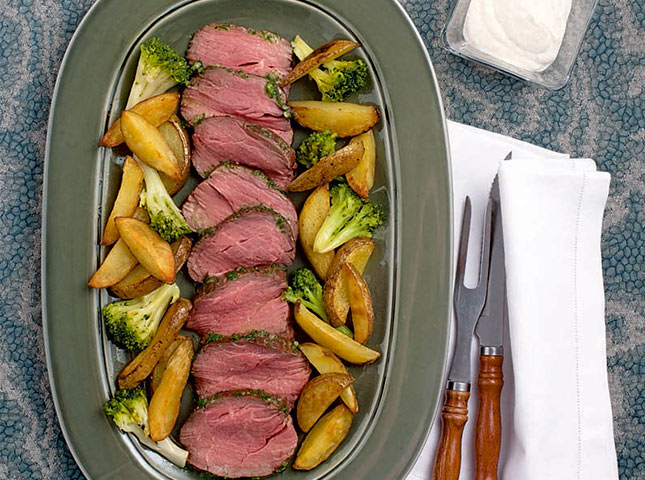 Roast beef is a classic party food favorite. Make your hearty roast juicier and more mouthwatering by covering it with luscious compound butter! Enjoy this beef recipe with a side of mashed potato or buttered vegetables!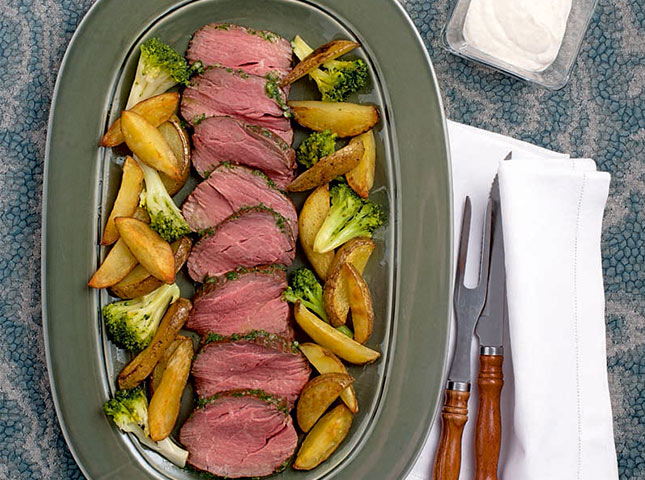 Classic Roast Beef Recipe
Make your hearty roast juicier and much more mouthwatering by covering it in luscious compound butter!
Ingredients
Classic Roast Beef Ingredients
1/2

Cup

Butter

slightly softened

4

cloves

Garlic

minced

1

medium

shallots (sibuyas Tagalog)

minced

2

tablespoons

parsley sprigs

finely chopped

1/2

teaspoon

Salt

1/2

teaspoon

black pepper

2

cups

broccoli

(florets), sliced in half

5 t

pieces

Potatoes

sliced into wedges

olive oil

for drizzling

Salt

to season

1

kilo

Beef

(use tenderloin cut), fat and silver skin trimmed

1 1/2

teaspoons

iodized salt

1

teaspoon

black pepper

2

tablespoons

vegetable oil

bottled horseradish

to serve (optional)
Instructions
Make the compound butter: mix together all ingredients in a bowl. Cover with plastic wrap and refrigerate until ready to use.

Make the roasted vegetables: place broccoli florets and potatoes in separate baking dishes. Drizzle with olive oil and sprinkle with salt. Set aside.

Make the roast beef: preheat oven to 300°F. (Make sure beef is thawed well before starting with the recipe.) Tie beef using kitchen twine, making the shape as even as possible.

Sprinkle salt and black pepper all over beef. Let stand at room temperature for at least 30 minutes. (Wrap with plastic wrap, if desired.)

Heat vegetable oil in a large frying pan over medium-high heat, and sear tied beef on all sides. Place seared beef on top of a baking rack set on top of a baking pan.

Roast beef in the preheated oven for 45 to 50 minutes or until internal temperature reaches 125 to 130°F. Remove roast from the oven.

Increase heat to 350°F. Roast broccoli for 15 minutes and potatoes for 20 minutes, or until tender.

Meanwhile, spread compound butter all over the exterior of the roast beef; cover loosely with foil. Let roast rest for 20 minutes. Remove twine and slice into 1/2-inch pieces.

Place roast beef on a serving platter. Arrange vegetables around beef. Serve immediately with horseradish and mustard, if desired.