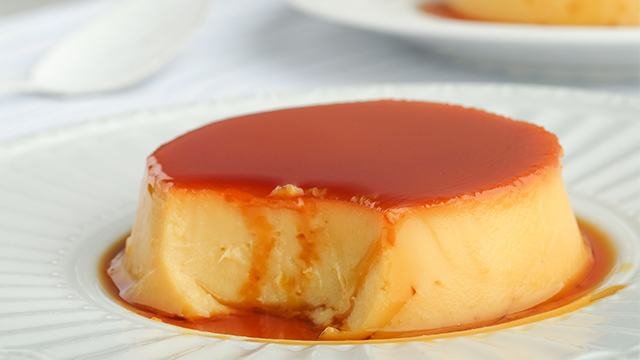 The classic leche flan recipe only has four basic ingredients: egg yolks, evaporated milk, condensed milk, and sugar. This can already make decadent and creamy leche flan, but what if we told you that we can make the leche flan even richer?
The secret sauce (or in this case, milk): coconut!
In this coconut leche flan recipe, you can use gata (coconut milk) and kakang gata (coconut cream) to add a twist to your leche flan.
Tips To Make Your Coconut Leche Flan:
1 Use freshly made or canned gata and kakang gata. 
Depending on your preference, or what's available at your local market or supermarket, you can use either kind of coconut milk or coconut cream. If you opt for canned coconut milk and cream, make sure to carefully check the labels as they can sometimes look very much alike. If you want to make gata and kakang gata at home, it's easy and so much better in flavor!
Here's how to make coconut cream from scratch:
1 Pour 1/2 cup hot water over 3/4 cup freshly grated niyog or mature coconut.
2 While it is still warm but cool enough to handle, squeeze the coconut over a strainer.
3 The resulting liquid will be kakang gata or coconut cream, which is thicker. Set this aside. 
Here's how to make coconut milk:
1 Pour 1 more cup of hot water over the just squeezed niyog or grated mature coconut. 
2 While it is still warm but cool enough to handle, squeeze the coconut over a strainer.
3 This time, the liquid is coconut milk, and it will be milky but thinner in texture than coconut cream.
2 Use a spatula to mix slowly. 
It might be tempting to use a whisk to mix your leche flan mixture, but whisks tend to create bubbles. Instead, use a spatula to carefully and slowly mix the ingredients together, and you will have fewer bubbles to worry about! It's also a handy tool to scrape the sides of your bowl.
3 It's best to bake it in a water bath, but if steaming, heat it low and go slow. 
Once your steaming water boils, lower the heat to medium-high and make sure that the water isn't boiling violently. You want the steam to rise gently so that your coconut leche flan can set without boiling; if the internal temperature of your steamer is too high, the coconut leche flan can begin to simmer and end up with bubbles!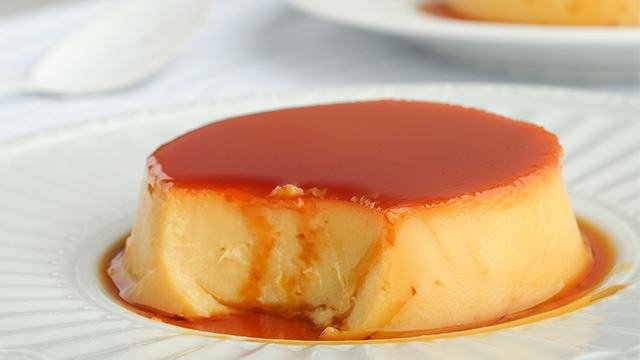 Coconut Leche Flan Recipe
Try making the classic leche flan with coconut milk and coconut cream!
Ingredients
Coconut Leche Flan Ingredients
3/4

Cup

white sugar

2

tablespoons

corn syrup

8

egg yolks

1/2

teaspoon

vanilla flavor

1

300-ml can

condensed milk

3/4

cups

coconut milk

1/2

Cup

coconut cream
Instructions
Preheat oven to 350F.

Line a 2-3 inch deep baking pan with paper towels or a kitchen towel. Set aside.

Prepare the caramel by combining sugar and corn syrup in a pot. Cook over medium high heat for 8-10 minutes or until dark golden amber in color. Pour caramel into ramekins/molds and set aside.

Prepare the custard by combining egg yolks, vanilla, condensed milk, coconut cream, and coconut milk. Stir well, and then strain. Pour the custard into the ramekins/molds. Place each ramekin on the lined baking pan. Slowly and carefully add hot water to the pan until water reaches about half the height of the ramekins. Cover pan with foil and bake for 50 minutes to 1 hour or until set.

Remove flan from oven and place on wire racks to cool to room temperature. Then chill in the refrigerator until ready to serve. Unmold before serving. [ArticleReco:{"articles":["18451","19638","24985","23997"]}]
ADVERTISEMENT - CONTINUE READING BELOW
Recommended Videos