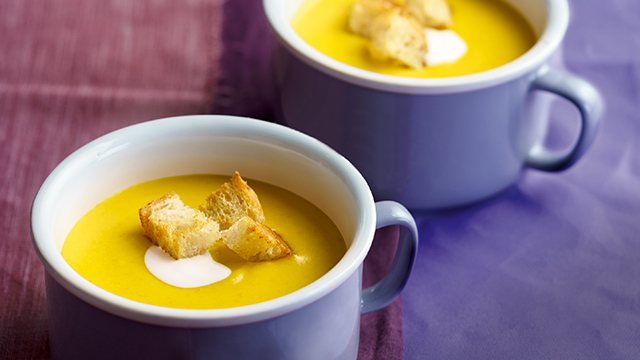 Drown your worries in a thick, creamy squash soup. You?ll feel better in no time! This veggie soup recipe has lemongrass and ginger for a refreshing kick.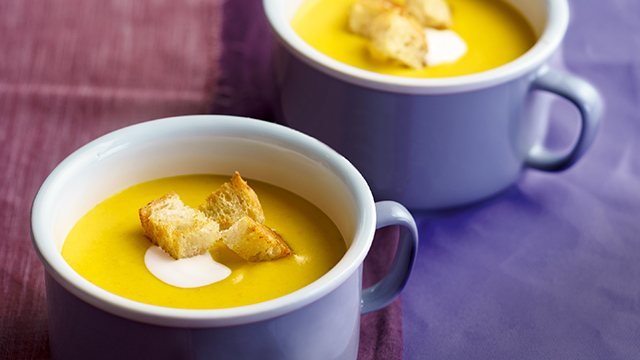 Coconut Squash Soup Recipe
Make classic squash soup more exciting with coconut, lemongrass, and ginger.
Ingredients
Coconut Squash Soup Ingredients
500

Grams

squash (kalabasa)

peeled and cut into 1-inch cubes

olive oil

to saute

Salt

to taste

black pepper

to taste

4

stalks

lemongrass (tanglad)

washed and sliced in half lengthwise

1

2-inch piece

ginger

peeled and sliced into thin rounds

1

400-ml can

coconut milk (gata)

2

tablespoons

shallots (sibuyas Tagalog)

finely chopped

1

Cup

chicken stock

1

200-ml pack

coconut cream (kakang gata)

plus extra to serve

fish sauce (patis)

to taste

croutons

to serve
Instructions
Preheat oven to 375°F.

Combine squash, olive oil, salt, and pepper in a bowl. Place on a parchment paper-lined baking pan in one layer. Roast until tender, about 20 to 25 minutes. Set aside.

Combine lemongrass, ginger, coconut milk, and 1²?³ to 2 cups water in a large pot over mediumhigh heat. Bring to a boil, then lower heat and simmer for 10 minutes. Turn off heat, cover, and let it stand for 10 minutes. Strain mixture into a bowl and discard ingredients.

Return liquid to the pot over medium-high heat. Add shallots and simmer until translucent, about 10 minutes.

Add squash and chicken stock. Purée mixture in a blender until smooth. Return to pot and stir in coconut cream. Season with salt, pepper, and fish sauce.

Divide soup among bowls. Top with coconut cream and croutons. Serve immediately.