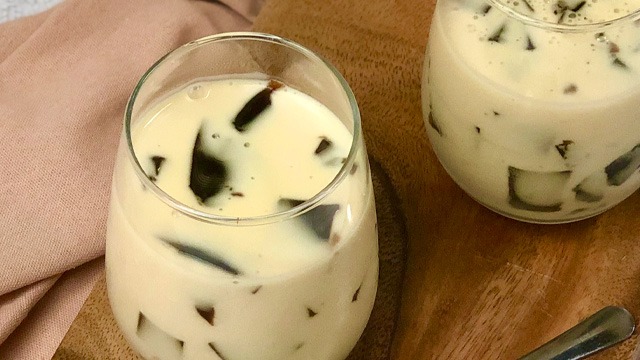 Love coffee jelly? Then maybe you should try this unique twist on the dessert which transforms the cream into a jelly, too. 
What is coffee jelly? 
The original coffee jelly dessert is a delicious combination of coffee gulaman cubes stirred into a sweetened cream. This is a no-bake, chilled dessert that is altogether delicious and addictive because it's a great textual and flavor pairing. You get sweet milkiness from the cream and bittersweet notes from the soft coffee jelly cubes. 
For this twist, the sweet milkiness that makes up the cream is transformed into a jelly that is just like the coffee cubes. If you know how a cathedral window dessert is made, you have an idea behind the inspiration for this coffee jelly dessert. The coffee jelly is made first so you can suspend the cubes in the creamy jelly later. 
To make sure the coffee jelly cubes are scattered throughout the cream jelly, you need to wait for the creamy gelatin to set a little before adding them in. No patience? You can skip figuring out the tricky timing and pile on the coffee cubes instead! Since it's stacked in your container, the cream jelly has no choice but to set itself up where it can squeeze between the cubes. 
The result is this stunning cup of jelly that you can scoop right out of the cups with no worry about the cream dripping down your spoon or chin.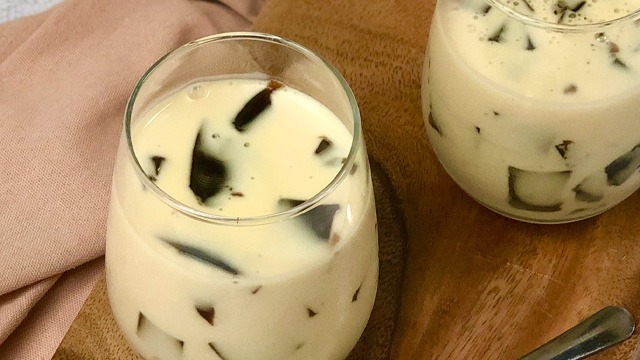 Coffee Jelly Flan Recipe
This unique twist on the dessert is totally jelly!
Ingredients
Coffee Jelly Flan Ingredients
1 1/2

teaspoons

gelatin powder

2

tablepoons

cold water

1 1/2

tablespoons

coffee powder

1

Cup

water

or 250 ml

1/2

Cup

white sugar

2

tablespoons

full-cream milk

1 1/2

teaspoons

gelatin powder

1

Cup

whipping cream

3/4

Cup

sweetened condensed milk

1/4

Cup

full-cream milk

1/2

teaspoon

vanilla extract
Instructions
Make the coffee jelly: Bloom the gelatin in 2 Tbsp water for 2 to 3 minutes.

In a saucepan over low heat, add coffee powder, water, and white sugar. Whisk to combine and continue whisking until sugar is dissolved. Remove from heat and whisk in the bloomed gelatin until dissolved. Pour into a container and chill for at least 6 hours or overnight. Cut the gelatin into cubes just before adding it to the flan.

To make the flan: Bloom the gelatin in 2 Tbsp milk for 2 to 3 minutes. In a saucepan over medium-low heat, add the cream, condensed milk, full-cream milk, and vanilla. Whisk to combine and bring to a gentle simmer. Remove from heat, and add the bloomed gelatin. Whisk to combine and dissolved. Set aside to cool.

Pour into decorative glasses or nice containers. Chill until semi-firm.

Add coffee jelly cubes to the flan. (Make sure the flan is semi-firm but not yet set. Coffee jelly cubes should "float" in the flan.) Chill until completely set. Serve chilled.