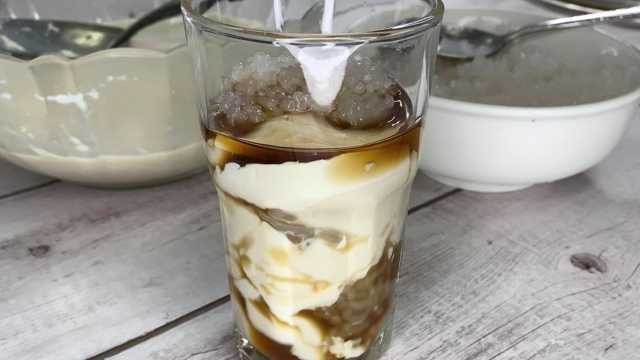 Ang cold taho ay perfect kahit hindi tag-init! Pasarapin ang meryenda sa ideyang ito. Isang litro lang, ma-eenjoy ng buong pamilya ang taho!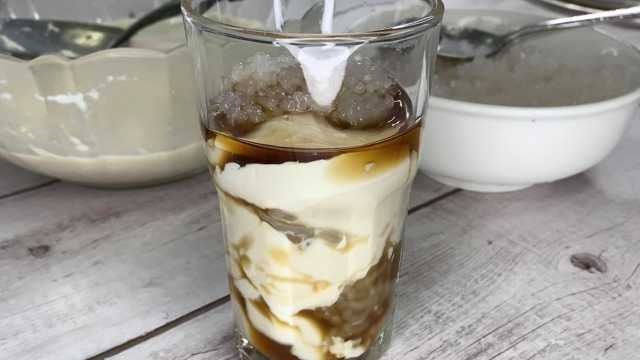 Cold Taho Recipe
The legendary Pinoy protein snack!
Ingredients
Cold Taho Ingredients
1

liter

soy milk

unsweetened

2

tablespoons

unflavored gulaman powder

1/2

Cup

brown sugar

1

Cup

water

1

Cup

small sago

5

cups

water
Instructions
To make the taho: In a pot, mix soy milk and the gulaman powder until gulaman powder is dissolved. Once gulaman powder is dissolved, turn on the stove to Medium and cover the pot. As soon as it starts to heat up, lower heat. Stir the mixture to prevent sticking to the bottom of the pot occasionally. TIP: To make a smaller batch, use 500 ml soy milk and 1 tablespoon gulaman powder.

Continue cooking. As it simmers, the soy milk will separate. Once fully separated, take off the cover and turn off the fire. Cooking time is around 15 minutes.

Put a strainer over a big bowl and sift the mixture to remove any lumps and let it cool to room temperature. Once cooled, chill in the refrigerator for 50 minutes or until the taho forms into a soft, silky, fluffy texture.

Meanwhile, make the arnibal (syrup): In a pot, combine brown sugar and water, and mix until sugar is dissolved. Turn on the stove to medium fire and stir until it boils. Once it boils, turn off the heat and let it cool. Transfer to a container and set aside. TIP: You can add more sugar according to your preference.

To make the sago: Boil sago in 5 cups water. (The sago will expand as it cooks so add more water as needed.) Continue stirring to prevent the sago from sticking to the pot. You ll know when the sago is cooked when they are all transparent. TIP: Small-sized sago are the easiest to cook.

Once cooked, strain the sago and rinse under running water to remove residual starch. Set aside and let it cool.

Once the taho is cooled and formed, layer the taho, sago, and arnibal in a cup. Best served cold!