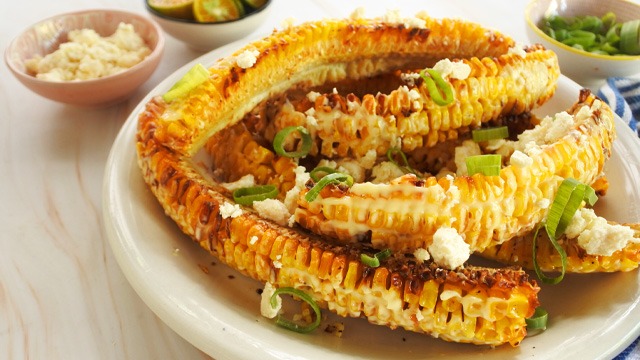 Corn is not the most craved-after food at a party but these loaded corn ribs may prove you wrong!  It all started with the now internet-famous Tiktok video that saw corn on the cob cut up into long pieces that would later look like "ribs".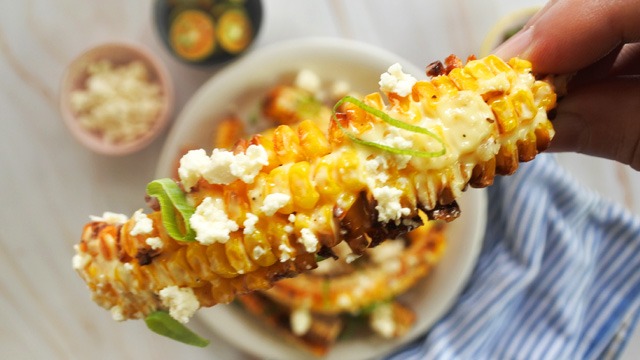 These are basically grilled in the air fryer and that's where the magic happens: the cut pieces of corn curl up! Slather on some butter and you can pick up a piece and eat it like a meaty pork or beef rib! 
Want to see how it's made plus a few other party food you can make to make any gathering more fun to attend?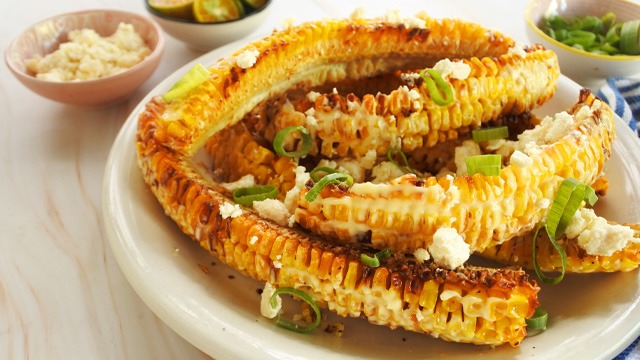 Easy Air Fryer Corn Ribs Recipe
Do this to make corn extra easy to eat!
Ingredients
Easy Air Fryer Corn Ribs Ingredients
4

pieces

corn

on the cob, husks removed

1/3

Cup

butter or margarine

melted

1/4

teaspoon

ground black pepper

or to taste

1/2

teaspoon

Salt

or to taste

3

cloves

Garlic

finely chopped

1/2

Cup

Japanese mayonnaise

1/4

Cup

feta cheese

crumbled

1

teaspoon

sesame seeds

toasted, to serve

1/4

Cup

green onions

chopped, to serve

3

pieces

calamansi

halved, to serve
Instructions
Cut off the tips of each corn using a sharp knife.

To cut the corn into "riblets", place corn standing up on a chopping board. (Make sure it s stable.) Carefully cut the corn into two down the middle. Place one cut side down and cut it again in half lengthwise to create long strips of corn still on the cob. Repeat with the other ears of corn.

Combine melted butter, pepper, salt, and garlic. Brush this mixture all over the corn pieces.

Place corn in a single layer in the air fryer basket, giving each space for air to flow between them. Air fry the corn at 190 degrees C for 20 minutes. (Check corn at 15 minutes if frying more than one batch.) Just place the "corn ribs" in the basket and let the air fryer curl it up! Photo by Roselle Miranda

Once cooked, spread Japanese mayonnaise on each corn piece. Place on a platter. Sprinkle corn ribs on top with crumbled feta cheese, sesame seeds, green onions, and serve while hot with calamansi and more green onions on the side.