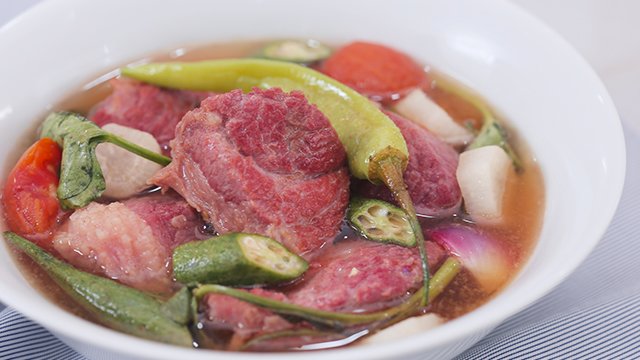 Sinigang is always delicious! If you love sinigang in all its forms, you might want to try this unique version made popular by a Filipino restaurant: corned beef sinigang. The corned beef is a meaty choice that makes this sinigang extra appetizing!
For this corned beef sinigang recipe, we used a cured slab of beef that we sourced from a local meat shop. We got a fresh corned beef slab from meat shops, delis, and other specialty shops such as The Prime Beef Company, Tender Bites Premium Meats, and Pacific Bay. You can also look for fresh corned beef from meat shops available for delivery on Lazada as well.
You can totally use canned corned beef instead of the cured beef cut if you're out of time to simmer the beef until tender.
What is corned beef?
Corned beef is a confusing phrase. Its more apt name is salt beef. The "corn" part of "corned beef" actually takes its name from the size of the salt crystals being used to cure the beef. Salt was, at the time, the size of corn kernels, hence salt beef was also commonly known as "corned beef". So "corned beef" is really just beef that has been preserved or cured in saltwater.
When the invention of canning corned beef became more popular, corned beef was really just salt and beef. The modern-day corned beef that you know and love to eat for breakfast (and lunch and dinner, too, if hunger pangs are particularly fierce!) is brined in a solution that is similar to the saltwater used before but it also now includes other ingredients, too, to make the corned beef not only taste better and more flavorful but also preserves it for even longer.
It's why you usually don't need to season the meat anymore!
For this recipe, you definitely need no extra seasonings since both the corned beef and the sinigang sa sampaloc mix are both seasoned very well already. What you need to do is prepare all the other ingredients to make the dish extra delicious and appetizing and follow along to this step-by-step recipe video: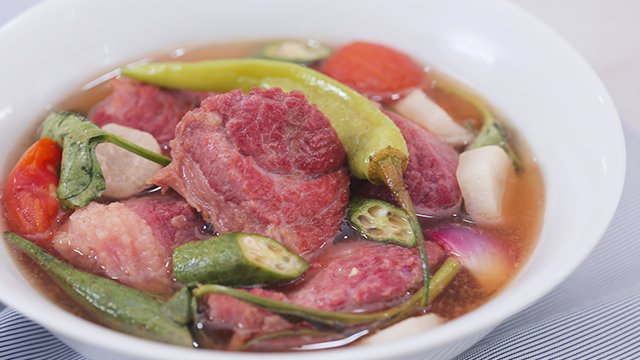 Corned Beef Sinigang Recipe
This extra meaty and sour soup is great to serve any time of the day!
Ingredients
Corned Beef Sinigang Ingredients
3

tablespoons

canola oil

1

kilogram

corned beef brisket

fresh, cubed

1 1/2

liters

water

1

medium

red onion

quartered

1

medium

radish (labanos)

lightly peeled, sliced into rounds

1

bunch

okra

halved

1

piece

green finger chili (siling pangsigang)

2

40-gram packs

sinigang sa sampaloc mix

1

bunch

kangkong

leaves and tender stalks only
Instructions
In a large pot over medium heat, heat oil. Add corned beef cubes and sear. Pour in just enough water to cover the beef. Bring to a boil. Remove any scum that rises to the surface. Cover and simmer for 2 to 3 hours or until the beef is tender.

Once beef is tender, remove cover and add onion, tomatoes, labanos, okra, and sili. Sprinkle in sampaloc mix. Bring to a boil, and simmer just until vegetables are tender.

Before serving, add and stir in kangkong. Cook just until kangkong leaves have brightened in color. Remove from heat. Serve hot with steamed rice.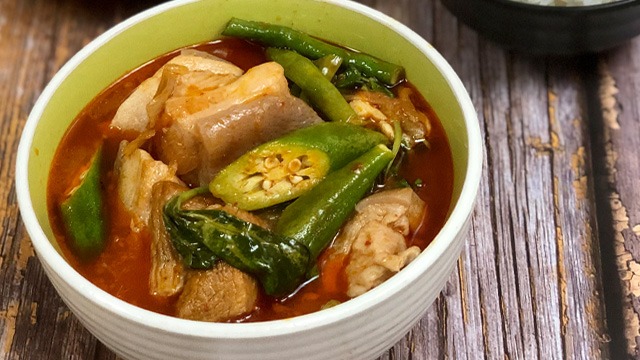 Kimchi Pork Sinigang Recipe
Posted in:
Recipe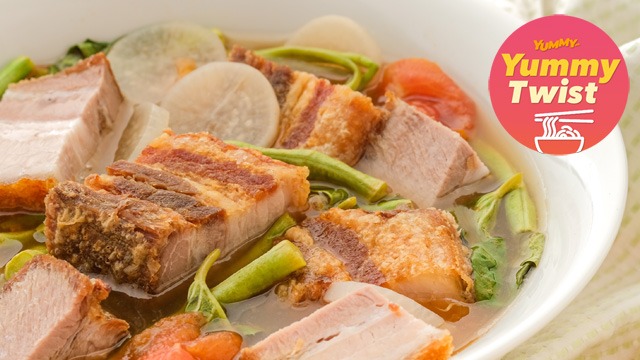 Crispy Pork Sinigang Recipe
Posted in:
Recipe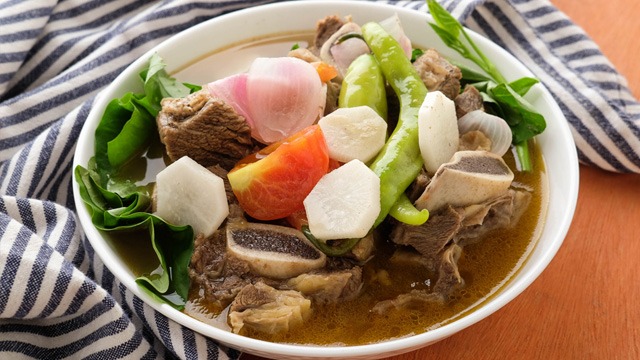 Sinigang na Baka Recipe
Posted in:
Recipe