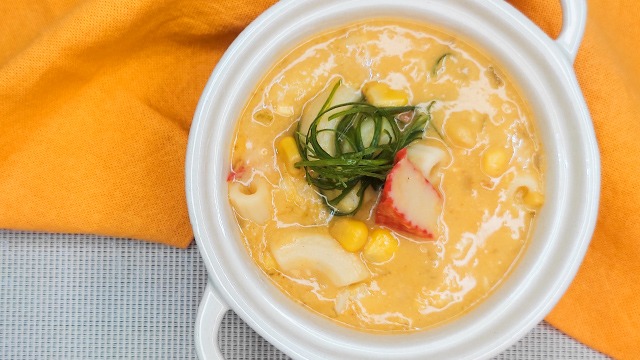 What Is Crab and Corn Sopas?
When you hear "sopas", you know you're getting a rich bowl of comfort. For this recipe, you get the chunky ingredients of a sopas combined with the flavor and richness of a crab and corn chowder. 
How to Serve Crab and Corn Sopas
Normally, there is no need to serve sopas with anything other that a big spoon but you can enjoy this dish with other pairings:
Pair it with crackers: The best reason to serve sopas with crackers is that you can dip or crush them into the bowl. The crunchy pieces give you a nice texture amidst the soft and creamy soup. 
Serve with croutons or garlic bread: No crackers? Serve with toasted bread or make homemade croutons! 
Top with buttered crab and corn: You may think you added enough crab and corn to the sopas but who says you can't add more? A simple sauté of more chunks of crab and corn kernels in a little butter elevates this sopas into a decadent bowl. 
How To Cook Crab and Corn Sopas
This sopas starts with sautéing the onion, garlic, and celery. Once these are softened, the macaroni and water are added and cooked until the pasta is tender to your desired doneness. This will only take about 10 minutes once the water comes to a boil.  
The corn, pasta sauce, evaporated milk, and seasonings are stirred in and brought to a simmer. The simmer is your signal to add the crab stick since these are already pre-cooked and ready to eat. Once heated through your soup is ready to serve.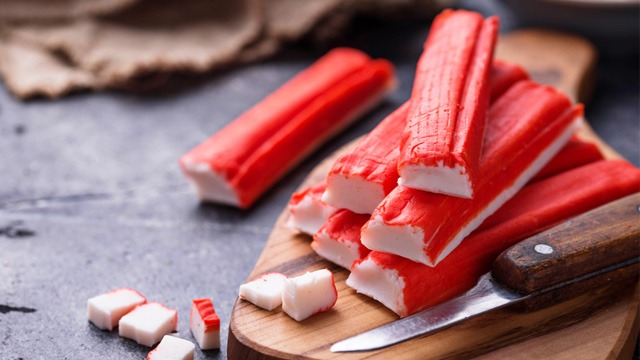 Tips To Make The Best Crab and Corn Sopas
1 Add the crabsticks last. 
Crabsticks are already cooked and are easy to shred. This is why it's a good idea to add this last to the pot before serving so the chunks of crabsticks don't fall apart when the soup boils and simmers. 
2 Use fresh corn. 
It's eas to open a can and chunk in the corn kernels into the pot. However, if you have access to fresh sweet corn cobs you may want to add these freshly shucked corn kernels instead since these are usually more flavorful than canned corn. 
3 Add shrimp or vegetable stock. 
This is thicker than most sopas recipes so if you're concerned about it being more chowder than soup, add shrimp stock or a neutral vegetable stock to the pot. This will lighten the soup and make it more liquid than thick.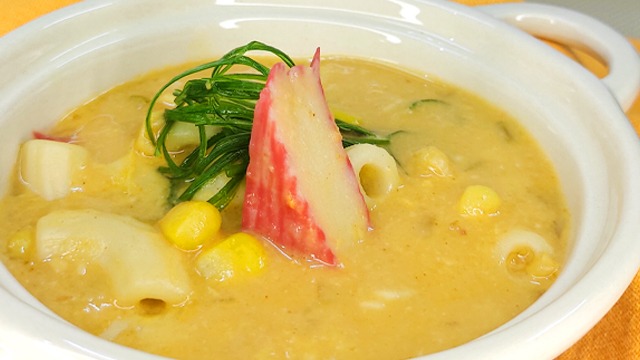 Crab and Corn Sopas Storage Tips
1 Refrigerate sopas in a sealed container. 
Sopas are normally made in big batches, so this makes it a dish that you can store for a few days. Do this by transferring your sopas into a container with an air-tight lid so it doesn't accidentally spill in your refrigerator. The sopas will keep for 3 up to 5 days when stored properly.  
2 Remove the macaroni if freezing. 
Pasta notoriously deteriorates or breaks down when frozen. This makes freezing the sopas hard to do. However, the other ingredients freeze well so to freeze sopas, remove the macaroni or don't add the cooked macaroni to the soup if you're making this soup in advance.  You can add cooked macaroni to the soup after thawing and simmering the soup on the stove. 
ADVERTISEMENT - CONTINUE READING BELOW
Recommended Videos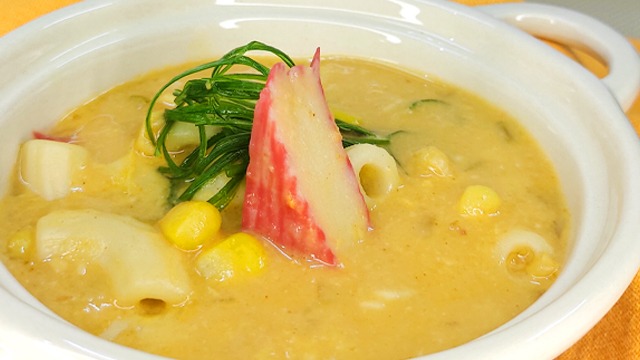 Crab and Corn Sopas Recipe
Make your sopas a seafood lovers dream!
Ingredients
200

g

macaroni

2

tablespoons

unsalted butter

½

white onion

chopped

2

stalks celery

chopped

4

cloves

garlic

minced

425

gram

can corn kernels

drained

2

liters

water

180

gram

pack crab-flavored pasta sauce or ½ bottle taba ng talangka

(we used Clara Ole brand crab pasta sauce)

140

ml

can evaporated milk

2

teaspoons

patis

1

piece

bay leaf

2

teaspoons

sugar

dash

paprika

4

pieces

crab sticks

sliced

Spring onions or leeks for garnish
Instructions
Saute onion and garlic in butter. Add celery, and cook until translucent. Add water and bring to a boil.

Add the macaroni and cook for 10 minutes, as instructed or to your desired doneness.

Add corn kernels, crab pasta sauce, evaporated milk, patis, bay leaf, sugar, and paprika. Bring to a boil.

Add crab sticks and simmer for 5 minutes.

Season with salt, pepper, sugar, and paprika. Garnish with chopped spring onions or leeks.
Notes
If using cooked macaroni, just skip the 4th step.
Sprinkle some crushed prawn crackers on top to add texture.
Try These Other Yummy Recipes:
More Lessons About Sopas: