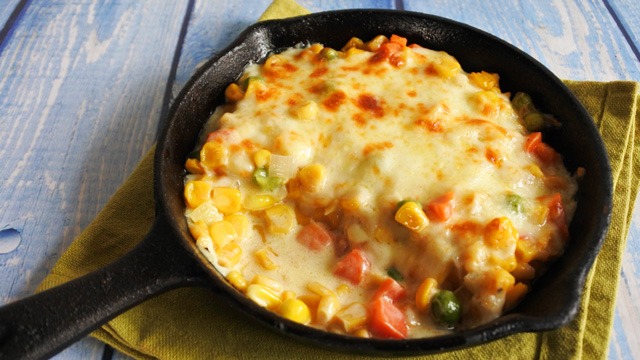 This creamy corn cheese recipe is considered a Korean banchan or side dish for samyupsal or Korean barbecue. 
What Is Creamy Corn Cheese?
This is a simple buttered corn recipe that's been upgraded into something that's just irresistible. It's all thanks to the gooey melted mozzarella cheese that's piled on top of the creamy and buttery corn. This would be perfect as is but we went a few steps further to make sure this is super flavorful. We didn't just add mixed vegetables with the corn but we also added grated Parmesan cheese to the creamy mayo. Corn, butter, mixed veg, mayo, and two kinds of cheese make this even better. 
How to Serve Creamy Corn Cheese
Serve it as is in the small cast iron pan or as part of your samyupsal dining experience at home. 
Here are other ways to enjoy this dish:
Add other veggies: There are many vegetables that pair well with corn and cheese. Broccoli and cauliflower florets, green peas, carrots, kamote, potatoes, or even a few tomato slices would make this side dish more interesting. 
Add other cheese: Mozzarella is not the only melty cheese. Gouda, Emmanthal, Provolone, and other such cheese are great options if you do not have mozzarella.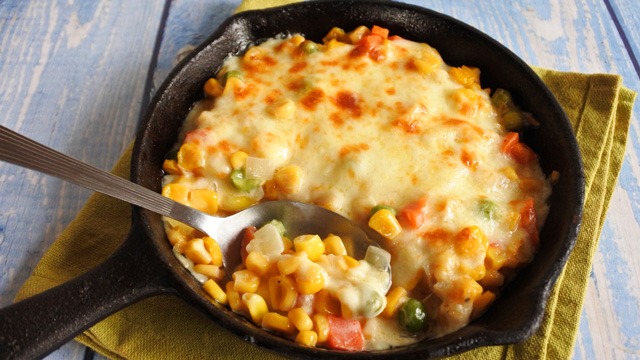 How To Cook Creamy Corn Cheese
This is an easy side dish recipe to make. It takes minutes to make! Heat up a pan and sauté your veggies in a little oil or butter. Add mayonnaise and cheese, and mix it all up. Add a little water to create a creamy consistency. 
If you used a cast iron pan to do this, top it immediately with mozzarella cheese. If you didn't or you don't have a cast iron pan, transfer the corn mixture to an oven-safe baking dish and top that with mozzarella. 
Broil it in the oven until the cheese is browned and melted. If you do not have an oven, you can cover the pan with foil or a lid and just let it melt on the stove.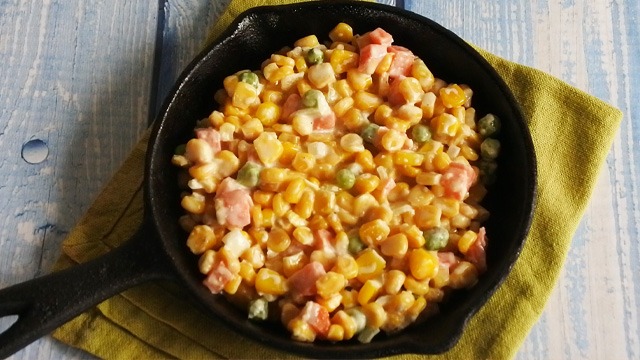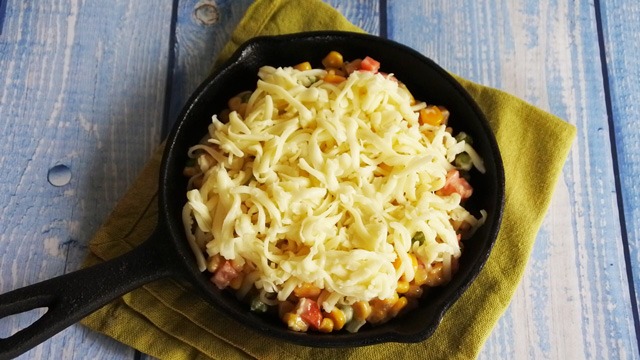 Tips To Make The Best Creamy Corn Cheese
1 Use all corn. 
Feel free to leave out the mixed vegetables and just use two cans of corn. Better yet, cut the kernels off the cob and use fresh corn. It will take longer to cook but the flavor is unbeatable. 
ADVERTISEMENT - CONTINUE READING BELOW
Recommended Videos
2 Use other kinds of cheese. 
Gotta love Parmesan cheese  but you can swap it out for cheddar cheese. You can also leave it out for a more classic corn cheese recipe. (We just highly recommended it because it tastes like this delicious grilled corn recipe.) 
3 Sauté in butter. 
Oil is the universal cooking ingredient but butter is definitely more flavorful and makes everything delicious. Corn and butter is so much better when used together. 
Creamy Corn Cheese Storage Tips
1 Creamy corn cheese should be refrigerated. 
This easily refrigerated well. Just transfer to a container with a lid and keep chilled until ready to reheat and eat again. This is best consumed within a week. 
2 It can also be frozen!
Mixed vegetables were originally frozen and cheese can be stored in the freezer, so yes! Both can be frozen together. Keep it in a container with a lid and just thaw when ready to serve it again.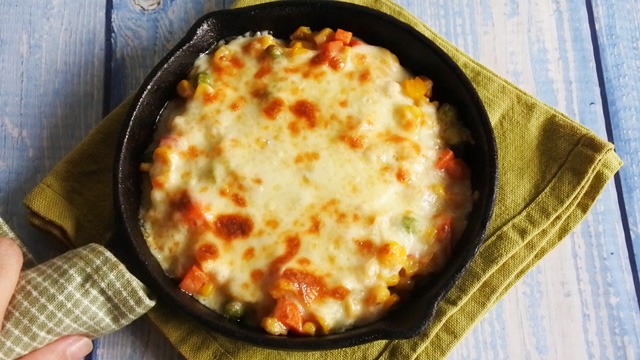 Watch: How to Make Creamy Corn Cheese Recipe Video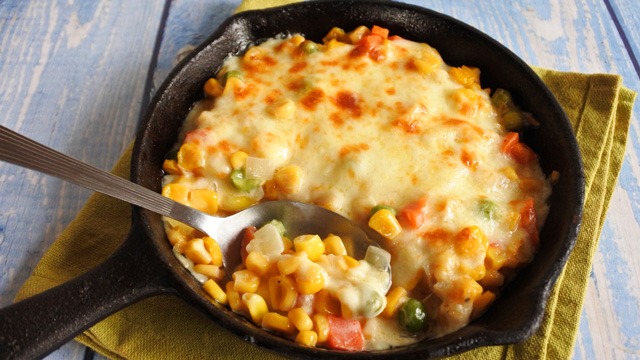 Creamy Corn Cheese Recipe with Mixed Vegetables
Creamy and cheese, this is fantastic as a side dish for any meal.
Ingredients
2

tablespoons

salted butter

1

small white onion

chopped

1

cup

mixed vegetables

thawed

1 425-

gram

can sweet kernel corn

drained

1/4

cup

mayonnaise

1/4

cup

Parmesan cheese

1

tablespoon

water

1 190-

gram

block mozzarella cheese

grated, divided

Salt

to taste
Instructions
In a frying pan over medium heat, melt butter. Add onion and sauté until just translucent. Add mixed vegetables and cook until heated through.

Add corn. Mix and cook until heated through.

Turn off the heat, and stir in mayonnaise and Parmesan cheese. Add a little water if the mixture is too thick.

Remove from the stove. Transfer and divide the corn mixture into 2 6-inch cast iron pans. Top each with about 1 cup mozzarella cheese.

Broil on the top rack in an oven toaster set at 400 degrees F or 205 degrees C for about 4 minutes or until the mozzarella is melted and begins to turn golden brown.

Remove from the oven and serve while hot.
Notes
Keep it simple. Just use corn. 
The best corn to use? Cut it off straight from the cob.
Try These Other Yummy Recipes: