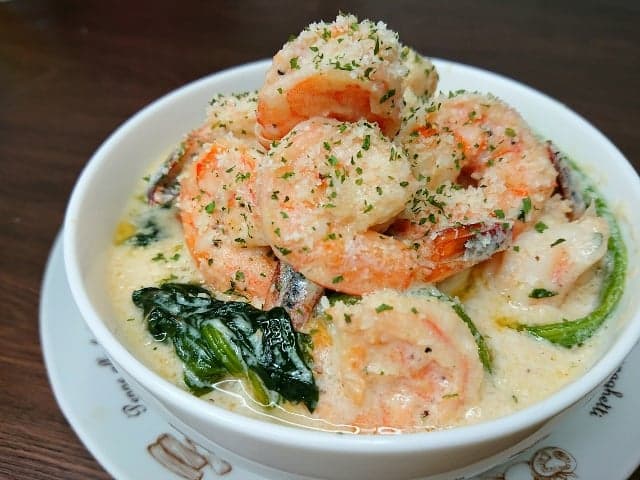 It's hard to define what makes this recipe Tuscan, but what we do know is that it's not hard to absolutely love everything about this recipe! For one, it starts off with buttered shrimps, followed by aromatics, tomatoes, and spinach. These are all beautifully tied together with Parmesan cheese and cream.
As if you needed more reasons to love this garlic butter shrimp recipe, you'll find that it is not only easy to make but also quite versatile. It's a great dish by itself, but it can also be tossed with pasta (We recommend fettuccine, penne, or fusilli, but you can use any pasta you prefer.) to create a filling creamy garlic butter shrimp pasta dish. It's also great served on the side or over rice.
Tips for Cooking Creamy Garlic Butter Tuscan Shrimp
One of the ingredients that make this garlic butter shrimp recipe a cut above the rest is the tomatoes. This recipe uses regular tomatoes, but you can also use cherry tomatoes for a pop of sweet-sour juiciness that cuts through the rich garlic butter cream sauce. Canned sundried tomatoes can also add another dimension to the dish; these have stronger, more concentrated tomato flavors so adding in 2 to 3 chopped or minced pieces will be more than enough.
If you want a deeper flavor for the sauce, you could also take the extra step of roasting or searing the tomatoes. Instead of slicing the tomatoes into slivers, they can be chopped into bigger chunks, tossed in some olive oil, salt, and pepper, and roasted at 180°C in the oven or air fryer for 10 to 12 minutes or until parts of it are charred. 
If you prefer to sear, you can do so after cooking the shrimps. The pan will already be hot so heat it back up to temperature over high heat, and when the oil is shimmering but not smoking, add in the tomatoes. Resist the urge to touch the tomatoes; instead, let them char on one side before turning to char the other sides. Then, add the garlic and onion and proceed with the rest of the recipe.
Lastly, there is an option to thicken up the sauce with cornstarch slurry. This is to preserve the lightness of the sauce, which is achieved by using a mix of heavy cream and milk. To prevent the cornstarch from forming lumps in the sauce, the trick is to dissolve it in some water first. Then, stir vigrously as you pour it into the hot sauce.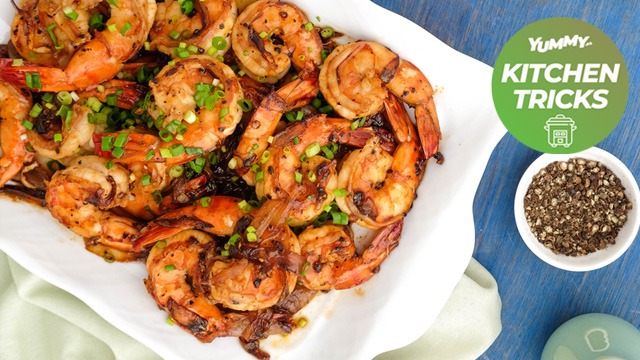 How To Devein A Shrimp Easily
Posted in:
Prepping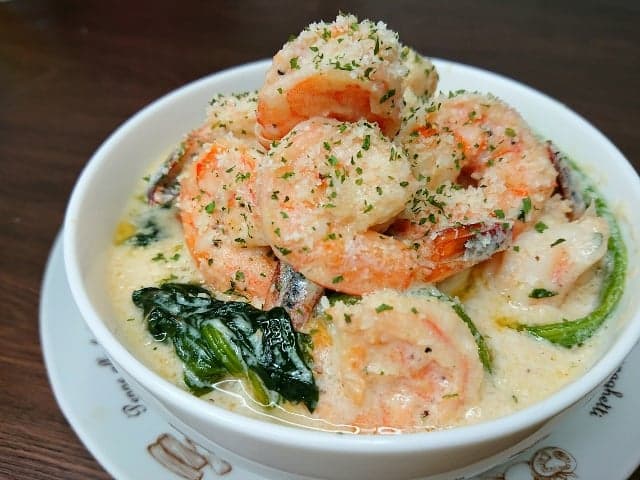 Creamy Garlic Butter Tuscan Shrimp Recipe
This is a quick and easy shrimp recipe guaranteed to impress.
Ingredients
Creamy Garlic Butter Tuscan Shrimp Ingredients
2

tablespoons

Butter

6

cloves

Garlic

crushed

500

Grams

Shrimp

shelled and deveined

1

onion

chopped

2

tomatoes

sliced, seeds removed

1

Cup

heavy cream

1

Cup

fresh milk

black pepper

to taste

Salt

to taste

85

Grams

parmesan cheese

50

Grams

spinach leaves

1

teaspoon

parsley

finely chopped

1

teaspoon

cornstarch

Diluted in 1 tablespoon water (optional)
Instructions
In a pan, add butter and saute garlic until light brown.

Add shrimp and fry each side for around 2 minutes. Remove the shrimp from the pan and set aside.

Saute the onion, add tomatoes, heavy cream, and milk. Season with black pepper and salt to taste. Stir and mix well.

Add Parmesan cheese and allow sauce to simmer until cheese melts through the sauce.

Add the spinach leaves and cook until soft. Add the shrimp and mix well with the sauce. Add parsley.

If you like the thicker sauce, you can add cornstarch diluted with water. Add to the sauce and stir.