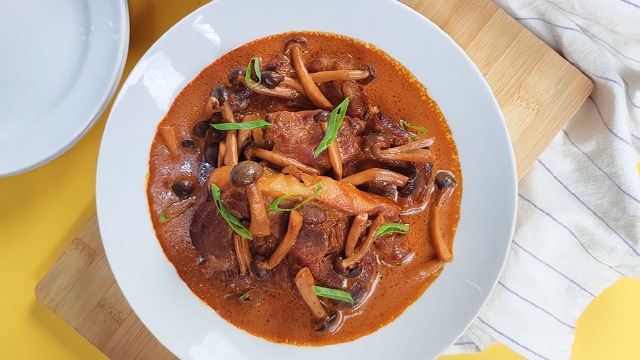 What Is Creamy Korean Pork Steak?
Some of the easiest ulam recipes are the fried ones. It's easy and no-fuss dishes. It's the seasoning or the sauce that makes eating the same kind of fried food different and bearable even if you cook it every day!
For this pork steak recipe, the thick pork steaks are fried then set aside before being gently simmered in the creamy Korean-flavored sauce. 
How to Serve Creamy Korean Pork Steak
To enjoy this dish, hot steamed rice is perfect! However, we can totally see this being served in other ways such as these suggestions: 
Toss with pasta: The creamy sauce would make an excellent pasta sauce! Remove the meat from the pork steaks, chop into bite-sized pieces, and toss together. 
Serve with pasta: If you have had chicken parmigiana, you know that pasta and fried crispy chicken fillets make a great pairing. Do the same with this Korean pork steak recipe! It will be delectable served with on the side of a aglio e olio pasta or garlic oil -based pastas, too. 
How To Cook Creamy Korean Pork Steak
Just like many meaty dishes that have a sauce, this recipe requires two steps to make: making the sauce and frying the pork steaks. The pork steaks can be the first thing you can make but you can also opt to do that later if you are preparing this ahead of time. 
The pork steak is simply marinated and fried until cooked through to your desired doneness. Set this aside while you make the sauce. 
The sauce is a gloriously rich one that marries gochujang, a Korean red chili paste, cream cheese, cream, and mushrooms to create an umami-loaded sauce. You get spicy, tangy, creamy, and umami all in one sauce! The butter makes it even richer and the resulting ulam dish is quite appetizing for everyone who gets a whiff of this dish. 
You'll want to simmer the pork steaks in the sauce a little to not only ensure the pork is cooked through but also help further infuse the meat with the sauce's range of flavors. Once heated through, it's ready to serve as desired.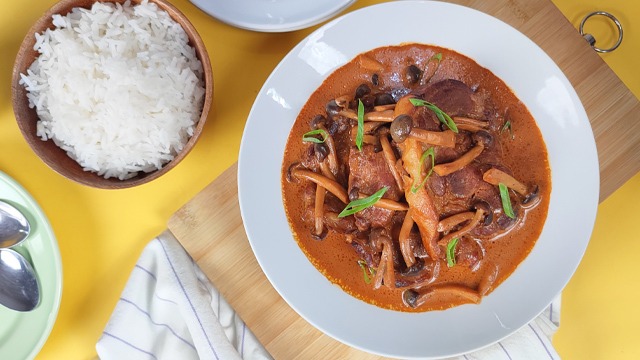 Tips To Make The Best Creamy Korean Pork Steak
1 Cook the pork steaks like a steak. 
If you're unsure how to cook pork steaks, it's exactly like cooking a steak. This means it can be cooked like a steak with varying degrees of doneness. However, unless you are confident in your butcher and his/her source of meat, since this is pork, you can opt to be safe and cook it to medium well done for food safety purposes. 
2 Rest the meat and use the juices. 
Just like a beef steak, you should also let the meat rest. Plus, those juices that leak out as the meat rest should also be added to the pan when you simmer them in the sauce. This ensures your dish is super flavorful and tasty that only meat can give a dish. 
Creamy Korean Pork Steak Storage Tips
You can refrigerate or freeze. 
The great thing bout this saucy dish is that you can both refrigerate and freeze it. The sauce is not too delicate that it can't be frozen and it's robust enough to stand being refrigerated for several days before it needs to be reheated and consumed. 
Just transfer the leftovers to a container with a lid or resealable bag. A resealable bag may be your best storage option since you can squeeze out the air, creating a vacuum environment that makes it harder for bacteria to spoil your ulam.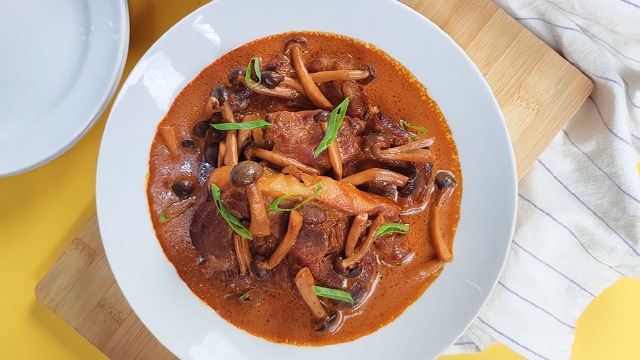 Creamy Korean Pork Steak Recipe
This spicy pork steak with shimeji mushrooms is perfect for your next mukbang session!
Ingredients
For the Marinade
5

pieces

pork steak

10

cloves

garlic

pounded

2

teaspoons

rock salt

3

tablespoons

mirin
For the Sauce
1

tablespoon

cooking oil

2

tablespoons

butter

separated

¼

cup

plain soju

½

cup

water

¼

bar

cream cheese

cut into cubes

2

tablespoons

gochujang

1

teaspoon

soy sauce

½

cup

all-purpose cream

1

pack shimeji mushrooms

Leeks

sliced
Instructions
Marinate pork steaks with garlic, salt, and mirin for at least 2 hours.

Pat the pork steaks dry, and remove the pieces of garlic.

Put a skillet on high heat. Once smoking hot, add oil and 1 tablespoon butter.

Sear pork steaks on both sides until golden brown; set aside. Repeat with the pork steaks.

Reduce the heat to Medium, and deglaze the pan with soju. Add water, cream cheese, gochujang, and soy sauce. Mix well. Return the pork steaks to the pan, and simmer for 5-10 minutes, or until the pork is fully cooked. Remove the steaks, and place on a serving platter.

To the pan with the sauce, add the cream and mushrooms. Stir and cook for 5 minutes.

Turn off the heat, add the remaining butter, and stir. Pour the sauce on top of the steaks and garnish with leeks.
Notes
Adjust the simmering time according to the thickness of the pork.
Add Korean chili powder (gochugaru) if you want an extra spicy kick.
Feel free to substitute the mushrooms with a different variant or use a mix of different kinds.
Serve on top of steamed rice or with your favorite Korean noodles with kimchi on the side.
Feeling extra? Drizzle truffle oil on top!
Try These Other Yummy Recipes:
ADVERTISEMENT - CONTINUE READING BELOW
Recommended Videos