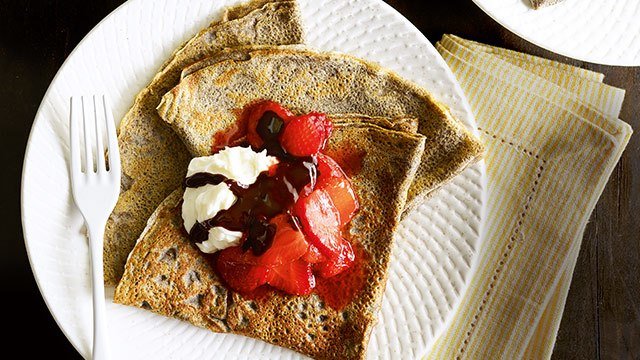 Enrich crepes with fiber, protein, and antioxidants by swapping out white flour for buckwheat flour, which provides the thin pancakes with a subtle nutty flavor and a chewy texture.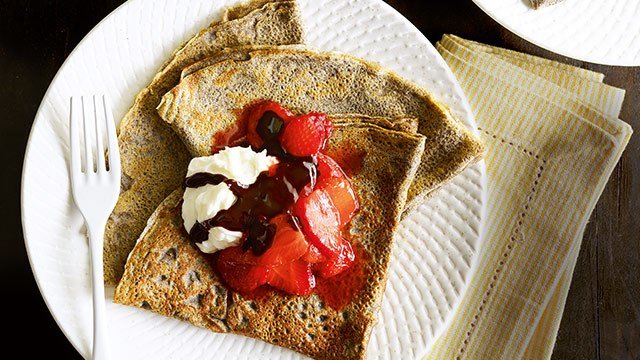 Crepes with Roasted Strawberries Recipe
These crepes are packed with fiber and protein!
Ingredients
Crepes with Roasted Strawberries Ingredients
4

large

Egg

1

Cup

milk

(or almond milk)

2

teaspoons

coconut sugar

1

tablespoon

coconut oil

(or melted butter, plus extra to cook)

1/2

teaspoon

sea salt

1/2

Cup

buckwheat flour

available at Healthy Options

2

cups

fresh strawberries

hulled and sliced

1

tablespoon

honey

2

tablespoons

balsamic vinegar

1

bar

cream cheese

(around 227 grams0, softened

1/2

Cup

sugar

chocolate syrup

to drizzle
Instructions
Make the buckwheat crepes: Beat eggs in a medium bowl. Add milk, coconut sugar, oil or butter, and salt; mix well. Add buckwheat flour and whisk until just combined. (You can use the mixture immediately or let it stand for 3 hours to allow flavors to meld.) Mix the batter before cooking as the flour will settle to the bottom.

Heat a 10-inch nonstick pan over medium-low heat. Brush or drizzle with a bit of butter or oil. Pour in ¼ to ¹⁄³ cup batter. Tilt pan in a circular motion so the batter covers the entire surface of the pan. Cook for about 1 minute. When edges are golden brown, run a spatula under the crepe and flip it over; cook the other side for 30 seconds then transfer to a plate. Repeat with the rest of the batter.

Make the roasted strawberries: Preheat oven to 375°F. Mix all ingredients in a baking pan. Roast in the oven until strawberries are soft and syrup bubbles, about 20 minutes. Set aside until ready to serve.

Make the cream cheese: Beat together cream cheese and sugar until smooth. 5 Spread each crepe with 2 to 3 teaspoons cream cheese then fold into quarters. Top with roasted strawberries and more cream cheese. Drizzle with chocolate syrup.