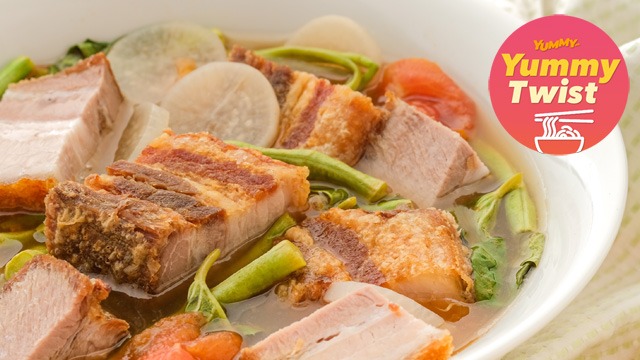 This mashup recipe has to be one of those recipes that makes you say, "Now, why didn't I think of that?" 
When you put crisp pork chunks of the lechon kawali together with something as powerfully fruity and flavorful as a sinigang soup, the resulting dish is nothing short of spectacular. You get the crisp, golden brown tenderness that can only come from tender pork belly chunks cooked lechon kawali-style and the sour-salty notes of the sinigang broth that only the sampaloc or tamarind can give a soup. 
This twist on the usual way to serve lechon kawali and recipe hack of the typical sinigang na baboy dish is a dish only lovers of either dish will instantly find irresistible. 
This crispy lechon kawali and sinigang na baboy mashup recipe is going to be your new favorite ulam recipe!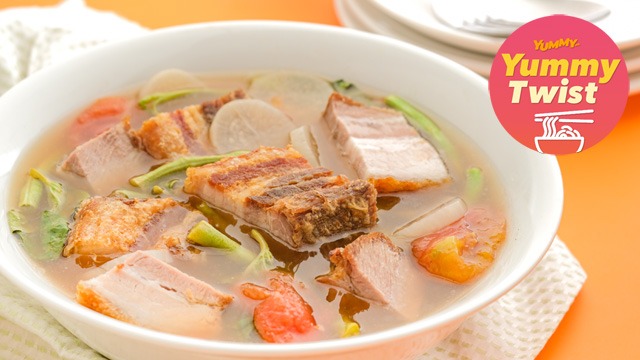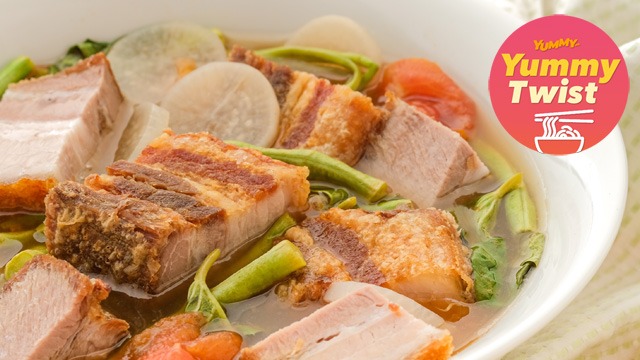 Crispy Pork Sinigang Recipe
Crispy pork chunks make this sinigang a crispy and soupy meal.
Ingredients
Crispy Pork Sinigang Ingredients
1

kilogram

Pork belly

halved

8

cups

water

or as needed

1

tablespoon

Salt

1

teaspoon

black peppercorns

1

piece

dried bay leaf

1

40-gram pack

sinigang sa sampaloc mix

1

Small

radish (labanos)

peeled, cut into rounds

3

Small

tomatoes

quartered

1

bunch

kangkong (water spinach)

tender stems and leaves only

1

bunch

string beans (sitaw)

cut into 3-inch lengths

1

piece

green finger chili (siling haba)
Instructions
Place pork in a pressure cooker or a large pot. Pour in enough water to cover. Add salt, pepper, and bay leaf. Bring to a boil, lock the lid, then simmer until tender, about 60 minutes in a pressure cooker or 2 hours in a regular pot. (Release the pressure before removing the lid of the pressure cooker.) Remove pork from the broth, and set both aside to cool. Freeze pork overnight or until ready to cook. Reserve pork stock.

In the same pot over medium heat, place sinigang na sampaloc mix, onions, tomatoes, pork stock, and 2 cups water. Bring to a boil, lower heat to a simmer. Add labanos and cook until tender. Add tender stems of kangkong and sitaw. Bring back to a simmer, about 1 minute. When ready to serve, stir in kangkong leaves and let cook until just wilted, about 1 minute. Remove pot from the heat.

Meanwhile, heat enough oil in a large pot over medium-high heat. Place pork belly in the hot oil until submerged and cover the pot with the lid slightly ajar. Let cook until golden brown on all sides and skin is crispy. Remove from the oil and let cool slightly before slicing into chunks. Keep warm.

Place lechon kawali chunks into a bowl. Pour sinigang soup and vegetables over the pork and serve immediately with steamed white rice.