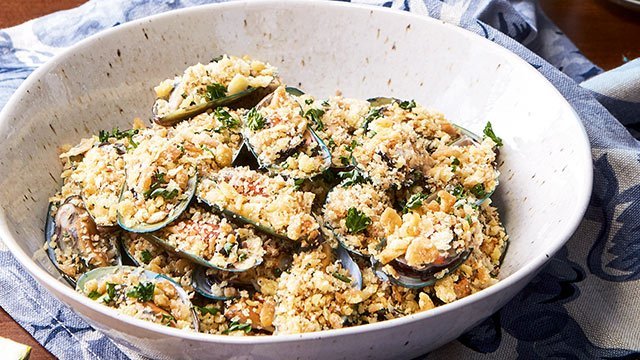 This seafood dish is the perfect party appetizer! It uses our green mussels, or tahong, as the main ingredient and it's plain delicious. 
How do you make garlic tahong? 
The trick to cooking tahong and making it into appetizers like these is to cook the shellfish at the last minute before stuffing it with your flavorful crumb mix. This requires no baking so this is actually the easy way of making it. Instead, the crumb mix is made in a nonstick pan and once the tahong are cooked, are used to top each one before serving. This ensures each tahong is still fresh and tender when it's served. 
Here's a rule to note when cooking with shellfish like tahong: Mussels that do not open upon cooking are no longer fresh, so do not use them in making this dish.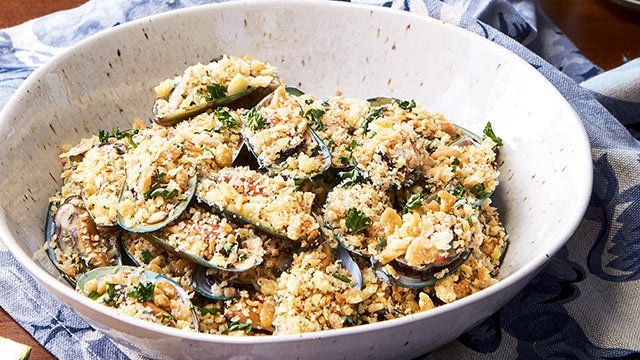 Tahong Recipe with Crunchy Garlic
Get the freshest tahong that you can find to make these crunchy appetizer!
Ingredients
Tahong Ingredients with Crunchy Garlic
3

large pieces

Pandesal

3

tablespoons

Butter

4

cloves

Garlic

peeled and finely chopped

2

tablespoons

parsley

finely chopped

1/4

Cup

queso de bola

finely grated

1/2

kilos

green mussels (tahong)

scrubbed clean, beards removed

1

teaspoon

ginger

peeled, chopped

Salt

to taste

ground black pepper

to taste
Instructions
In a food processor, break pandesals into chunks, then process until roughly chopped into crumbs. Set aside.

Heat a nonstick frying pan over medium heat. Melt butter, then add garlic. Saute until just fragrant. Dump crumbs into the pan, and stir to mix. Cook until crumbs are toasted. Remove from heat, and stir in parsley and queso de bola. Lightly season with salt and ground black pepper, to taste. Set aside.

Meanwhile, bring a pot of shallow water to a boil. Lower to a simmer, then add tahong and ginger. Cover, and simmer 8 minutes, or until the tahong have opened. Discard any that have not opened.

Remove the top shells of tahong which have no meat. Transfer shells with meat to baking sheet. Lightly season tahong with salt and ground black pepper, then top each with the crumb mixture. Serve immediately. Recipe originally published in the April 2016 issue of Good Housekeeping.