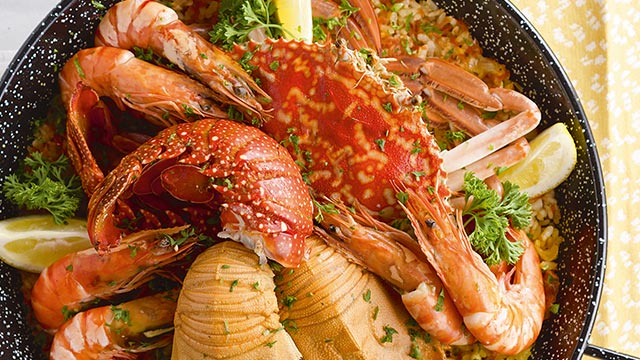 Impress guests with a classic tomato-based paella loaded with lobster, crab, and prawns.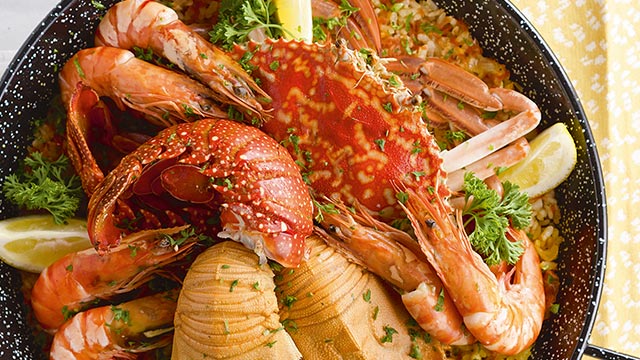 Crustacean Paella Recipe
Impress guests with a classic tomato-based paella loaded with lobster, crab, and prawns.
Ingredients
Crustacean Paella Ingredients
1/4

cup plus 3 tablespoons

white onion

chopped

1/4

teaspoon

dried thyme leaves

1/4

teaspoon

dried rosemary

1

teaspoon

peppercorns

1

bay leaf

3

stalks

parsley sprigs

1/8

Cup

Leeks

sliced

1

(400- to 500-gram)

bamboo lobster

cleaned

2

(200- to 300-gram)

lobster

cleaned

1

(200- to 300-gram)

blue crab (alimasag)

cleaned

saffron powder

1/4

Cup

olive oil

divided

8

Prawns (Sugpo)

cleaned

1 1/2

tablespoons

Garlic

chopped

200

Grams

tomatoes

chopped

2

cups

paella rice

Salt

parsley sprigs

(for garnish), chopped
Instructions
Place onion quarter, thyme, rosemary, peppercorns, bay leaf, parsley, leeks, and 4 to 5 liters water in a pot. Bring to a boil.

Simmer bamboo lobster in broth for 15 to 18 minutes. Simmer slipper lobsters and blue crab in broth for 10 to 12 minutes. Set aside seafood to cool. Take 1 cup stock and mix with saffron. Strain remaining stock and reserve.

Heat 2 tablespoons olive oil in a paellera. Sear prawns for 30 seconds on each side. Set aside.

Add remaining olive oil to the pan. Sauté chopped onions, garlic, and tomatoes for 3 minutes or until tomatoes reach a paste-like consistency.

Add rice and stir for 1 minute. Add 1 cup saffron-infused stock and 2 cups seafood stock. Season with salt and pepper. Distribute rice grains evenly on the surface of the pan. Do not stir.

Bring to a boil, then cover with foil. Lower heat and simmer for 18 to 20 minutes or until rice is al dente. Add more stock, 1 tablespoon at a time, if rice needs to cook longer.

Arrange prawns on top of rice, cover with foil, and cook for 2 minutes. Increase heat to high and cook for 30 seconds to form a toasted crust at the bottom. Turn off heat. Arrange seafood on top. Garnish with parsley and lemon wedges. Tip: You can do Step 1 five days in advance, strain, then freeze in a zip-top bag. Thaw and boil before using.