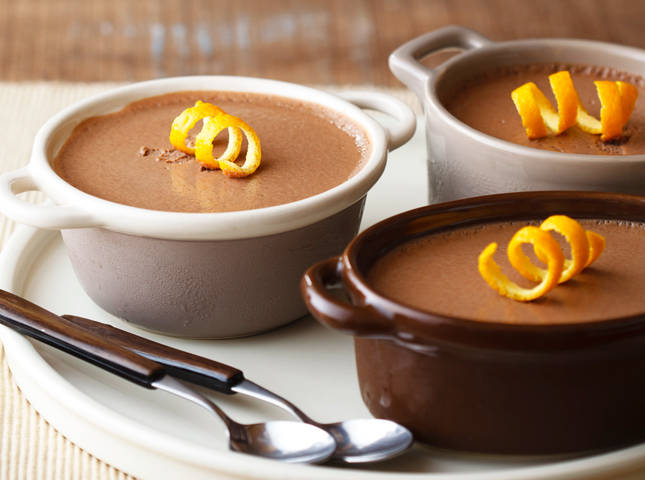 This is a great make-ahead dessert! Use individual ramekins, then garnish when ready to serve.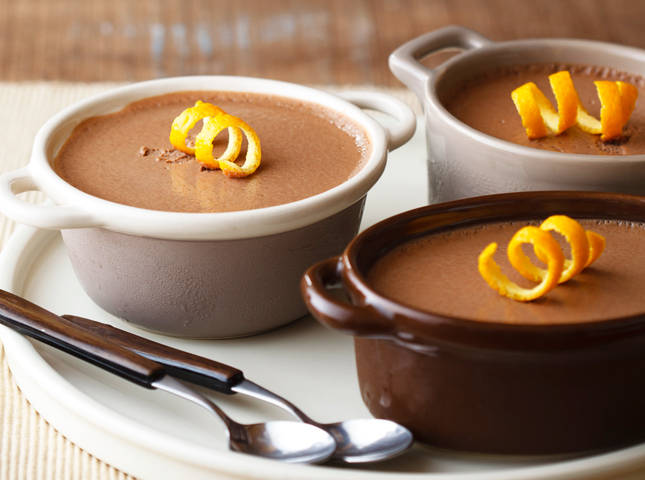 Dark Chocolate Orange Pots de Creme
This is a great make-ahead dessert! Use individual ramekins, then garnish when ready to serve.
Ingredients
Dark Chocolate Orange Pots de Creme
10

ounces

Bittersweet chocolate

chopped

1/2

Cup

milk

1/2

tablespoon

orange zest

grated

2

cups

heavy cream

room temperature

1

tablespoon

brown sugar

1/4

teaspoon

Salt

1-2

tablspoons

Grand Marnier

whipped cream

for garnish
Instructions
Preheat oven to 300F. Place a baking rack in the center of the oven. Prepare 8 to 10 ovenproof medium-sized ramekins arranged in a shallow roasting pan and a pitcher of hot water for the hot water bath (bain marie).

Place chopped chocolate in a food processor or blender and set aside.

In a saucepan, bring milk to a simmer over medium heat. Add orange zest. Reduce heat to low and simmer for 2 minutes. Turn off heat, cover the saucepan, and let steep for 15 minutes. Set aside mixture to cool or dip the bottom of the saucepan in a bigger bowl of iced water to speed up the cooling process.

When the milk is at room temperature, whisk in cream, egg, egg yolks, brown sugar, and salt. Place the saucepan back on medium heat and keep stirring with a wooden spoon until the mixture is thick enough to coat the back of a spoon.

Immediately pour the thickened egg-cream mixture over the chocolate in the food processor or blender. Process or blend until the entire mixture comes together. Scrape down the sides of the bowl and pulse or blend briefly for a final mix. Add Grand Marnier, if using. Mix well.

Strain the mixture into a glass pitcher. Pour mixture into the prepared ramekins.

Place the roasting pan with the ramekins in the oven. Working quickly, pour enough hot water onto the side of the roasting pan just until it reaches halfway up the sides of the ramekins.

Bake for about 20 to 30 minutes or until the center of the custard is almost set.

Carefully remove the ramekins from the pan, wiping the bottoms dry before transferring to a cooling rack. Cool completely.

Cover the ramekins with plastic wrap and refrigerate until ready to serve.

Garnish with a dollop of whipped cream and orange peel before serving, if desired. Zesting tip: When zesting oranges, make sure to grate only the rind and not the pith, the bitter white layer beneath.