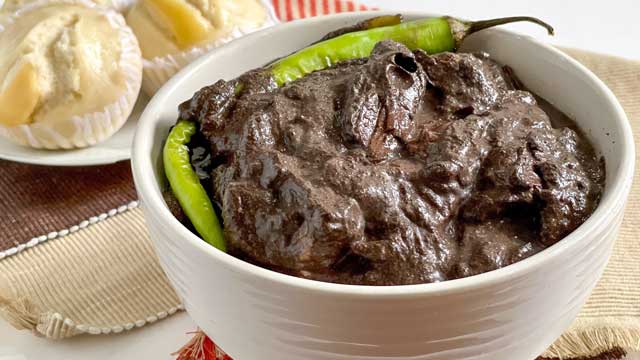 Dinuguan is always best served with puto. This classic ulam Pinoy dish is a dish that people either love or hate. That's because it not only is made with pork blood but it also uses pork innards as the main ingredients of the dish.
What is dinuguan?
In the simplest terms, dinuguan comes from the root word in Tagalog meaning blood or "dugo". This dish is basically a blood stew. In this case, the blood is pork blood and to make it taste great and be heartier, it is not only cooked with vinegar to give it a delicious tang but it's got chunks of pork in it, too. Normally, the pork pieces are pork intestines, chopped up and cubed, but may also include the heart, kidneys, and other offal. If you are only as brave as cooking with blood and don't care to use the offal too in your dish, you can opt-out of using innards and instead use pork parts that are more to your taste. In this recipe, the pork innards are replaced with your choice of pork, cubed, and then fried in oil so it develops a delicious flavor. when it's time to serve the cooked dish, it's traditional to serve this stew with puto or steamed rice cakes. For this kind of recipe, it's a natural pairing that gives a great contrast of textures and flavors, earthy yet tangy with the sweet, gritty with the soft. To keep it classic, dunk pillowy puto bigas into this thick saucy dinuguan with hints of coconut from the gata to discover just how delicious this unique stew can be.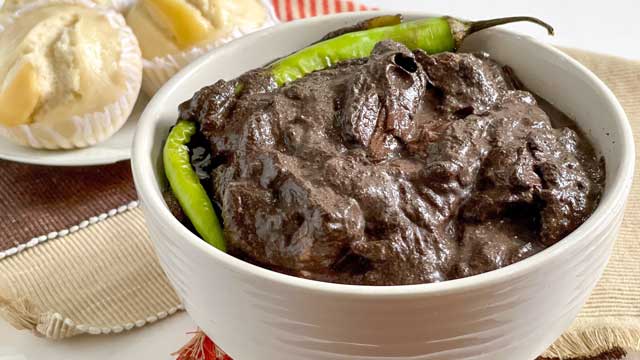 Dinuguan Recipe with Gata
This version is extra creamy and delicious!
Ingredients
Dinuguan Ingredients with Gata
2

tablespoons

Oil

5

cloves

Garlic

1

medium

Red Onion

1

1-inch piece

Ginger

1/2

kilo

Pork

1

kilo

Pig's Blood

1

Cup

Vinegar

2

cups

Coconut Milk (Gata)

2

tablespoons

Fish Sauce (Patis)

Salt

Black Pepper

2

pieces

Finger Chilies (Siling Pangsigang)
Instructions
Saute garlic in oil, add onions and ginger, then add the pork. Saute until the pork is cooked. 

Add the blood and pour the vinegar. Let it simmer for 10 minutes then add the coconut milk.

Once the sauce has thickened season with patis, salt, and pepper. Add the finger chilies. Simmer for 10 minutes. Once cooked, transfer to a bowl and serve with warm puto. ***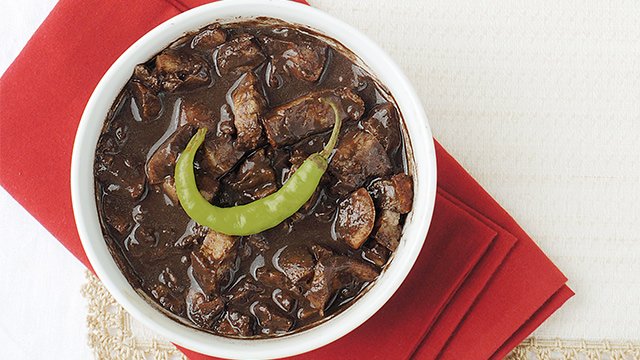 Dinuguan Recipe
Posted in:
Recipe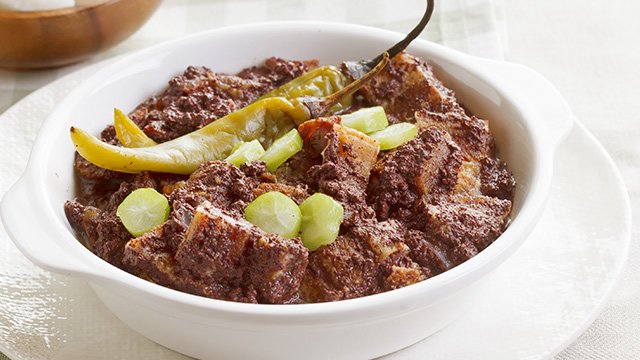 Crispy Dinuguan Recipe
Posted in:
Recipe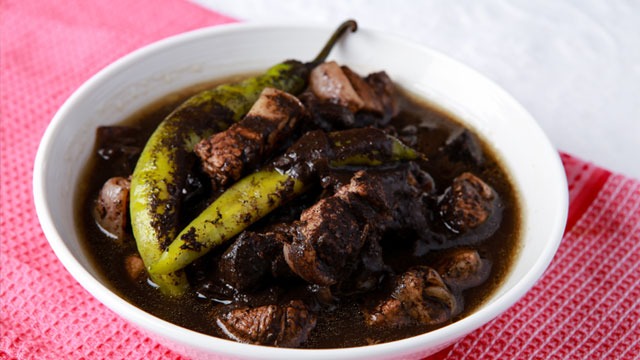 Pork Dinuguan (Pork Blood Stew) Recipe
Posted in:
Recipe