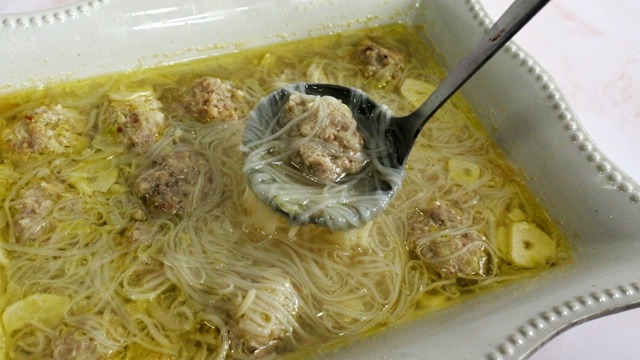 This easy meatball soup, also known as almondigas, is super delicious and easy to make. It combines a basic meatball, made even more flavorful with a handful of cabbage for flavor, texture, and tenderness, with a garlic broth. Misua, or thin rice noodles, completes the meal. 
You can add slices of patola, upo, or whatever vegetable you like for a more hearty bowl of soup.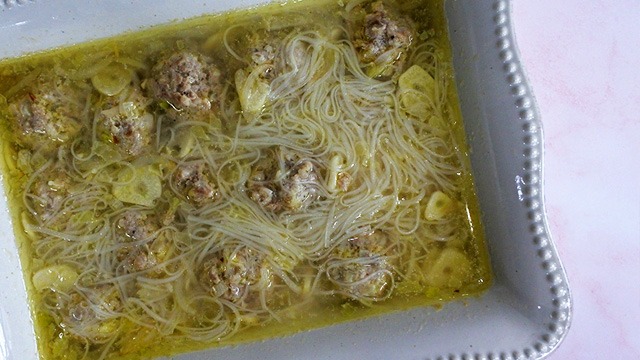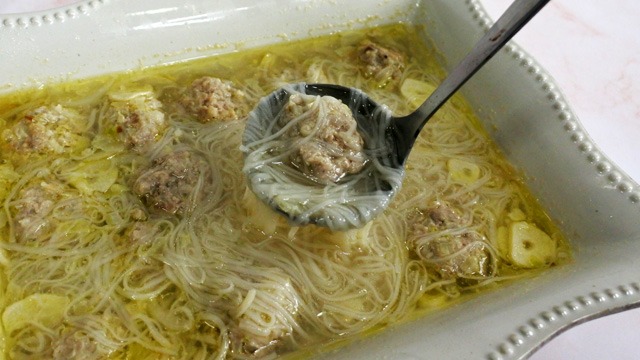 Easy Almondigas Soup Recipe
This easy meatball soup recipe is sure to satisfy!
Ingredients
Easy Almondigas Soup Ingredients
250

Grams

ground pork

1

Cup

cabbage

finely chopped, squeezed of water

1/2

medium

red onion

peeled, finely chopped

1/2

medium

Egg

beaten

2

tablespoons

cooking oil

1/2

medium

red onion

peeled, sliced

5

cloves

Garlic

peeled, sliced

1

liter (4 cups)

water

1

piece

chicken bouillon cube

1

bundle

misua (fine rice noodles)

Salt

to taste

ground black pepper

(add more to taste)
Instructions
In a bowl, combine ground pork, cabbage, finely chopped onion, and beaten egg. Season with salt and pepper to taste. Cook a small portion to test for seasoning. Adjust seasoning as needed. Form into meatballs using a tablespoon, about 12. Set aside.

Heat oil in a soup pot over medium-low heat. Add sliced onion and cook, stirring, until just translucent. Add garlic and cook until just lightly browned.

Pour in water and add chicken bouillon cube. Bring to a boil.

Gently drop meatballs into the boiling soup. Bring back to a boil then simmer until meatballs are just cooked through. Skim any scum that rises to the surface of the broth.

Place the misua into the simmering broth. Cook until just softened. Season to taste as needed. Serve while hot.