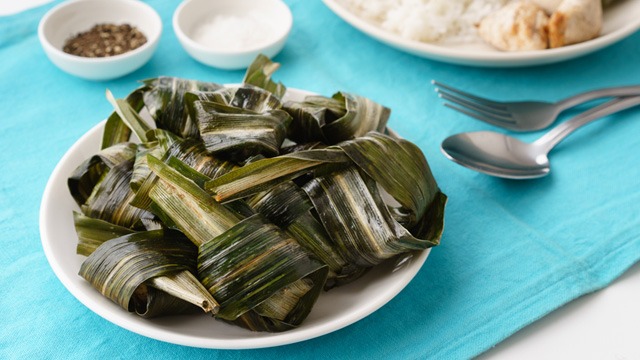 What's so great about this chicken dish is that it's not only delicious but it's also fun to unwrap, too! 
This recipe lets the flavors of the pandan shine. The sesame oil lends a little warmth into the chicken that makes the pandan flavor pop through. 
If you're curious to see how the chicken is wrapped, check out the video.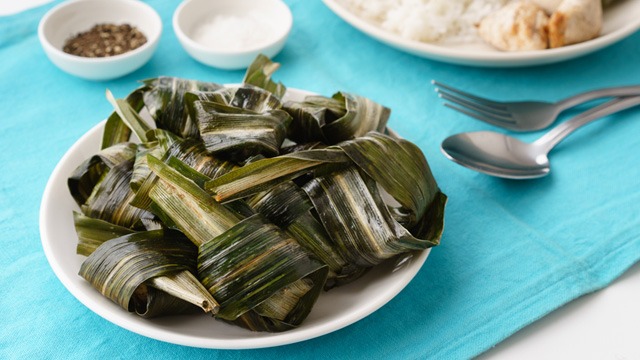 Easy Chicken Pandan Recipe
This is a pandan chicken recipe made easier.
Ingredients
Easy Chicken Pandan Ingredients
2

pieces

chicken breast fillets

skinless, cut into chunks

1

teaspoon

sesame oil

Salt

to taste

ground black pepper

to taste

1

bunch

screwpine or pandan leaves

separated

vegetable oil

for pan frying
Instructions
In a medium bowl, mix chicken chunks, sesame oil, salt, and ground black pepper to taste. Set aside.

Wrap the chicken: Take a pandan leaf, and open its leaves until flattened. Hold the two ends of the leaf, one in each hand. Then cross the two ends to create a cradle or a curve in the center portion of the leaf. While holding the two ends of the leaf in place with your other hand, place a chicken chunk in the cradle.

Holding the leaf end that s on the bottom, fold the leaf over the chicken chunk and under the cradle that was formed and pull tight. Repeat with the other leaf end. Turn the wrapped chicken over and repeat the motion again until the leaf ends are too short to fold over. Set aside, and repeat with the remaining chicken chunks and pandan leaves.

When ready to cook, heat a frying pan over medium heat and fill with enough oil to come up halfway up the sides. Add the pandan-wrapped chicken in the hot oil, cooking in batches if necessary, and cook until cooked through. Drain on paper towels, and serve while hot.