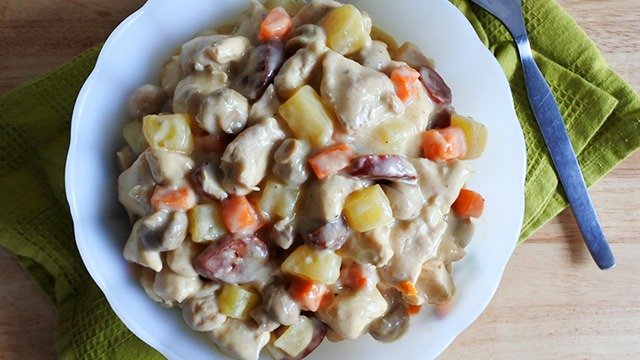 This creamy chicken recipe is as classic a chicken pastel recipe as you will get! The secret to this dish are the select ingredients: slices of flavorful chorizo de bilbao, cream of mushroom soup, chunks of potatoes and carrots, whole mushrooms, and big cubes of chicken cooked until just tender. 
Want to make this dish even tastier? Fry the chicken skin you removed from the chicken breast fillets in the oil before starting the recipe. You'll deliver a delicious fried chicken taste to the pastel! 
What is chicken pastel? 
This classic chicken dish that we call chicken pastel is an adaptation of Spain's pastel de pollo. It's basically a chicken and mushroom pie, so sometimes, the chicken pastel is served with a buttery crust on top.
That's why the chicken pastel was once a popular festive dish.  
Unless you're going to make this for a party or just plain want to impress, you can skip placing a buttery crust like an empanada dough recipe on top of this creamy chicken mixture. You can instead concentrate on making the delicious and creamy filling.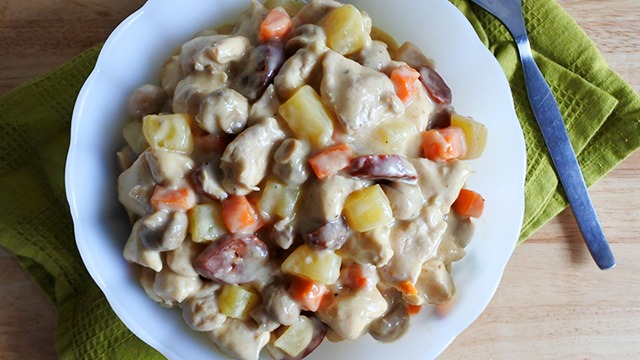 Easy Chicken Pastel Recipe
Make this easy creamy chicken recipe for any celebration.
Ingredients
Easy Chicken Pastel Ingredients
2

tablespoons

Oil

1

tablespoon

Butter

3

pieces

Chorizo de Bilbao

sliced on the diagonal

1

medium

red onion

peeled, chopped

4

pieces

chicken breast fillets

cubed medium

1

large

potato

peeled, cubed medium

1

large

carrot

peeled, cubed medium

1

400-gram can

whole mushrooms

drained

1

68-gram packet

cream of mushroom soup

500

ml

water

1

154-ml can

evaporated milk

Salt

to taste

ground black pepper

to taste
Instructions
In a large sauté pan over medium heat, heat oil then add butter. Once hot and melted, sauté chorizo until pieces start to brown. Remove with a slotted spoon and set aside. Sauté onion until softened.

Add and cook chicken cubes in batches, letting the chicken sear until just browned before stirring. Lightly season chicken with salt and ground pepper. Remove chicken from the pan, transfer to the chorizo, and set aside.

Add potatoes, carrots, and mushrooms. Cook until seared, stirring occasionally.

Dissolve cream of mushroom soup powder in water. Pour it into the pot with vegetables. Bring to a boil to thicken and then simmer until the vegetables are cooked through. Pour in evaporated milk, stirring until combined. Add chicken and chorizo back to the pot, and then simmer until chicken chunks are cooked through. Taste and season with salt and pepper to taste before serving. READ THESE: MORE CHICKEN PASTEL RECIPES WATCH: This Creamy Chicken Pastel Tastes Like Home Chicken Pastel Recipe