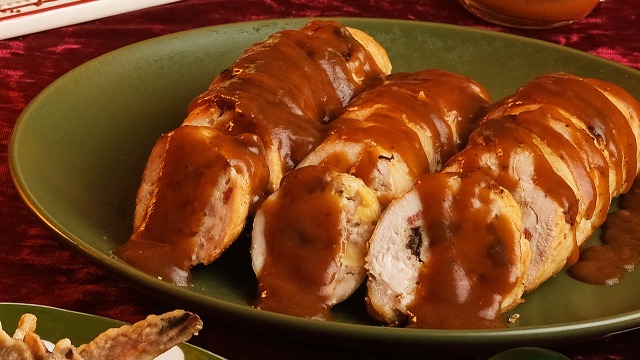 Deboning a chicken has to be one of the more intimidating tasks in the kitchen. Whether it's a leg, a breast, or a wing, the task requires precision and an adequate amount of skill to accomplish without the chicken emerging like it was meant to be ground chicken.
If you're not yet skilled enough to debone a chicken leg, imagine trying to debone a whole chicken for a chicken relleno or galantina for Noche Buena?
Can't? That's okay! This is where this easy chicken relleno rolls recipe can help save your holiday feast!
This easy chicken relleno rolls recipe is one of six recipes that we are featuring as our recommended recipes for your Noche Buena handaan. As one of Yummy's December digital cover recipes, this delicious dish is sure to make your Noche Buena feast a sure hit with everyone at your Christmas party.
What Is Easy Chicken Relleno Rolls?
A chicken relleno is a deboned whole chicken stuffed with a seasoned ground chicken mix. This is commonly roasted in the oven whole, much like a whole roasted chicken would be. The main difference here is that you should be able to easily carve a chicken relleno without encountering any bones!
You can easily ask your local butcher to debone a whole chicken for you to take home so you're prepared to stuff it even before you get home. However, even this is a challenge for a seasoned butcher and if your butcher is not experienced enough, you can opt for a change. This change we suggest is to use chicken fillets instead of a whole chicken.
This not only makes it super easy to do but also makes it less stressful for you to make! Think of it as a cross between an embutido and a chicken cordon bleu. The ground chicken stuffing is rolled up in chicken breast fillets, and you get a chicken relleno roll!
How To Serve Easy Chicken Relleno Rolls
A chicken relleno is boneless so it's super easy to serve! Once it's cooked, you want to slice it on a diagonal so you can showcase the inside of the relleno: the bits of chorizo, ham, cheese, and of course, the chicken fillet that wraps around each roll you made.
How to Make Easy Chicken Relleno Rolls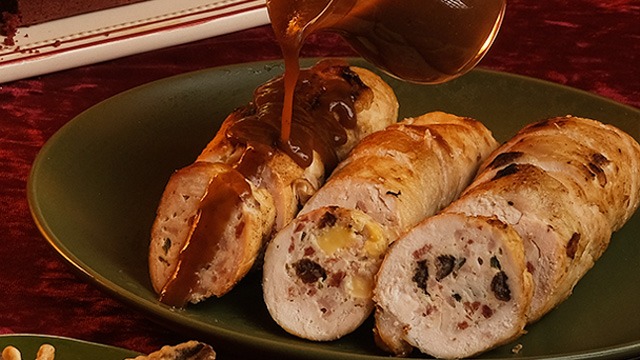 This recipe starts with the ground chicken mix. This is much like an embutido where you take ground meat (in this case, it's ground chicken) and mix it with seasonings and other ingredients. This recipe uses pickle relish for sweetness, ham and chorizo for their savory smokiness, cheese for its creamy saltiness, and of course, raisins for its burst of fruity sweetness.
ADVERTISEMENT - CONTINUE READING BELOW
Recommended Videos
An egg binds these ingredients together so you can roll it up in the chicken fillets.
To ensure the chicken fillet rolls stay in rolled form, you'll roll them in foil. The chicken skin that is still on the chicken will ensure the chicken doesn't stick to the foil unlike embutido usually do. These chicken logs are steamed and later fried in oil so the chicken gets browned and is delicious.
You'll want to serve this with a classic chicken gravy but you can also serve this drizzled with ketchup or even mayo if that's your jam.
Tips To Make Easy Chicken Relleno Rolls
1 Use two whole chicken breast fillets.
The easiest way to make rolls from chicken fillets is to use a big piece. The biggest chicken piece is the breast but the biggest piece is the chicken breast with both halves still connected. This is where your suki butcher comes in to save your dish.
However, if you can't find a butcher who can't do this for you, chicken breast halves will do just fine; you'll just have smaller relleno rolls.
2 Season the chicken, too.
You might forget but we hope you don't! The ground chicken mixture is easy to remember to season but you also have to season the chicken that you'll use to roll it up with, too! (We admit; we forgot to season the chicken the first time we made this.)
Just like a chicken cordon bleu, the chicken needs to be seasoned before you roll it up with the ground chicken inside.
How To Store Easy Chicken Relleno Rolls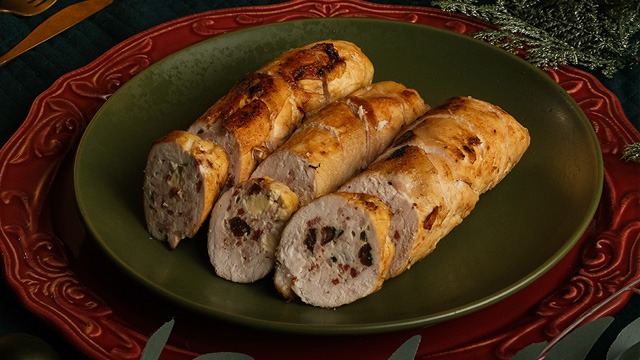 Relleno is a savory dish but unlike the traditional whole chicken relleno, these rolls are easier to store if you happen to have leftovers. These are simply rolled back in foil and refrigerated. If you are planning to store these for longer, you can double wrap these rolls in plastic wrap first and then foil and store these in the freezer.
WATCH: Easy Chicken Relleno Rolls Recipe Video
Easy Chicken Relleno Rolls Recipe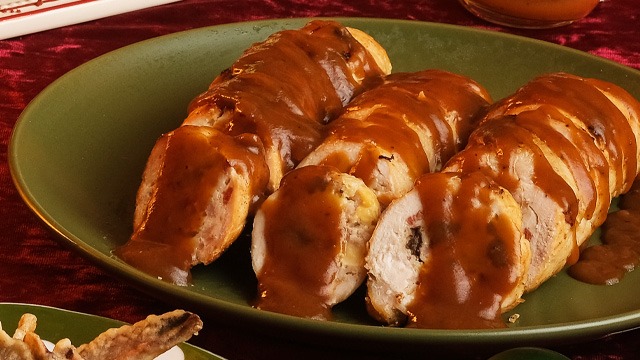 Easy Chicken Relleno Rolls Recipe
This relleno is made with chicken breast fillets!
Ingredients
Easy Chicken Relleno Rolls Ingredients
1/8

kilo

ground chicken

about 125 grams

2

slices

sweet ham

chopped

1

tablespoon

pickle relish

1/4

Cup

Cheese

grated

1/4

Cup

raisins

1/2

large

Egg

beaten

2

whole

chicken breast fillets

skin on, filleted

Salt

to taste

ground black pepper

to taste

Oil

for frying
Instructions
In a medium bowl, mix ground chicken, ham, chorizo, pickle relish, cheese, raisins, and egg together. Season mixture with salt and ground pepper to taste. Cook a small amount of the mixture to check seasoning and adjust as needed. Set aside. 

Lay plastic wrap over a chopping board. Place a whole 2 chicken breast fillet that s still connected in the center on the plastic, skin side down, and fold over the plastic wrap to cover. Using a meat mallet, flatten the whole chicken breast, focusing on the thicker areas to even out the thickness of the chicken. Remove plastic wrap and replace with foil.

Place flattened chicken breast onto the foil. Season with salt and ground pepper on both sides. Scoop half the ground chicken mixture onto the center of the chicken. Roll the chicken breast lengthwise encasing the chicken roll in the foil. Repeat with remaining chicken breast and ground chicken mixture.

Place foil-wrapped chicken rolls into the prepared steamer. Steam for 30 minutes. Remove from steamer. Let cool and then chill until ready to cook and serve.

When ready to cook, heat a frying pan over medium heat with enough oil for pan frying. Remove foil from chicken rolls and fry until the skin is crisp and the chicken is heated through, turning the chicken as needed to brown evenly on all sides. Remove from the heat and let rest slightly before slicing. Serve while hot with a chicken gravy on the side.