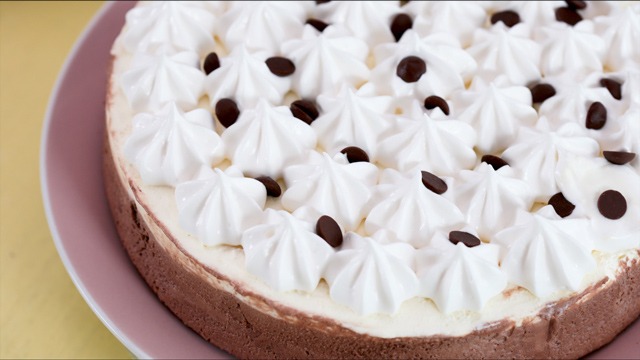 A silky chocolate mousse in the form of a cake is exactly what this cake is supposed to be, but better! With this recipe, you don't need to buy it ever again. 
What Is A Chocolate Mousse Cake 
A chocolate mousse cake is a cake with two kinds of mousse layered on top of a brownie or cake base. The silky chocolate mousse is topped with sweetened whipped cream and dotted with chocolate chips just like the cake available at a popular local bakeshop. 
Table of Contents
• How To Serve A Chocolate Mousse Cake
• How To Make A Chocolate Mousse Cake
• Tips To Make A Delicious Chocolate Mousse Cake
• How To Store A Chocolate Mousse Cake
• Watch: Easy Chocolate Mousse Cake Recipe Video
• Easy Chocolate Mousse Cake Recipe
How To Serve A Chocolate Mousse Cake
A mousse is a chilled dessert so this needs to be served straight from the refrigerator. It does soften in time and during particularly hot weather such as during the dry or summer months, the mousse can melt since this is made with whipped cream and not stabilized by egg whites. 
To easily serve this cake, use a knife dipped briefly in hot water to make your slices precise and impeccable. 
How To Make A Chocolate Mousse Cake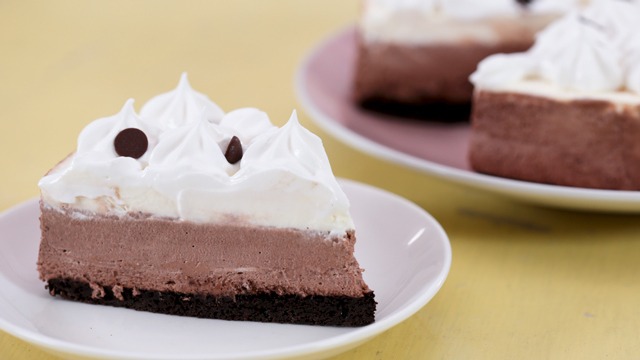 For this recipe, we decided a brownie base is better than a cake base since it's denser and is a more intensely rich chocolate-tasting part of the cake that will make it even more irresistible. Plus, it will be firmer and better able to hold onto the chocolate mousse layers. 
This base needs to be baked so you'll need to allow this part of the cake to cool completely before proceeding with the rest of the cake: the two kinds of mousse. 
The two kinds of mousse are simple to make. One is simply whipped cream sweetened slightly so it's not cloying. The second is a chocolate mousse made with more whipped cream but mixed with a chocolate spread. Combine the two and you've got an easy chocolate mousse! 
Transfer and spread the chocolate mousse on top of the brownie base first. Top this with a layer of whipped cream. Save some whipped cream for a piping bag so you can decorate the top. Sprinkle chocolate chips on top then chill for about four hours until ready to serve. 
Tips To Make A Delicious Chocolate Mousse Cake 
1 No oven? Make a delicious no-bake crust instead. 
Not everyone has an oven so for those who still want to make this cake but don't have an oven, use a no-bake graham cracker crust just like you would make if you were making a cheesecake. Just combine crushed graham crackers and melted butter together. Press this mixture into the bottom of your cake pan and chill until ready to top with mousse. 
You can even use any crushed cookie, including chocolate cookies, to make a chocolate cookie crust! 
2 Make chocolate ganache. 
If you can't find a chocolate spread to use for this recipe, simply make it instead! An easy chocolate spread to use is the basic chocolate ganache recipe, which is made using equal parts cream and chopped chocolate. You'll need to heat the cream to melt the chocolate and that's all you'll need! Let it cool before adding it to the whipped cream. 
How To Store A Chocolate Mousse Cake 
This is one cake that needs to be stored in the refrigerator because the mousse can not only melt but can also go bad if left out exposed on your countertop. This is best served chilled so it keeps its shape, too. A chilled cake like this makes it easy to grab a slice of something chocolate, sweet, and satisfyingly delicious when a dessert craving hits. 
Watch: Easy Chocolate Mousse Cake Recipe Video
Easy Chocolate Mousse Cake Recipe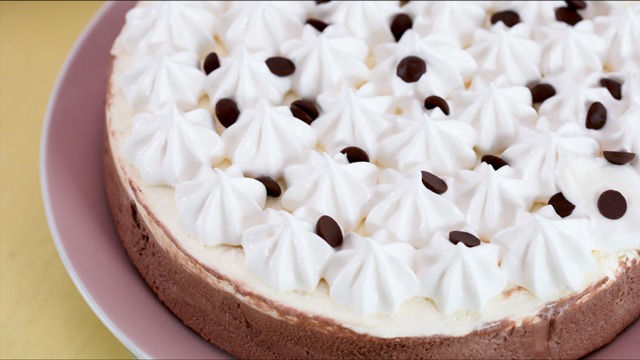 Easy Chocolate Mousse Cake Recipe
You can make this delicious cake at home.
Ingredients
Easy Chocolate Mousse Cake Ingredients
1/4

Cup

chocolate chips

1/3

Cup

sugar

1/4

Cup

unsalted butter

1/3

Cup

unsweetened Dutch-processed cocoa powder

1

large

Egg

1/2

teaspoon

vanilla flavoring

1/4

Cup

all-purpose flour

1/8

teaspoon

baking powder

1/8

teaspoon

Salt

4

cups

heavy whipping cream

chilled, divided

1/2

Cup

chocolate spread

or chocolate ganache

1/2

teaspoon

Salt

divided

1/4

Cup

Powdered SUgar

sifted

1/2

Cup

chocolate chips

optional, for topping
Instructions
Make Brownie Base: Preheat oven to 350 degrees F (180 degrees C). Lightly grease the bottom of an 8-inch round springform pan. Set aside.  

In a large microwave-safe bowl, melt chocolate chips, sugar, and butter together, about 1 minute on High. Stir. Add cocoa powder and stir to mix. (Mixture should have cooled slightly.) Add egg and vanilla extract, and stir until just mixed. Add flour, baking powder, and salt and, using a silicone spatula, stir until just mixed. Transfer to the prepared springform pan, spreading the mixture as needed until the bottom is covered.

Bake brownie until edges are set and the center is firm, around 15 minutes. Remove from the oven and set aside onto a wire rack to cool completely. Loosen the brownie from the springform base if desired for easy removal. Set aside. 

Meanwhile, make the mousse: Transfer 2 cups cream into a large bowl. Whisk until the cream begins to stiffen. Add in the chocolate spread and whisk until well mixed. Spoon onto the brownie layer. Chill until needed. 

Whisk the remaining 2 cups cream until soft peaks. Add the powdered sugar and gently whisk until just mixed and the whipped cream can hold a peak. Spread half of the whipped cream over the chocolate layer. Transfer the remaining half into a piping bag fitted with a star tip. Chill the mousse and the whipped cream at least 4 hours, overnight, or until ready to serve.

When ready to serve, remove the cake from the springform pan and transfer to a serving dish. Pipe prepared whipped cream onto the top of the firm cake. Sprinkle with chocolate chips. Keep chilled until ready to slice and serve. Serve chilled.