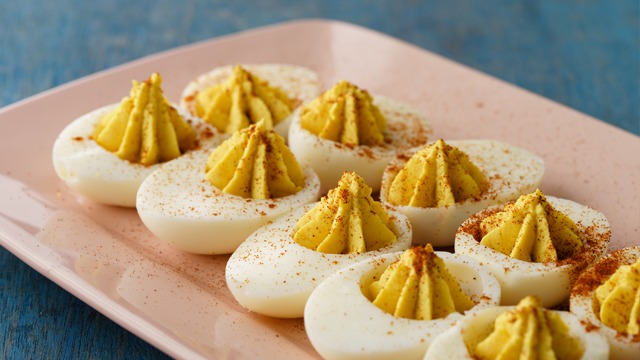 If you're in need of an appetizer that's super easy and will make everyone happy, you need to make this easy deviled eggs recipe. The tangy, rich, and creamy egg yolk filling is perfectly balanced by the egg whites. On top of that, it's perfect to bring to a party because they're so eye-catching!
If you're making this recipe for a crowd, and you want to make a certain number of half-egg single servings, make sure you boil extra eggs to make up for any egg whites you may break.
You can make this recipe even more delicious by amping it up with more texture and flavor. To do this, you can add finely diced red bell peppers and onions to the egg yolk mixture. Just don't use a piping bag with a piping tip as it might get clogged. Instead, use a piping bag with a 1-inch diameter hole to accommodate the mix-ins.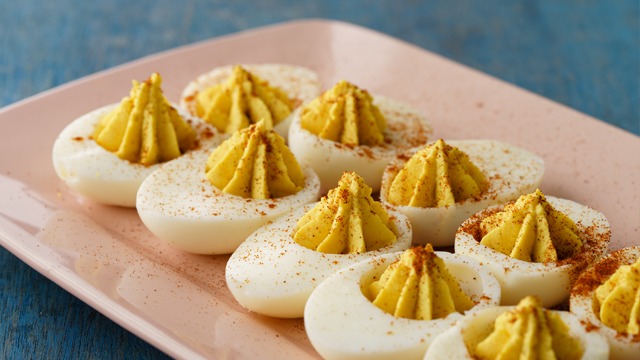 Easy Deviled Eggs Recipe
Turn the humble egg into a showstopper in a pinch.
Ingredients
Easy Deviled Eggs Ingredients
6

large

eggs

1/4

Cup

mayonnaise

2

tablespoons

prepared mustard

1/2

teaspoon

sugar

1/2

teaspoon

Vinegar

Salt

to taste

paprika

for garnish
Instructions
Boil the eggs: Place your eggs in a large pot. Fill the pot with enough water to reach two inches above the eggs. Salt the water, place over high heat, and bring to a boil. Once it's boiling, set a timer for 8 minutes and stir occasionally. (Stirring will make sure that the egg yolks are centered.) After 8 minutes, drain eggs and place in an ice bath. Once cool, carefully crack and peel the hard-boiled eggs under running water.

Slice eggs in half, lengthwise. Separate egg yolks from the egg whites using a fork, and place cooked yolks in a bowl. Mash the egg yolks with a fork. Meanwhile, place the egg whites on a serving plate, yolk hole side up.

Make the filling: In a large bowl, mix together mayonnaise, mustard, sugar, vinegar, and a pinch of salt. Add the egg yolks and fold until smooth. Season with salt, to taste.

When ready to serve, fill a piping bag or use teaspoons to fill the egg whites with the egg yolk mixture. Sprinkle with paprika and serve immediately.