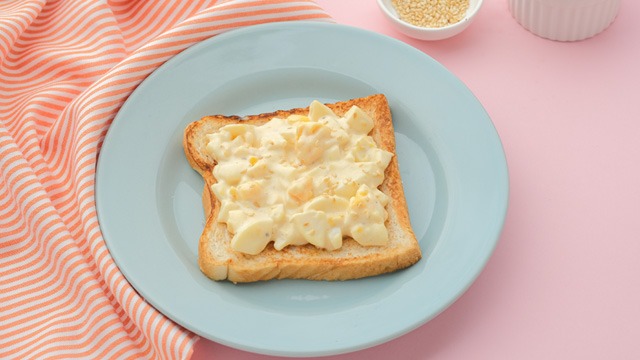 There's something very simple about making hard-boiled eggs. What makes it hard and intimidating for some is the fact that a seemingly simple recipe can go very wrong within a minute. One minute too long in the boiling water can mean the smelly gray circle around your yolk.
We have a few great tips on how to do just that plus how to effectively peel eggs perfectly. Just remember a few key things and you will always have perfectly cooked eggs. 
Once you have your eggs, it's just a matter of chopping it up and mixing with a few creamy ingredients to make it appetizing and delicious.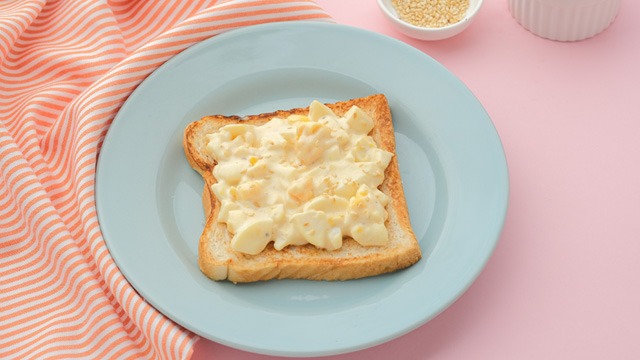 Easy Egg Salad on Toast Recipe
Boil eggs and toss with a few ingredients for a hearty sandwich filling.
Ingredients
Easy Egg Salad on Toast Ingredients
4

large

eggs

1/2

Cup

mayonnaise

1

tablespoon

Roasted sesame dressing

1

teaspoon

black sesame seeds, pan roasted in low gas flame

toasted

1

teaspoon

hot sauce

Salt

to taste

ground black pepper

to taste

6

pieces

Bread Slices
Instructions
Place eggs in a small saucepan. Add enough water to go cover the egg with about 1-inch water. Place on the stove over medium-high heat and bring water to a boil. Once boiling, set the timer for 7 minutes.

Once the timer goes off, turn off the heat and remove from the stove. Drain the water and pour in enough water to cover the eggs. Let eggs stand for about 5 minutes or until you re able to hold on to the egg without being scalded.

Take an egg and on the surface of the kitchen counter, gently crack the egg shell all over. Break off a piece of the shell and keep removing shell pieces until you get a hold of the outer membrane. Use the membrane to perfectly remove the rest of the shell. Rinse under running water. Repeat with remaining eggs.

Roughly chop the eggs, and place chopped eggs in a bowl. Add mayonnaise, sesame dressing, sesame seeds, and salt and ground pepper to taste. Stir to mix.

When ready to serve, toast bread slices. Place on a plate and top with egg mixture. Serve immediately.