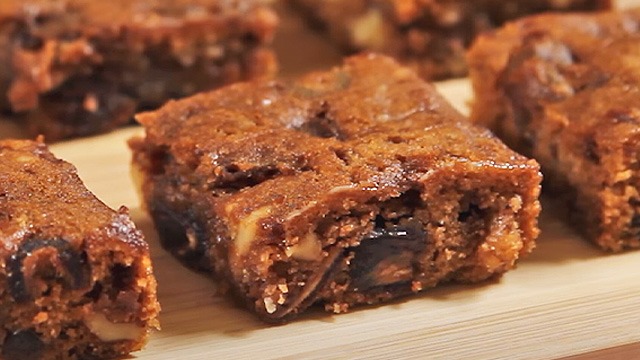 Dates and walnuts make this popular Filipino holiday brownie-like dessert recipe rich and delicious!
What Is Food for the Gods?
This dessert is baked like a butterscotch brownie or blondie and even looks like one at first glance but it's but has a different flavor profile from these popular brownie recipes. It has characteristics of a sticky pudding or fruit cake as well with the addition of dates and walnuts to the thick batter. Some recipes even include the addition of liquor like rum to the mix.
However, this dessert is most probably named for the dates and walnuts being originally expensive and hard-to-find ingredients. With the global commercialization and the transformation of our local palates to a more world-encompassing one, formerly hard-to-find ingredients are easier to source in our market. That makes these bars easier to make now than ever, despite the price tags still making these a decadent if not luxurious treat for the holidays or any other event these are served.
How to Serve Easy Food for the Gods
These are essentially cookie bars much like brownies so these are easy to serve: slice and serve as soon as the bars are cooled enough from the oven. Slice these into bars or into long sticks so each is an easy bite of fruity-nutty deliciousness.
How to Make Easy Food for the Gods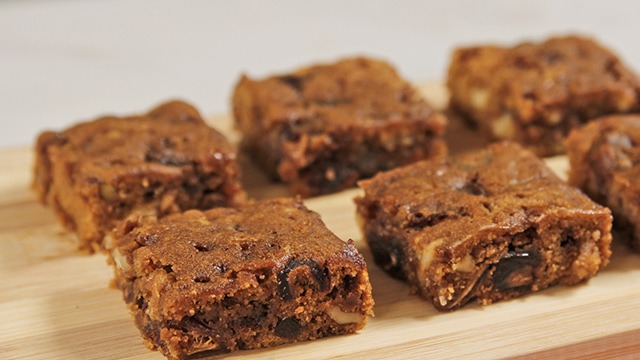 The recipe for these bars is much like a butterscotch brownie or fruit cake batter using melted butter to start. The melted butter is used to help the sugar begin to melt. You should allow the butter mixture to cool slightly before adding the eggs so you don't end up with cooked egg bits in your dessert. The dry ingredients are added and stirred in until just mixed. The mix-ins, in this case, the chopped dates and the walnuts, are stirred in. This thick batter is spread into the prepared pan and baked until just set and firm.
Tips To Make Easy Food for the Gods
There are many brownie baking tips that apply to this recipe but the good news is that this is less fussy.
1 Just beat the eggs.
What's great about this recipe is that you do not need a mixer to make it. Unlike many brownie recipes that require you to beat the eggs and sugar together for several minutes to create that crinkly top, this is a simple mix-and-bake recipe. Grab a large bowl, a spatula, and a whisk, and you're good to go.
2 Chop the nuts and dates but not too small.
The flavor of this brownie-like cookie is really the dates and the walnut combo so if you're chopping these, again, skip the machine and chop them by hand. This way, you can create large pieces that are small enough to be bite-sized but large enough to give you a good bite into the dried fruit or nut to taste it.
3 Use any brown sugar.
This recipe uses muscovado sugar for its intense caramel-slash-molasses flavor which is a great flavor complement to the dates and walnuts. But if you don't have this brown sugar, you can use any kind of brown sugar, light brown or even raw sugar if that's what you have.
4 Underbake but not too much.
Just like brownies, these bars are best to not overbake so you get tender, moist squares, not dry and tough bars. However, the Food for the Gods should be baked thoroughly so use that toothpick or cake tester to check if the center of these bars is baked through before removing the pan from the oven.
ADVERTISEMENT - CONTINUE READING BELOW
Recommended Videos
How to Store Easy Food for the Gods
Food for the Gods can be treated like brownies. You can leave these treats on the kitchen counter for up to three days before they start to become stale. For longer storage, wrap in plastic wrap and store in the refrigerator for up to a week, and in the freezer for even longer.
If you plan to gift these delightful bites to friends and family, use different colored cellophane cut up into squares to wrap these in.
Watch: Easy Food for the Gods Recipe
Easy Food for the Gods Recipe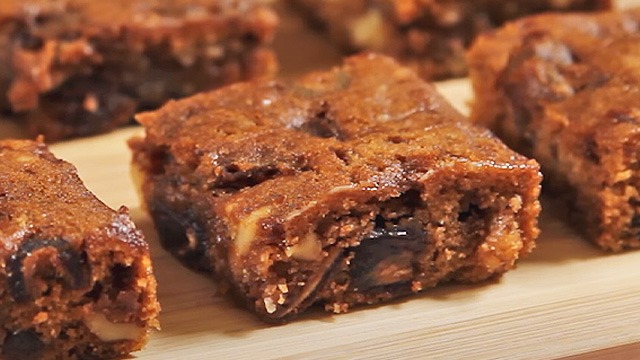 Easy Food for the Gods Recipe
This classic holiday dessert is sticky, sweet, and seriously addictive.
Ingredients
Easy Food for the Gods Ingredients
1/2

Cup

unsalted butter

melted

1

Cup

muscovado sugar

1

teaspoon

vanilla extract

2

large

eggs

1

Cup

all-purpose flour

sifted

1/4

teaspoon

Salt

1

teaspoon

baking powder

1

Cup

pitted dates

roughly chopped

1

Cup

walnuts

roughly chopped
Instructions
Preheat oven to 350 degrees F or 180 degrees C. Line and lightly grease an 8x8 inch (23x23 cm) pan with parchment paper. Set aside.

In a mixing bowl, mix butter and sugar. Let cool slightly before beating in eggs. Stir in vanilla extract.

Add in flour, baking powder, and salt. Fold flour mixture into butter mixture until just combined. Fold in dates and walnuts until mixed in.

Spoon into prepared pan, and bake until a toothpick inserted into the brownies emerges cleanly, about 25 minutes. Don't over bake! Let cool to the touch on a wire rack.

Lift out from pan and transfer to a cutting board. Lightly grease a knife before cutting into bars. Wrap bars individually in cellophane if desired for gifting.