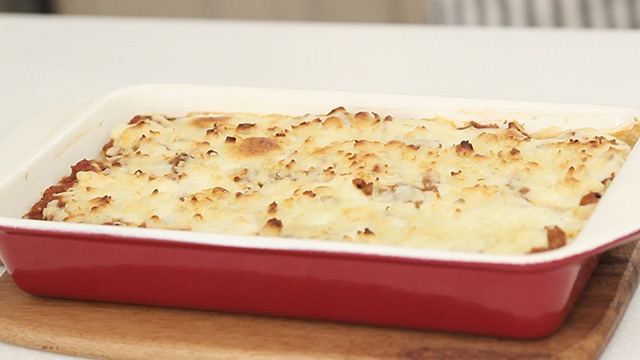 An easy lasagna recipe is one that you can do in your sleep! This pasta dish is a classic combination of pasta, red pasta sauce, white sauce, and cheese but it can also be easily tweaked to use your favorite kind of pasta sauce and choice of cheese.
What is lasagna?
A lasagna is a layered pasta dish using wide flat noodles where each sheet is blanketed with alternating layers of rich meat tomato sauce and creamy white sauce and topped with stretchy mozzarella cheese. This dish is commonly baked in an oven until the cheese on top has melted and browns slightly but you can also try it in smaller baking dishes that fit in your toaster oven or even air fryer! See how easy this lasagna truly is with its easy-to-follow steps: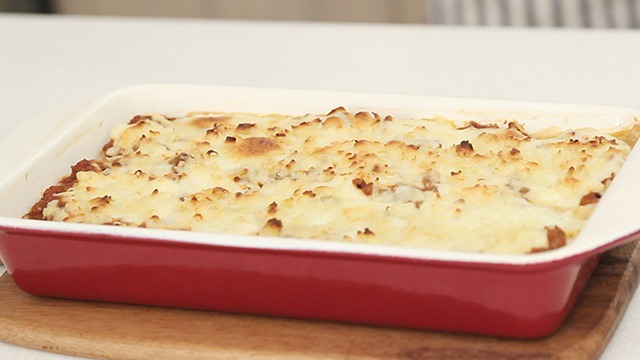 Easy Lasagna Recipe
This recipe only uses 1/2 kilo ground meat!
Ingredients
Easy Lasagna Ingredients
2

tablpesoons

Cooking Oil

1

medium

White Onion

1/2

kilo

Beef

1/2

teaspoon

Dried Oregano

Salt

Black Pepper

1 1/2

cups

Spaghetti Sauce

1

Cup

Quick- Melting Cheese

3

cups

Milk

3

tablespoon

Unsalted Butter

3

tablespoons

All-Purpose Flour

2

cups

Mozzarella Cheese

1

Cup

Quick- Melting Cheese

8-11

pieces

Lasagna Sheets
Instructions
In a saute pan, heat oil. Add onion and cook until translucent. Add ground beef and brown meat, breaking up the meat. Season with dried oregano, salt, and ground pepper to taste. 

Add spaghetti sauce and bring to a boil. Lower heat and simmer for about 5 minutes. Remove from heat and set aside. 

Make the white sauce: In a bowl, combine cheese and fresh milk. Set aside. 

In a saucepan, melt butter. Once melted, add flour and cook in the butter until flour begins to smell toasted. Pour the milk mixture into the saucepan and bring to a simmer, stirring. Cook until thickened. Season with salt and pepper as desired. Set aside. 

To assemble, spoon a thin layer of meat sauce on the bottom of a 10-inch by 8-inch (25 cm by 20 cm) baking dish. Place a layer of cooked lasagna noodles over the meat sauce. Add a thicker layer of meat sauce followed by a layer of the bechamel white sauce. Repeat the layers until the bakign dish is full or you run out of ingredients. End with the bechamel sauce and top it with mozzarella and more quick melting cheese.

Bake for 20 to 30 minutes, in an oven pre-heated to 350 degrees F or  180 degrees C until the pasta is cooked and the cheese has melted and browned slightly.