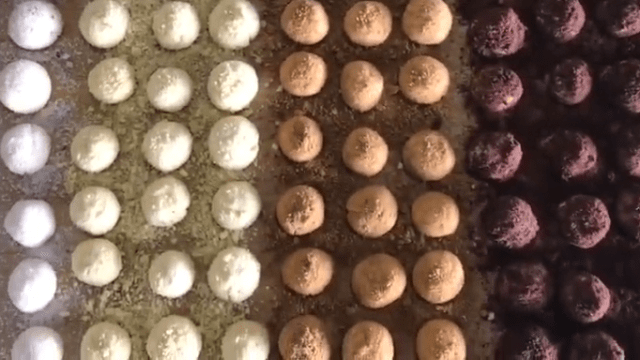 Pastillas de leche, or simply pastillas, are a beloved Filipino milk-based candy. These sweet, creamy confections originate from San Miguel, Bulacan, where carabao-rearing farmers used to make pastillas de leche at home with carabao milk. They have since become a local specialty, and is now a popular pasalubong (souvenir) item for anyone visiting or passing through Bulacan.
Pastillas de leche translates to "milk pills" in English, from the Spanish word pastillas, meaning "pills" and leche, meaning "milk." This name likely comes from the small, cylindrical shape that the pastillas dough is rolled into.
How Authentic Pastillas Are Made
Traditionally, pastillas de leche were made by boiling down carabao milk, and then adding sugar and calamansi or Philippine lime for flavor. When the mixture becomes thick enough, it could then be rolled into small logs, rolled in white sugar, and wrapped in papel de hapon or Japanese paper. Nowadays, pastillas can also be made with cow's milk, and its flavor can be enhanced by adding powdered milk as well.
How to Make Easy No-Cook Pastillas
The no-cook pastillas recipe below is an easier way of preparing this beloved milky treat. Instead of the traditional pastillas ingredients that need to be boiled down for a long time, condensed milk is combined with powdered milk to create a soft dough that you can easily handle. You can make them into the traditional pill shape, or to make it even simpler, you can also roll them into pastillas balls!
Here are some tips to help you in making no-cook pastillas:
1 Use your favorite powdered milk.
You'll be using a lot of powdered milk in this no-cook pastillas recipe, and its addition is what will make your dough easy to handle, even without cooking. Relative to the other ingredients, it is the highest in quantity and will affect the flavor of your pastillas the most. We recommend using full cream or whole milk powder, as these usually have a milkier, creamier flavor than their counterparts.
2 Add the powdered milk in batches.
Different condensed milk brands may have different moisture levels, and different powdered milk brands may have different rates of absorption. This is why even though the pastillas recipe below indicates how much powdered milk to use, it is still wise to first add half the amount, and then add the rest in increments later on. This will allow you to have full control of how soft or moldable your pastillas dough will be. Remember: it is easier to adjust consistency by adding powdered milk than it is to add condensed milk!
3 Chill the pastillas dough in the refrigerator before molding.
Chilled pastillas dough is much easier to handle, especially during particularly hot days. Once you reach the consistency you want, you can either cover the bowl with the dough, making sure that the plastic wrap is directly touching the dough. Alternatively, you can transfer the dough directly onto the wrap or a reusable bag, making sure to seal the dough in. This ensures that the dough doesn't dry out in the refrigerator. You can chill the pastillas dough for at least an hour, or even overnight.
4 Don't be afraid to try other flavors.
The no-cook pastillas recipe below includes options to roll your pastillas balls in the classic white sugar, chocolate powder, crushed graham, or crushed crackers, but there are a lot of other options, too! You can even add flavor using extracts directly into the pastillas dough if you want. Feel free to experiment with other flavors, and have fun!
ADVERTISEMENT - CONTINUE READING BELOW
Recommended Videos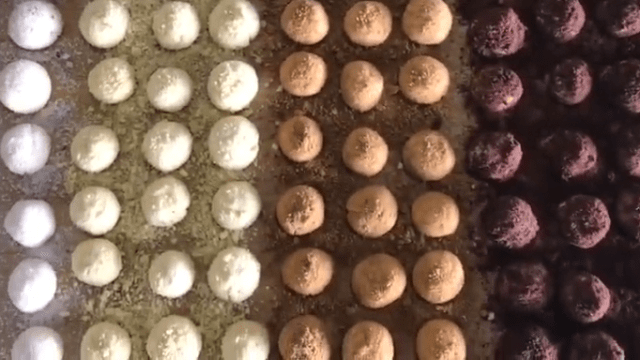 Easy No-Bake Pastillas Recipe
Choose between four different flavors!
Ingredients
Easy No-Bake Pastillas Ingredients
150

ml

condensed milk

300

Grams

powdered milk

3

tablespoons

salted butter

melted

3/4

Cup

powdered chocolate drink (we used Milo)

3/4

Cup

Crackers

crushed (we used sunflower crackers)

3/4

Cup

graham crackers

crushed
Instructions
Combine half a can of condensed milk (150ml) and 3/4 cup powdered milk. Gradually add the powdered milk until you form a paste like mixture. Gradually add the melted butter. Mix well.

Keep adding powdered milk until you achieve the desired consistency (preferably where you can form pastillas balls).

In four separate bowls, prepare the milo, sugar, crushed Sunflower crackers, and crushed graham crackers..

Roll the pastillas balls onto your desired coating.