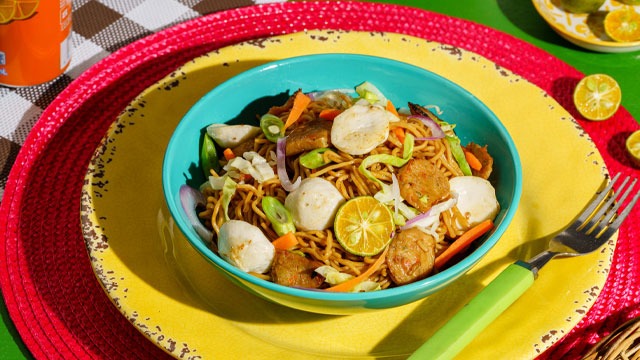 Long strands of yellow noodles tossed with different vegetables dotted with pieces of meaty balls, slivers of pork, and pieces of shrimp is what most pancit canton dishes look like when you visit the birthday buffet table. If you're visiting a karinderya, you might get a more basic version of this handaan favorite dish. 
This pancit canton recipe version is one of six recipes that we are featuring as one of your favorite karinderya recipes you love to eat. As one of Yummy's October digital cover recipes, this karinderya dish is sure to satisfy your love for all things food on Yummy.
What Is Pancit Canton? 
Pancit canton is one of the many dishes that were absorbed by the locals from the Chinese. It's a stir-fried noodles dish using egg noodles. It's commonly tossed in a mix of shredded cabbage, strips of carrots, and slivers of green beans (Baguio beans) or snow peas (chicharo). To add meatiness, the noodles are bulked up by strips of pork, squid balls, and small shrimp. 
Sometimes other kinds of meat are included such as slivers of pork liver and slices of kikiam or can be used as a substitute such as chicken for the pork. You can even opt to not add any meat and use mushrooms to give your pancit canton more umami. 
In recent years, the pancit canton has become a merienda favorite, particularly the instant variety, but this dish is also commonly served at birthday celebrations where the long noodles help symbolize the long life of the celebrant. 
For this recipe, we used squid balls and kikiam to make this an affordable and easy-to-cook dish, no matter when the craving for a homemade pancit canton hits. 
How To Serve Pancit Canton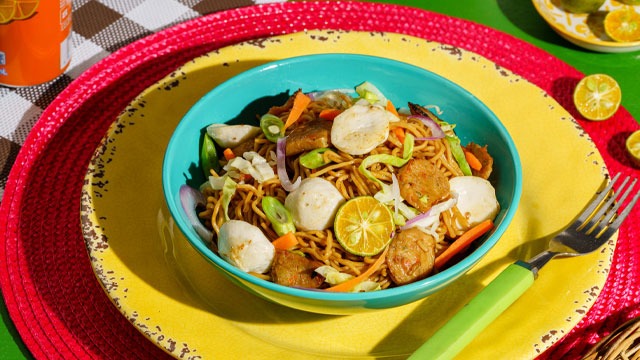 Pancit canton is a simple noodle dish that incorporates vegetables and meat already so when serving it, it's common to serve it as is or to pair it with pandesal. Just like pasta dishes, bread is a common pairing with noodles, and in this case, taking a bite of the slightly sweetened pandesal is a delicious break from the umami-loaded noodles. 
How To Cook Pancit Canton
Pancit canton is one of the basic dishes that any cook should learn and know how to cook. It starts off with sautéing the garlic and onions, also known as the aromatics, in oil in a large wok. The vegetables are added in order of which cooks longer than the others first and the quickest cooking last. This can be followed by adding the different kinds of meat that may have been cooked already. This might be searing the pork or chicken, frying the squid balls, kikiam, and shrimp if using, and even frying tofu squares. 
Broth, commonly either chicken or shrimp broth, is poured into the wok. This is brought to a boil and then dried pancit canton noodles are added to absorb the liquid, creating flavorful noodles. Some seasoning is added as needed and desired, especially if you want to create a saucy pancit canton version with oyster sauce for those who love a little umami sweetness to their pancit. 
Tips To Make Delicious Pancit Canton
There are many ways to make pancit canton but what is universal for the dish is the noodles. The veggie mix, the meat choices, and the other toppings that can be added can change to reflect what you have on hand or what you desire the pancit to be.
Here are some ideas on how to make your pancit canton incredibly appetizing and even more delicious: 
• Add crushed chicharon on top to add crunch. 
• Grill pork liempo or chicken to add smokiness and charred flavor. 
• Mix in pancit bihon or sotanghon. 
• Top each plate with toasted garlic bits and chopped green onions. 
• Serve calamansi on the side to flavor the noodles as desired.  
How To Store Pancit Canton
Pancit canton is a highly perishable dish, and to avoid food poisoning by improper storage, it's best to consume the dish within two to four hours as soon as the dish is cooked. If you really need to store it, it's best to immediately refrigerate it and when ready to eat it again, reheat it well to kill off any bacteria that may have multiplied when in storage. 
ADVERTISEMENT - CONTINUE READING BELOW
Recommended Videos
Easy Pancit Canton Recipe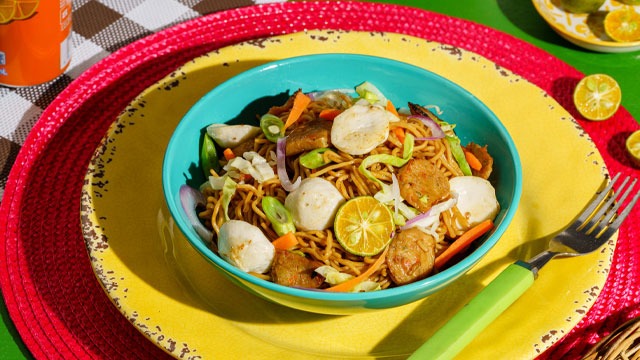 Easy Pancit Canton Recipe With Squid Balls And Kikiam
This basic stir fried noodles will be welcome at any table.
Ingredients
Easy Pancit Canton Ingredients With Squid Balls And Kikiam
1/4

Cup

cooking oil

divided

3

cloves

Garlic

peeled and chopped

1

medium

red onion

peeled and sliced

2

pieces

kikiam

thawed and sliced

1

Cup

squid balls

thawed and halved

1/2

small head

cabbage

shredded

1

Small

carrot

peeled and sliced into strips

5

pieces

green beans (Baguio beans)

sliced diagonally

2

cups

shrimp stock

or chicken stock, more if needed

1

400-grams

pancit canton (egg noodles)

1

tablespoon

Soy Sauce

2

tablespoon

oyster sauce

ground black pepper

to taste

calamansi

to serve

Pandesal

to serve
Instructions
In a large wok or large frying pan over medium heat, heat half the oil. Sauté garlic starts to turn golden brown. Add onions and cook until onions are translucent.

Add kikiam and squid balls, and sear sides over medium heat until cooked through. Add 1/4 up to 1/2 cup stock if the squid balls are not yet tender and cooked through. Cook until the liquid has evaporated then sear the kikiam and squid balls. Remove from the wok and set aside.

Add the remaining oil and heat over medium heat. Add the vegetables and cook until cooked through and wilted: cabbage, carrots, and the Baguio beans.

Pour in the stock. Bring to a boil then simmer. Add the dried pancit canton. Simmer until the noodles are rehydrated and softened with a little stock is still left over.

Return kikiam and squid balls to the wok and toss to combine. Season with soy sauce, oyster sauce, and ground black pepper, and toss again. Serve with pandesals and calamansi on the side.